The week of August 26-30 has seen enormous volatility in PM (precious metals) miners even though bullion prices have traded in tight ranges (for silver, 3% intraday swings are rather bland). Miners, however, the past few trading days have seen intraday swings of 5 - 10% or more. A fine mid-tier like First Majestic (NYSE:AG) for example touched $16.40 Tuesday morning only to take a path of jagged declines that dropped it to $13.79 before closing Thursday at $14.37. That's life when investing in PM miners. That's a more than 15% high-low in three days. On August 29 alone, premier streaming company Silver Wheaton (SLW) traded in a 5% range while Silver Standard Resources (NASDAQ:SSRI) had a 9% high-low as did junior gold streamer Sandstorm (NYSEMKT:SAND). Mid-tier gold miner IamGold (NYSE:IAG) ranged nearly 8% while Sprott Physical Gold was tight in a .7% range.
Note, however, that volatility does not mandate losses for PM miners: SLW and SSRI finished the day up .99% and +2.36% respectively while IAG finished even.
But the volatility and overall declines of the week are not the main story for investors. The main issues are the debt ceiling, the failing control of bond yields by the Fed and the plunge of many non-US currencies. While the USD per the DXY index rose strongly for three days to 81.94, the CAD, AUD and Rupee especially have been plunging. The fall of emerging nation markets and currencies in Indonesia, Thailand and Vietnam have been as much as 25% this past month. The relative strength of the USD reflects global fears on the sound and fury regarding Syria and the fact that the Fed has wrestled the 10-year yield down to 2.73% from 2.9% August 22. It still, however, is 65% above the mid-May level and debt issues worldwide are worsening.
The rate to borrow or lease gold continues to climb as physical shortages manifest themselves worldwide. Owners are reluctant to sell because physical shortages and difficulties in delivery are widespread. This supports increasing prices in bullion and miners.
To cover demands for delivery of physical metal, Western depositories, depleted during the 2Q sell down have been pressing India to "lease out" its 200 tons of gold, ostensibly to support the rupee. If India does lease its gold into the market it will be bought, mostly by China and Western depositories and never seen again. This will not endear the Indian government to its people who already have been hit with a series of escalating import duties on gold purchases. Indians know that like America's once infamous "Continental," fiat currency isn't worth the paper it's printed on while PMs are true wealth and that true wealth, like the soul, is beautiful. So while England and America can exert great pressure on India's government through an elite educated largely in the West, it will be a surprise if India leases out all or most of its gold. Instead, they may tell our diplomats to worry about the USD and the Pound.
The USD and its debt, aye, that's the rub. A glance at a chart provided by Citi analyst Tom Fitzpatrick tells the tale. During the 12-year PM bull market, gold has tracked the increase in the US debt ceiling. The break of the past 15 months closely resembles the 2008 correction in PM prices that occurred even as the debt ceiling got a massive lift, one that the current incumbency has increased. With the national debt nearly $7 trillion above the level of January 1, 2009, PM prices have resumed their secular rise, increasing 18% since the June 26 lows. It resembles the initial rise of PM prices early in 2009.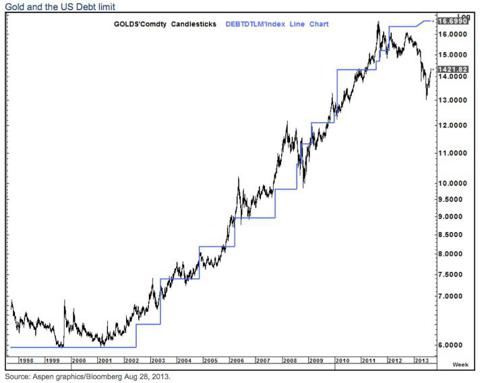 The debt ceiling debate or pseudo debate will heat up as September nears the October deadline. We may see delays, threats of a credit downgrade (or one in fact) and, of course, a belated increase of the ceiling. Fitzpatrick shows that at the recent rate of its expansion, by 2016, the national debt will be between $22-23 trillion. If gold continues to approximate the rise of this debt as it has for twelve years, by 2016, it will hit $3500/oz.
Takeaway: Volatility is not going to leave the PM markets (or the equity and bond markets either). Do not let weekly or intraday, roller-coaster volatility in your PM holdings shake you out of them. If you can remain vigilant, buy on major down drafts. This includes people with little or no long-term interest in the sector: it is one of the great trading vehicles in the markets for those inclined to approach it that way. The best companies, SLW, AG, Endeavour Silver (NYSE:EXK), SSRI, McEwen (NYSE:MUX) and low-cost production and reserves king Barrick Gold (NYSE:ABX) and large caps Goldcorp (NYSE:GG) and Newmont (NYSE:NEM) will continue to outperform. NEM has solid 3:2.2 revenues to debt, a 3% dividend and cash flow 5:65 debt. Only the best issues in the aerospace - defense, energy and media-entertainment sectors will vie with the best PM holdings long term. It also is timely to add to physical metal ETPs like Sprott Gold (NYSEARCA:PHYS) and Silver (NYSEARCA:PSLV) on dips but don't expect the former to drop much: clearly it is consolidating its recent gains and trading tight as a flexed muscle.
Many of the best PM issues are named above. Participate in what is likely to be a long leg up in the secular bull as bonds and equities quake in the geopolitical, fiscal and budgetary conflicts on tap. The heating of the Syrian-Middle Eastern region by American threats of intervention will boost oil prices and inflation, already high in real life terms, add to the bullish case for PMs.
Disclosure: I am long AG, PHYS. I wrote this article myself, and it expresses my own opinions. I am not receiving compensation for it (other than from Seeking Alpha). I have no business relationship with any company whose stock is mentioned in this article.