In the post-subprime world, where government life support for financial institutions is heading into the trillions of dollars, it is a hard job these days to find much that qualifies for genuinely innovative activity in the industry (aside, perhaps, from ethically-dubious products such as life insurance backed securities).
Yesterday TheBigMoney.com headlined an article I wrote dealing with the question: Can Innovation Save The Economy? One of the more interesting firms featured in the story is e3bank, a Philadelphia-based financial institution start-up which plans to service environmentally-aware corporate and retail customers.
The firm's chairman Sandy Wiggins describes e3bank as a "green, triple bottom line financial institution." In other words, every decision the bank makes must be done with both financial and environmental considerations in mind. The way the bank intends to fulfill this criteria is to provide loans to retail customers for costly environmentally-friendly equipment such as solar paneling, and to provide mortgages to firms which choose to build environmentally-friendly real-estate. e3bank also intends to offer carbon credit trading: By collecting together all the carbon credits its homeowner clients with environmental devices are due, it can package those credits together and trade them on exchange in Chicago.
What is so startling about e3bank's business model is how apparently efficient it is:
"This makes tremendous sense for us as a bank, because we know those buildings are better risk propositions for us to lend against," said Wiggins in an interview. e3Bank will also help aggregate the myriad services available to those who want to install environmentally friendly devices such as solar panels.
Wiggins explained further that because of the reduced energy costs an environment-sensitive building incurs, cashflow for the business owner is higher, and thus the loan repayment to the bank is that much faster.
There is another, less obvious financial benefit to becoming a green bank too. Since the greentech sector is beginning to heat up with enthusiasm among investors, a green bank can potentially command a much higher valuation than a traditional savings-and-loan style institution. Wiggins has already managed to raise $8 million of the $20 million in capital he needs to open the bank's doors next year — no small feat in a year when most banks have had to resort to high-cost speculative share sales in order to stay afloat. (It is impossible not to miss the irony here that, as many banks will be shutting their doors for the last time in 2010, e3bank will be opening its own for the first time.)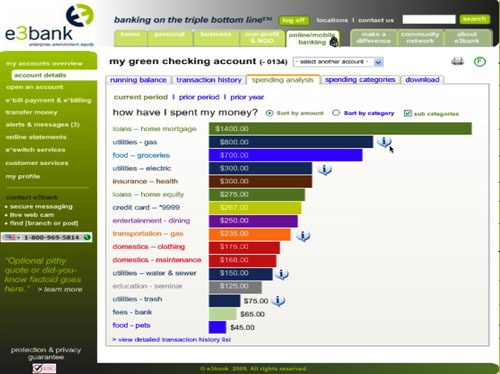 As the New York Times pointed out earlier in the year, e3bank is in good company:
ShoreBank, a community redevelopment banking center founded in 1973 to combat gentrification and urban blight on the South Side of Chicago, is considered by most in the industry as the first "triple bottom line" bank, a provider of lending and finance that is devoted as much to serving the social needs of a community as it is to maintaining profitability.

ShoreBank's green bank spin-off, ShoreBank Pacific, was established with the goal of "creating a conservation economy in the rainforest of the Pacific Northwest." It lends to local companies in Washington and Oregon in ways designed to encourage them to use less energy and lumber and reduce waste production and pollution.

ShoreBank's depositors are invited to support their green initiatives directly by putting their money into "EcoDeposits." The company also offers "environmental advisory services" to customers in the coastal Pacific Northwest, Michigan's Upper Peninsula, and urban centers where it conducts business.
As businesses and consumers begin to find financial incentives in going green, these banks stand to gain hugely from a mass market that doesn't have a lot of places to go for financing. This business model feels like something that is in the very, very early stages of what might ultimately amount to standard industry practice.
In a way, it is sort of like the internet banking industry all over again. Back in 2000, online-only financial institutions were scarce: a decade later, adopting that business model might be the only hope of survival for some regional banks.