CF Industries (NYSE:CF) is the largest nitrogen fertilizer producer in North America, with a strong footprint in the United States and Canada. The company also has a phosphate business which owns 50% interests in the GrowHow UK Limited, a nitrogen products producer in the United Kingdom; Point Lisas Nitrogen Limited, an ammonia producer; and KEYTRADE AG, a fertilizer trading company.
At the current price level of less than $190 per share, the stock offer a highly attractive entry point to gain exposure to fertilizers. Below are six reasons why I like the stock.
One: Foreign Competition is Over Estimated
CF's plants are connected to its main customers in the U.S. Corn Belt by an extensive distribution network of rail, barge, and pipelines. Compared to phosphate and potash, nitrogen fertilizer production is a much more local business since shipping cost plays a much bigger role. Thus, CF's extensive distribution gives it a significant competitive advantage overlooked by those who fear foreign competition. Since CF's infrastructure takes a significant amount of capital and time to replicate, short-term danger of foreign competition is minimal.
Even if foreign supply is able to physically get to market, it will still face the hurdle of building relationships with customers. It is not as easy as simply producing and dumping it on someone's farm.
Furthermore, China's urea export is cyclical, with spikes in exports followed by a big reduction. Investors should take the longer-term view and smooth out data instead of viewing short-term spikes are permanent: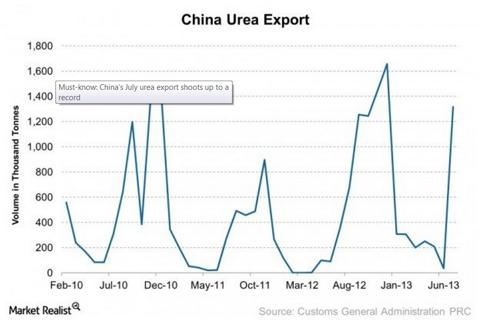 Two: Supply Will Persist
Short to medium term, we should notice that the U.S. corn stocks/use ratios are near historic lows, driven by a string of bad weather. It will take more than one bumper crop to bring this ratio back to historical averages. Thus, there is a demand tailwind to support nitrogen fertilizers.
Longer term, the nitrogen market is expected to grow by a steady 2% a year, driven by population growth and a shift to higher protein diets. Although 2% does not sound like much, one must keep in mind that there is little chance of a crash in demand - nitrogen fertilizers simply do not have the same risk as, say, consumer electronic products. There is also upside optionality as demand for corn oils and other corn products may spike up, driven by demand from emerging markets - recall the recent peanut boom driven by demand from China.
Thus, at current price levels, this is a good opportunity to buy and hold on to a market leading nitrogen fertilizer that will always have customers at its doors.
Three: The Stock Is Cheap!
The stock is quite cheap, trading at 9 times consensus earnings for 2014, though investors should note that Wall Street analysts are looking for the company's net income to decline next year. In Q2 2013 CF did in fact see a slight fall in its business versus a year earlier which contributed to an 18% decrease in profits.
However, the current P/E of less than 7 is way too cheap for the expected fall in earnings. To put this low P/E in perspective, CF's 5 year average PE is 11.1. Currently, the industry's average is 11.5 and the S&P 500's average is 17.2.
The company's price-to-cash flow is also very low at 6.2 when its industry peers are trading at 10.1.
Four: You Don't Know Where Nitrogen Prices Are Going
With about 45% of CF's cost of sales in its nitrogen business coming from natural gas, CF has benefited tremendously from historically low natural gas prices. The stock is cheap because people are afraid that natural gas prices will spike. However, no one really knows where natural gas prices are heading, especially given the fact that there is a natural gas revolution going on. The most you can say is that there is uncertainty, and uncertainty is bad for stocks. If the market truly believes that natural gas will spike, then natural gas producers like Chesapeake Energy Corp (NYSE:CHK) be trading at a much higher level than only 1.3x book value.
Five: Friendly Shareholder Policies
Management is very shareholder friendly and has actively returned capital to shareholders. In 2013 alone, share repurchases plus dividends represented 9.7% of company's average market capitalization (2Q 2013 Presentation). Management has shown the willingness to support stock prices. At this rate, the company will buy itself in 5 years!
Six: Hedge Funds and Institutions Love CF, Shorts Do Not
According to Insider Monkey, 46 hedge funds owns CF Industries . According to Yahoo! Finance, 98% of CF is held by institutions, which is a sign that sophisticated shareholders are betting on CF. Furthermore, for a stock trading at such low multiples, there are barely any shorts as short interest as a % of float is only 2.6%.
Conclusion
Fears of foreign competition and natural gas spikes are overblown and fully reflected in the stock price. At current valuations, this is an attractive entry to gain exposure to the fertilizer space.
Disclosure: I have no positions in any stocks mentioned, and no plans to initiate any positions within the next 72 hours. I wrote this article myself, and it expresses my own opinions. I am not receiving compensation for it (other than from Seeking Alpha). I have no business relationship with any company whose stock is mentioned in this article.