I've been looking closely at 3 ETFs that emphasize stocks from companies that have a recent record of increasing value to shareholders. For a summary see this Seeking Alpha article. The 3 are PowerShares Buyback Achievers (NASDAQ:PKW), AdvisorShares TrimTabs Float Shrink ETF (NYSEARCA:TTFS) and Cambria Shareholder Yield ETF (NYSEARCA:SYLD).
PKW invests in assets that comprise the NASDAQ Buyback Achievers Index which tracks US securities that have repurchased 5% or more of their common stock in the trailing 12 months. TTFS, as the name implies, buys companies that use free cash flow to reduce share count. The managers of the TTFS claim that only about 250 publicly traded companies do so; they invest 1% each in the top 100. SYLD, the new kid on the block (inception 5/13/2013), adopts a broader scope in its quest for shareholder value using its proprietary qualitative algorithm to select stocks based on net share reduction through buybacks, paying dividends, and paying down debt. I will not repeat the analysis from my previous article except to note that each of the three have been soundly beating the S&P500, and, more to the point, the popular dividend-payer driven ETFs DVY and SDY. The two with a multiyear track record have managed this without seeing excessive increases in risk (volatility) measures.
Clearly, the rationale behind this investing style is providing enhanced value over both a broader market and the dividend-paying segment of the market. One can argue that this approach lacks the income-generation of dividends, but there is no arguing with the enhanced total return. With this in mind I set out to dissect the holdings of the 3 ETFs looking for prospects. As Pablo Picasso famously said, "Good artists copy. Great artists steal." I set out to follow this advice and pull out what gems I could from the ideas of the fund managers here.
Taken together the funds hold 322 unique stocks. Of these, 94 are held by more than one of the 3 funds. PKW, the largest of the 3 with a portfolio of 202 stocks, holds 129 unique stocks. TTFS has 50 of its 100 stock holdings shared with neither of the other 2 ETFs. SYLD lists 122 stocks in its holdings; 41 of these not in the portfolios of PKW or TTFS. Only 8 are held by all 3. The overlap of holdings among the funds is summarized in the VENN diagram below.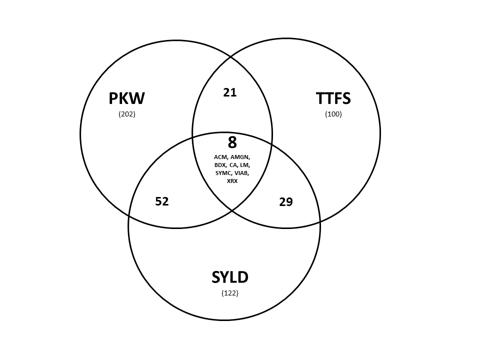 The 8 stocks in each of the funds' portfolios are tabulated below.
| | | | |
| --- | --- | --- | --- |
| Symbol | Company | Market Cap | Sector |
| | Aecom Technology Corporation | $3.00 B | Industrials |
| | Amgen Inc. | $82.21 B | Health Care |
| | Becton, Dickinson and Company | $18.89 B | Health Care |
| | CA, Inc. | $13.40 B | Information Technology |
| | Legg Mason Inc | $4.02 B | Financials |
| | Symantec Corporation | $17.79 B | Information Technology |
| | Viacom Inc. | $35.35 B | Consumer Discretionary |
| | Xerox Corporation | $11.92 B | Information Technology |
Aeccom provides technical and management support services in a range of architectural, construction and engineering arenas, including transportation, energy and water systems, environmental enhancement.
Amgen is a biotechnology medicines company engaged in the discovery, development, manufacture, and marketing of human therapeutic products in the areas of supportive cancer care, inflammation, nephrology, and bone diseases primarily in the United States, Europe, and Canada.
Becton, Dickinson and Company is a medical technology company that develops, manufactures, and sells medical devices, instrument systems, and reagents worldwide. The company's BD Medical segment produces medical devices that are used in various healthcare settings.
CA Technologies, together with its subsidiaries, provides enterprise information technology (IT) management software and solutions that help customers manage and secure IT environments in the United States and internationally.
Legg Mason, Inc. provides asset management and related financial services to institutional and individual clients, company-sponsored mutual funds, and other pooled investment vehicles worldwide.
Symantec Corporation and its subsidiaries provide security, backup, and availability solutions worldwide. Its products and services protect people and information in any digital environment from mobile devices, enterprise data centers, and cloud-based systems.
Viacom Inc. operates as an entertainment content company in the United States and internationally. The company owns a portfolio of cable networks that include Nickelodeon which has been the top-rated cable network for more than a decade.
Xerox Corporation provides business process and document management services worldwide.
Buybacks
As the equity markets recovered, there was a pronounced turn to dividend yield by investors who proceeded to bid up the prices of higher-yielding stocks. As a consequence by mid-2013 high-yielding stocks were markedly expensive relative to the broader market. Since May or so, investors have been backing away from the higher-yielding sectors such as utilities, telecom and consumer staples. However, valuations remain high even at today's softened levels.
With investors looking for stocks that return capital to shareholders in other ways, interest has shifted to buybacks. Stock buybacks are being singled out by many market observers at a most attractive way for companies to return excess cash to shareholders. What we've begun to see is that companies with moderate or even no dividends but otherwise favorable outlooks such as stable earnings growth that are using cash to reduce net shares outstanding are coming into favor. Apple (OTC:APPL) is something of the poster child for this trend, responding to pressure from investors to return more to shareholders and responding by instituting a record buyback program. And, look what's happened to APPL's share price since.
Stocks buybacks are the defining criteria of 2 of the 3 ETFs, so all of these companies necessarily have had buyback programs that have reduced number of shares outstanding. There has been average decrease of -10.5% in shares outstanding since 3Q 2011. Percentage reductions in number of shares that time for the individual companies are:
| | |
| --- | --- |
|   | Change in No. of Shares (%) |
| ACM | -11.00% |
| AMGN | -14.3% |
| BDX | -9.59% |
| CA | -6.9% |
| LM | -11.7% |
| SYMC | -5.23% |
| VIAB | -14.6% |
| XRX | -11.1% |
Recent Performance
I've chosen to compare the portfolio of 8 stocks to SDY, SPDR S&P Dividend Return, an ETF that tracks the 100 so-called aristocrats of the S&P 500. I've done so because in previous articles I've received comments extolling the relative virtues of dividend payers to companies that buyback stock and SDY is arguably the best available measure for a portfolio of dividend growth stocks. To keep the playing field level, I use total return for each.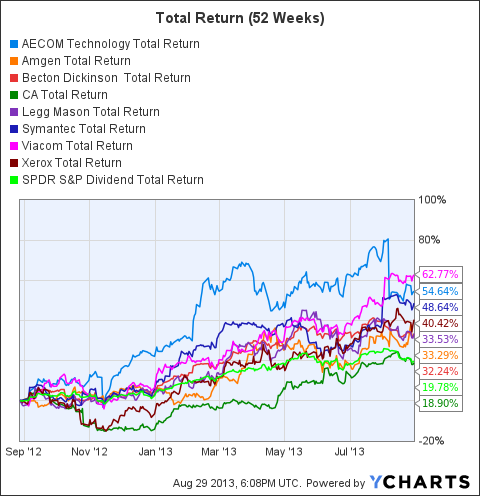 Note that all but one of these beat SDY. The single laggard, CA, trailed by 42 basis points, little more than noise in the big picture. This illustrates to me that there is extraordinary value in the application of this filter. Annualized volatility for an equal-weighted portfolio of these 8 stocks is 15.7% (vs. 11.8% for SPY) returning a beta of 1.19 relative to SPY.
Dividends
As has been the case for every set of stocks I've extracted from the portfolios of these ETFs or similar indexes, dividend returns are modest by the standards of most dividend-income investors. This was true even when selecting for the dividend performers from among their holdings. This should not be unexpected as the selection process emphasizes using net cash flow for net share reduction. As noted above, some market observers have been suggesting that dividend stocks have become overbought and investors looking for shareholder value might want to turn their attention to buybacks.
One pays no dividend; the others have yields that range from 1.5 to 3.3%. Only one of the 8 has a sustained record of dividend increases, that being BDX. BDX is a champion on the David Fish CCC list having increased its dividend for a remarkable 42 consecutive years. SYMC, by contrast, paid its first dividend Q2 of this year.
Dividends

Dividend

Yield

Dividend Payout

DGR 1year

DGR 5year

ACM

-

-

-

-

AMGN

1.65

28%

27.44%

-

BDX

2.00

26%

10.00%

11.00%

CA

3.33

43%

0

43.70%

LM

1.56

-

18.18%

-12.80%

SYMC

2.31

14%

-

-

VIAB

1.51

32%

9.09%

-

XRX

2.30

22%

35.29%

7.00%
Valuation and Growth
For measures of valuation, the 8 stocks vary widely but none looks excessively expensive.
| | | | | | | |
| --- | --- | --- | --- | --- | --- | --- |
| Valuation | P/E | Fwd P/E | P/Sales | PEG | P/Book | EV/EBITDA |
| ACM | 9.5 | 9.9 | 0.37 | 0.7 | 1.49 | 8.28 |
| AMGN | 17.7 | 14.7 | 4.68 | 1.5 | 4.01 | 12.13 |
| BDX | 13.3 | 14.7 | 2.39 | 1.5 | 4.02 | 9.84 |
| CA | 13.1 | 10.1 | 2.91 | 1.6 | 2.39 | 6.66 |
| LM | 20.05 | 11.4 | 1.52 | 0.7 | 0.85 | 8.21 |
| SYMC | 24.8 | 14 | 2.58 | 1.5 | 3.26 | 8.38 |
| VIAB | 17.9 | 14.4 | 2.79 | 1.1 | 5.52 | 5.48 |
| XRX | 10.86 | 7.9 | 0.54 | 1.3 | 1.05 | 7.36 |
Recent growth has been reasonable for some and less so for others. All but CA, which has enjoyed 43% EPS growth this year, are projected to grow EPS next year. PEG is on the high side for all but ACM, LM and VIAB.
 

EPS Growth

Last Quarter vs.

Same Quarter last year

Projected EPS

Growth Next Yr

Cash Flow Growth (5 yr)

ACM

11.11%

13.87%

-22.33%

AMGN

2.48%

11.86%

3.83%

BDX

-3.29%

9.04%

3.17%

CA

43.14%

-14.77%

13.12%

LM

 

15.67%

-8.27%

SYMC

0.00%

12.70%

1.73%

VIAB

33.33%

18.66%

5.92%

XRX

4.55%

5.36%

5.97%
 

Gross Profit

Margin

EBITD

Margin

ACM

7.51%

5.64%

AMGN

89.14%

39.49%

BDX

57.75%

26.94%

CA

85.90%

40.08%

LM

15.33%

16.95%

SYMC

87.42%

27.23%

VIAB

50.04%

29.71%

XRX

37.02%

14.47%
Summing Up
When I began this exercise, my hope was to turn up some clear winners. That may have been unrealistic, and I think the results prove that it was. None of these looks like a real loser, but none shouts out to me "Buy me now."
Of the 8, I like AMGN, although I am currently heavy on healthcare, and SYMC. SYMC is something of a turn-around story. They occupy a good niche in digital security but seem to have suffered from weak management over the year. Their new CEO is working to turn thing around, so any play here is a bet that he'll be successful at doing that. XRS has appeal as well, but its growth prospects may be open to question. LM seems to have too many uncertainties going forward. I'm sure I can find better options among financials. BDX is a solid reliable performer. It has a reasonable moat and has been returning cash to shareholders for decades. VIAB could be the best choice of the lot with a PE of 18, PEG at 1.1 and solid EPS growth projections.
I do plan to follow these 8 over the next few quarters and see how they fare against the market. I plan to continue to examine the holdings of PKW, SYLD and TTFS for ideas. There are a lot of candidates among the stocks shared by 2 of the ETF's holdings, but I think there are better prospects there.
I remind readers that I am not a professional and I am most certainly not offering advice. I'm simply sharing my thoughts and research. Anything you may find interesting here will need your own thorough research and due diligence to determine if it may be appropriate for your portfolio.
Disclosure: I am long PKW, SYLD. I wrote this article myself, and it expresses my own opinions. I am not receiving compensation for it (other than from Seeking Alpha). I have no business relationship with any company whose stock is mentioned in this article.