As interest rates rise, there are some stocks that will be potential winners and losers. Among stocks that should perform better because the underlying companies should be able to increase loan profits are the bank stocks. Many of the large commercial bank stocks have done very well thus far in 2013. Market leaders such as JP Morgan Chase (NYSE:JPM), Citigroup (NYSE:C) and Wells Fargo (NYSE:WFC) are up substantially. These three behemoths are up 18.2%, 25.5% and 23.1% respectively year to date. Many investors I know trade and invest in these types of stocks for growth and dividends. However, it must be pointed out that what these same successful investors/traders often miss are potentially extremely rewarding smaller regional banks that often offer growth AND pay excellent dividends. Smaller banks can be much easier to follow compared to larger banks, requiring less research time each week, month and quarter. Simply put, they are just simpler businesses relative to the large and mega cap banks. This is because they are primarily balance sheet based businesses. When the balance sheet of a local bank is appealing, more than likely the earnings report will be as well. Further, looking into the business growth (such as loans, yield on assets and deposit growth to name a few) is key to selecting a strong regional bank. As part of a broader effort to identify a potential regional bank to help diversify the financial portion of my portfolio, I came across a very interesting and under-studied East West Bancorp (NASDAQ:EWBC).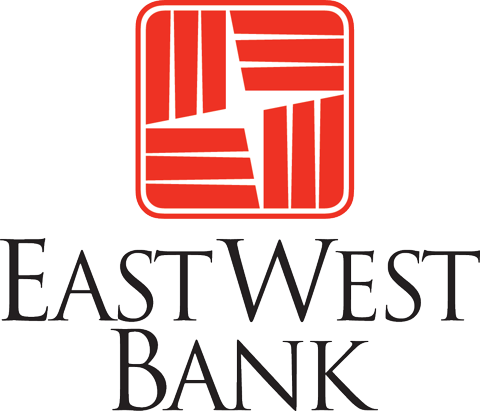 It's a Newer Bank With Strong Core Operations And Is Growing Steadily
EWBC began 1998 in California. As it has grown it has caught the attention of Forbes, which has ranked EWBC in its top 10 banks in the United States for the last three years. EWBC operates as the bank holding company for the East West Bank, which has a foothold in Asia and the United States. Like many banks it provides a range of personal and commercial banking services to small and medium-sized businesses, business executives, professionals, and other individuals. The bank has three major segments, which are retail banking, commercial banking, and other investment services. The bank offers various deposit products comprising personal and business checking and savings accounts, time deposits and individual retirement accounts, travelers checks, safe deposit boxes (many regional banks no longer offer this in most locations) as well as credit card services. EWBC's lending portfolio consists of a diverse mix of loans.
The bulk of the portfolio consists of residential single-family and multifamily loans followed by commercial real estate loans (which include construction and land loans). The portfolio also has trade finance loans, commercial business loans (including accounts receivable, small business administration, inventory and working capital loans). Finally EWBC has also made its way into student and other consumer loans (e.g. autos) One of the unique offerings of this regional bank is that it provides financing to facilitate its clients' business transactions between Asia and the United States. When the bank began it started with a handful of locations. In its young history, relative to the larger banks that have operated for over 100 years, it has grown reliably. As of this year EWBC now controls a network of 120 locations worldwide, including some of the largest most competitive markets. The bank has operations in California, New York, Georgia, Massachusetts, Texas and Washington. Turning to its Asian holdings, EWBC operates a full service branch in Hong Kong as well as representative offices in Beijing, Shenzhen, and Taipei. It also has full service branches in Shanghai and Shantou along with a representative office in Guangzhou. The bank continues to expand in both Eastern and Western markets allowing it to have a strong diverse portfolio of holdings.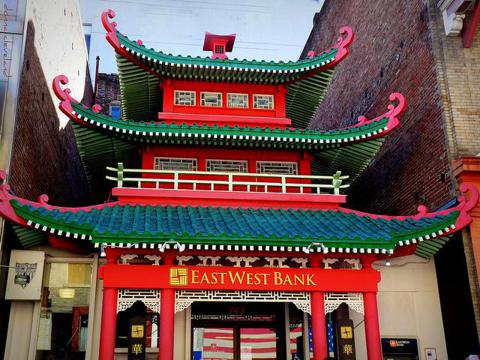 Stock Statistics
Before delving into the meat of the company let's examine the statistics of the stock as these measures are often helpful in deciding whether a stock's price may or may not represent value. EWBC has a price to book ratio of just 1.80 which is relatively strong although the price to sales ratio is a touch high coming in at 5.04. EWBC's capital levels remain exceptionally strong, and their efficiency ratio is competitive among industry leaders at 40% and rising. It improved from over 43% in the first quarter 2013. EWBC currently trades at 15 times earnings which is very reasonable, and pays a solid 2.0% dividend yield, with a payout ratio of just 24%. I believe there is room for growth here. EWBC has a market cap of $4.1 billion and trades at $29.70 with average daily volume around 890,000 shares exchanging hands daily.
The balance sheet of the company is in good condition. When we dig deeply into the numbers, we find that the company has around $2.53 billion in cash, which boils down to be $18.50 in cash per share. The company has reasonable debt of $1.4 billion, which is due in part to the company's expansion efforts which I believe will fuel continued revenue and earnings growth. Looking into the dividend a bit more, EWBC has paid a dividend every quarter since its inception. It steadily rose until 2009, when the quarterly dividend was cut from 10 cents down to just a penny. This cut obviously crushed the yield, but was also done as a precautionary measure by many banks in case the financial crisis got much worse. It has been raised every year since then and is now 15 cents a quarter (figure 1), and the company will likely raise it again in 2014 as earnings and revenues continue to grow. The next ex-dividend date will be payable in October 2013 and be paid to shareholders of record in November.
Figure 1. East West Bancorp's Share Price And Dividend History Last Five Years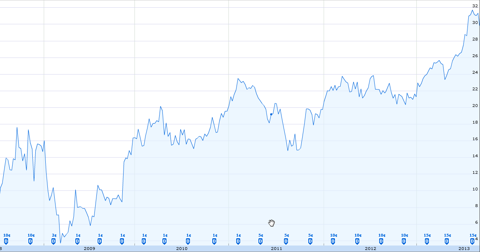 Recent Quarterly Report; Record Numbers For The Bank.
EWBC's recent reports have been very strong. The most recent quarter ending in June was recently reported on July 17nd, 2013, and the 10-Q filed on August 8th. The numbers looked very good right from the start as net income rose to $74.0 million in the quarter which was up 5% from the $71 million reported in the comparable year ago quarter. Even more impressive is that the earnings per share of 52 cents per share was up 11 % over the same period a year ago. Earnings per share came in at $0.104 for quarter which was a 7.1% rise versus the $0.097 reported for the year ago quarter. Earnings in the second quarter were also up 4% from the first quarter of 2013.
Strong Loan and Deposit Growth Drives Revenues
EWBC has consistently delivered both loan (figure 2) and deposit growth (figure 3) and the second quarter certainly did not disappoint. Quarter to date, total loans receivable (including both covered and non-covered loans) grew 6% or $920.8 million to a record $16.3 billion at the end of the second quarter. Some of this growth driven by a 9% increase ($1.2 billion) in non-covered loans, which partially offset a small decrease in loans covered under loss-share agreements of 9% or $248.4 million. The strong growth in non-covered loans was due to increases in commercial and industrial loans, consumer loans, single family residential loans, and commercial real estate loans.
Figure 2. Loan Growth History, East West Bancorp, 2003-Present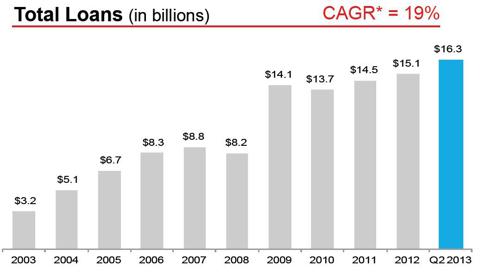 Figure 3. Deposit Growth History, East West Bancorp, 2003-Present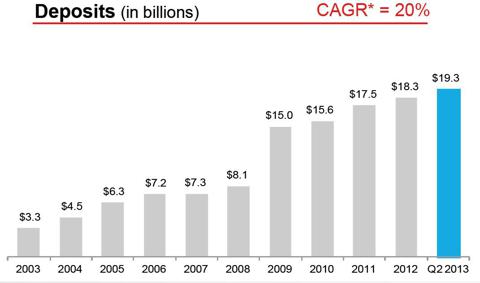 Total deposits increased to record levels, hitting a new EWBC record of $19.3 billion at the end of the second quarter, up 2% or $346.5 million from the $18.9 billion at the end of the first quarter 2013. In the second quarter EWBC successfully continued to execute its growth approach, which is to grow lower cost commercial deposits while reducing the company's reliance on time deposits. It has been a successful campaign thus far as co re deposits increased to a record $13.3 billion, an increase of 3% or $428.8 million from the end of the first quarter. The increase in core deposits was largely driven by an increase in noninterest bearing demand deposits which increased by 6% or $290.4 million to a record $5.1 billion. Reducing reliance on time deposits, the bank saw time deposits decrease by 1% or $82.3 million from the end of the first quarter to total $6.0 billion. Furthermore, nonperforming assets decreased to $133.5 million, or 0.57% of total assets which represents a $26.0 million or 16% decrease from a $22.2 million or 14% decrease from the comparable 2012 quarter.
With All The Growth Can You Still Buy? YES--Management Is Guiding Higher
In a complete sign of strength in the performance of EWBC, management provided guidance for the third quarter and full year of 2013 which exceeded original estimates. Management currently estimates that earnings per share for the full year of 2013 will range from $2.05 to $2.09, an increase of $0.16 to $0.20 or 8% to 11% from $1.89 for the full year of 2012. This EPS guidance was based primarily on the stable balance sheet, EWBC's exceptional loan growth of approximately $250 million per quarter, (including both covered and non-covered loans), as well as an adjusted net interest margin ranging from 3.50% to 3.60%. Management also predicts an effective tax rate of 34%, which helped provide the guidance range. Management estimates that fully diluted earnings per share for the third quarter will range from $0.51 to $0.53 per dilutive share. The guidance for the third quarter and for the full year of 2013 does not include the impact of the additional $100.0 million stock repurchase program authorized by the board of directors. It is important to note that the company just finished a $200 million share repurchase program that was completed in the second quarter after purchasing 4.5 million shares for a total cost of $113 million.
Will Performance Continue?
EWBC will benefit from rising interest rates, and that is a primary reason to own this stock in addition to the likelihood that deposit and loan growth will continue. But how will rising interest rates help EWBC and drive growth? It is because they will likely be able to widen their net interest margins as they have borrowed at low rates and can finance individuals and businesses at higher rates, which feeds directly into widening their interest spreads. The data supports this already. Net interest income adjusted for the net impact of covered loan dispositions totaled $192.2 million for the second quarter of 2013, an increase of $7.6 million from $184.6 million in the prior quarter. Note that during this time interest rates rose significantly. The core net interest margin, excluding the net impact to interest income of $35.5 million resulting from covered loan activity and amortization of the FDIC indemnification assets, totaled 3.62% for the second quarter of 2013. With the rising interests rates the EWBC was able to achieve adjusted net interest margins that were higher than originally estimated. Much of this was also a result of higher than expected loan growth and EWBC's ability to increase earnings assets by $594 million or 3%, and redeploy cash and short-term investments into higher yielding loans. Furthermore, the company did book a number of 3, 5, and 7 year adjustable rate loans during the quarter that will immediately feed revenues as rates rise. With rising interest rates, acquiring adjustable rate loans is a sound strategy. It is my opinion that this approach will be repeated going forward as interest rates have continued to rise into the third quarter.
Is Guidance Too Conservative?
When I look at the company's performance in the last few years, particularly in the last quarter relative to their guidance, I think that if we extrapolate to future quarters, EWBC is setting its self up to deliver a beat. For example, EWBC had given guidance of at least $200 million in growth for the second quarter at the beginning of the year. Looking at the results, we see that EWBC more than tripled that on an organic basis (excluding the share purchase this quarter). Now EWBC is guiding for at least $250 million. Since the macro environment is similar thus far in the third quarter as it was in the second quarter, I argue that EWBC his highly likely to still have good momentum.
Furthermore, management has acknowledged in the most recent conference call that yes, they do indeed give a conservative number and hope they can beat it. Julia Gouw, the vice chairman, president, chief operating officer said the following when asked about their growth guidance:
"Yes, we try to be conservative with at least $250 million, so we are very comfortable with that, that conservative guidance. And hopefully, we can do better".
Essentially, management is pulling the old trick Apple was notorious for, underpromising and overdelivering. With their growth trajectory thus far, coupled with the advantages the company has with rising interest rates, a beat is likely.
Risk-Reward Ratio
Pinning an exact risk reward ratio is difficult given the number of variables that could impact a bank. However, in an environment of higher rates, with EWBC expanding operations in the United States and Asia I think the ratio is highly favorable. Further, the guidance is conservative and thus beating estimates is likely which should drive share price higher. The dividend is more than affordable and has a lot of room to grow. Based on the available data of loan growth, deposit growth, dividends paid out, guidance and the share repurchase program I believe we have a 3-1 upside to downside ratio. That is, I believe the downside target, if things turned very sour for banks in general is approximately $23 by the end of 2014 , while the upside potential is $51 by the end of 2014. So long as the macro environment remains the same, and especially if it improves, I think this target is likely. A dividend boost will go a long way toward boosting the share price, and that is likely to come in 2014 based on EWBC's past dividend increases as well as their performance.
Conclusion
EWBC is a strong regional bank that continues to grow loans and deposits while underpromising and overdelivering. It has emerged from the financial crisis stronger than ever, and has a lot of room to expand its interests throughout the United States and In Asia. In the most recent quarter, every asset quality indicator improved compared to the year ago quarter. This strong regional bank is under-covered in the financial analysis world. Management guided higher, indicating management is confident in the company's performance moving forward and subsequently the stock should move higher. EWBC has a fantastic balance sheet and pays a 2.0% dividend yield that has a lot of room to grow. As the regional banks and EWBC in particular continue to expand and improve performance, I expect significant stock price appreciation and dividend growth in the coming years. I suspect a dividend boost in 2014. As interest rates continue to rise, more profits can also be generated from the growing loan portfolio. Management has a clear growth path laid out and so far are firing on all cylinders. I believe that the stock has a very favorable risk reward ratio given its growth trajectory and thus may see multiple expansion. The stock has a had a great run, but I think this run continues so long as results keep being delivered. Under $30 a share with a 2% plus yield this stock is a great buy to hold over the next few years to generate both capital appreciation and dividend growth.
*Calculated Annual Growth Rate Base 2003
*Calculated Annual Growth Rate Base Year 2003
Disclosure: I have no positions in any stocks mentioned, but may initiate a long position in EWBC over the next 72 hours. I wrote this article myself, and it expresses my own opinions. I am not receiving compensation for it (other than from Seeking Alpha). I have no business relationship with any company whose stock is mentioned in this article.