Q: Why Is This Article Formatted as a Q&A?
A: Because most media coverage of Barnes and Noble stinks!
Busy readers can skip to the relevant points, without getting bogged down by all the snarky, doom-and-gloom talking points I'm forced to address as a sidebar.
Q: So, What Is Your Point?
A: I believe Barnes and Noble (NYSE:BKS) is working on a Nook utilizing Qualcomm's (NASDAQ:QCOM) Mirasol technology.
Now I should point out that this is a just a theory, I don't have any leaked details. But it makes sense if you put the puzzle pieces together.
Q: What Is Mirasol?
A: Mirasol is a screen technology developed by Qualcomm that uses interferometric modulation and microelectronic machines (MEMS) to produce a full-color reflective display.
Basically, it is a color e-reader display.
Q: Why haven't I seen any of these devices yet?
A: Because you don't live in Asia.
Four e-readers using this technology have already been marketed by Asian companies: the first of these was the KYOBO e-reader distributed by the Kyobo Book Center.
However, none of these four companies distribute in the North American market. This was partially because Qualcomm did not have the production capacity to supply a worldwide market.
Qualcomm recently invested $975 million dollars to build a factory to produce Mirasol devices. That factory was scheduled to come online in late 2012, so they should be ready to mass produce devices soon.
That means Qualcomm must find a North American distribution partner for Mirasol, and nook may be the only viable candidate.
Q: Why, what makes nook so special?
The patented nook glowlight.
Early reviews of the Mirasol products have pointed out that the biggest flaw in the technology is that colors are not as vibrant as they are on LCD screens. This is because Mirasol is not backlit, and unless you are reading outside on a sunny day ambient lighting is often missing a few wavelengths.
The most likely solution to this problem is to equip Mirasol with a frontlight. Nook media can do that.
Plus, Barnes and Noble has 10 million existing users (give or take), a full catalog of digital color content such as magazines, children's books, and comic books, and extensive retail distribution at their own stores and third party retailers. Those things also tend to come in handy when one is trying to sell a new screen technology.
Q: Kindle has a frontlight, why isn't Kindle a potential distributor?
A: In May, Amazon (NASDAQ:AMZN) purchased the Liquavista display company from Samsung (OTC:SSNLF). Liquavista makes a color ereader technology based on electrowetting.
Since Amazon owns a competing technology, it is unlikely that they ever will work with Qualcomm on a Mirasol Kindle.
Q: What about Kobo, don't they make front-lit ereaders?
Yes they do. But Kobo does not have much full-color content. They recently debuted their new lineup of e-readers and tablets with no Mirasol device in sight.
If there is a Mirasol nook device and it is successful, then it would make sense for Qualcomm to extend the technology to companies like Kobo as well.
Q: But isn't Barnes and Noble going to stop making color devices? I'm pretty sure I heard that somewhere.
A: You did. But the media outlets who reported that didn't know what they were talking about.
When they reported fourth fiscal quarter earnings in June, Barnes and Noble announced they were moving to a co-branded strategy for tablet manufacturing. At the time, they were perfectly clear that this did not mean they were exiting the market.
For example, on the accompanying conference call, then-CEO William Lynch said:
"To summarize, we are 100% not exiting the device market"
Somehow, this was misinterpreted to mean they were exiting the device market.
Q: Oh yeah, that reminds me CEO William Lynch was fired, that means they're on the wrong track, right?
A: Well, first of all he wasn't fired, he resigned. I believe the context is important.
William Lynch has a history of taking brief executive roles at companies that are in the process of performing spin-offs, and exiting those roles once the spinoff is complete.
At Palm, William Lynch was involved in the spin-off of Palm into PalmSource and PalmOne. Shortly after that, he moved on to IACI where he helped found Gifts.com and was involved a four-way spinoff which resulted in him briefly becoming CEO of the Home Shopping Network.
William Lynch is sort of like a corporate version of Jon Taffer from Bar Rescue: he comes in, helps restructure the company, then turns it back over to the owner and moves on. Leonard Riggio was always in charge.
The reason companies need someone like Lynch is so that they can acquire the financing they need to restructure. To carve Nook media out of Barnes and Noble, Lynch has already secured $204 million from Liberty Media (LMCA), almost $600 million from Microsof (NASDAQ:MSFT), and $90 million from Pearson Media. So, I would say that Lynch did a pretty good job. I'll be interested in seeing where he ends up next.
What Lynch's exit means for Barnes and Noble is that the strategic alternative process is complete. Nook Media has a separate chain of command from Barnes and Noble and the balance sheet that is ring-fenced from the rest of the organization. This means that Barnes and Noble has limited liability for the repayment of Nook Media's debts (should any be incurred) and vice versa. Additionally, both the retail stores and Nook media have enough cash on hand to execute on their foreseeable plans and Riggio is no longer considering a buyout. Nook Media was never spun off as an independently traded entity, but they are now free to do so at any time without underwriting.
I have a tremendous amount of respect for William Lynch, but I'm actually glad to see him go. Because of the nature of his skillset, the best time to hold the companies he leads is after he leaves.
Post-Lynch, HSNI has been a 6-bagger: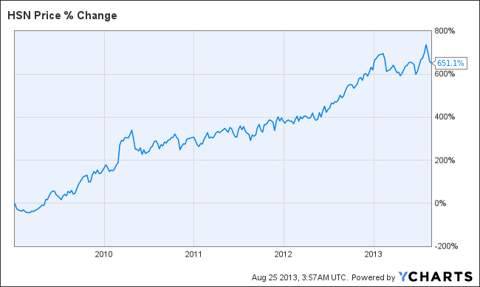 Q: Fair enough, so what is this co-branded strategy, then?
Co-branding just means anytime that two different companies are both putting their labels on a product. It is done for numerous reasons, but in this case Barnes and Noble has indicated that they are motivated by a desire to limit inventory risk.
It is possible that Barnes and Noble's co-branding strategy could simply mean that they are going to try to hire a rival tablet manufacturer, like ASUS or ACER, to manufacture their devices for them. But I don't see how that would limit inventory risk.
I think it is much more likely that they are looking to enter into co-branding agreements with parts suppliers. If they were to make a Mirasol tablet, Qualcomm would likely supply both the screen and the snapdragon processors.
Q: How would a co-branded strategy with suppliers reduce inventory risk?
Returns.
The publishing industry has an odd tradition: bookstores are allowed to tear the covers off of any unsold titles and return it to the publisher for a full refund. As such, the stores never need to worry about taking inventory writedowns.
My guess is that Barnes and Noble would like to do the same thing with their tablets. Instead of risking another $222 million writedown, they would like to cut a deal where they can instead scrap any overstocked device and return the parts to their manufacturer (which I'm assuming is Qualcomm) for a refund.
In exchange for these inventory guarantees, Nook would co-brand their devices with the suppliers name.
Q: Why would suppliers like Qualcomm agree to this?
A: Ostensibly, because the marketing benefit of the co-branding outweighs the relatively low cost of taking back parts.
But really, they would do it for the same reason book publishers do; they are a high margin business dealing with a low margin, monopsony distributor.
As I mentioned above, Amazon's purchase of Liquavista leaves rival color epaper technology with only one sizeable North American customer.
Hopefully, Barnes and Noble's state-of-the-art Nook inventory management system will kick in at some point to prevent another $222 million overstock. But if that doesn't happen, Qualcomm is still better off eating that inventory overage themselves than they would be idling their billion dollar factory.
The same logic holds true for E-ink corporation if they wish to bring their color Triton screens to the North American market. There are also color epaper technologies that have been developed by Pixel Qi and Plastic Logic- but I don't think those companies are big enough to offer something like inventory returnability.
Q: Has Qualcomm shown any interest in cobranding?
A: They certainly have.
Perhaps the most famous co-branding campaign in computer hardware history is Intel's "Intel Inside" logo.
Qualcomm is looking at marketing their snapdragon processors in a similar campaign- they even have a mascot.
And take another look at that Kyobo mirasol ereader: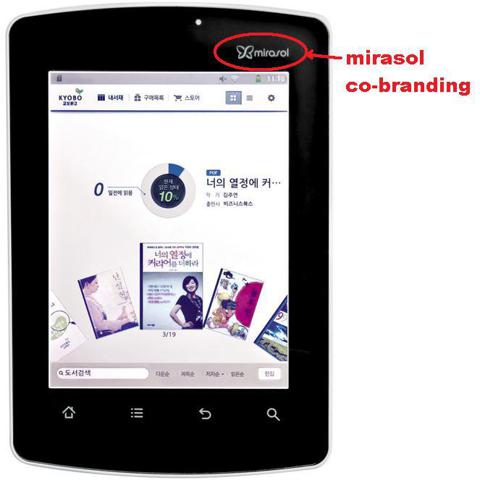 That's a Mirasol logo stamped right on a device manufactured and marketed by a company whose primary business is operating a chain of book stores. Qualcomm has played this game before.
Q: You've been wrong on Barnes and Noble before.
I have been. Take what I have to say with a grain of salt.
In my last article, I speculated that they would beat on their most recent earnings due to a cookie jar created by previously writing off inventory.
This actually came up on the earnings call. In response to a totally unrelated question, new CEO Michael Huseby stated this:
"a portion of the loss that we took -- a fairly -- we took a very significant write-down of inventory in fiscal year '13, and we're selling that inventory, actually selling it according to our forecast right now in fiscal year '14. That's not the gist of your question, obviously, but I just wanted to make that clear. Obviously, the success of how that inventory gets converted to cash will primarily be seen at the holiday when majority of the inventory is sold, or is planned to be sold, and that's our expectation."
So, I take this to mean that my cookie jar thesis was correct but I was too early. We won't see a big earnings impact until the holiday selling season.
Q: When would you see this happening?
Barnes and Noble has a sale on all nook devices ending on the second. So we should start seeing information on their next device launch soon.
But I do think that it is still a bit early for Mirasol. If Barnes and Noble is working on a mirasol device, it is likely that it would come out next year. The upcoming device will probably just be a refresh of their e-ink devices before the holidays.
Q: Okay, one more thing, the Barnes and Noble retail CEO just dumped all his shares. Should investors be worried?
I don't think so.
The Wall Street Journal (I'd link, but it's behind a paywall) recently reported that Mitch Klipper sold 400,000 shares after the most recent earnings call, and this headline was reposted by a number of outlets.
The form 4 is here.
While it is true that Klipper sold most of his shares, I think you should also check out this form 4 from 2010 as well.
In 2010, Mitch Klipper was granted 500,000 restricted stock units that weren't fully vested until April 1, 2013. So it isn't at all unusual that he choose to sell those units shortly after the lock-up expired.
Q: So what does all of this mean for investors?
For Qualcomm investors, nothing yet. I think Mirasol could be a huge business for Qualcomm someday, but a potential partnership with Nook will simply not be a needle-mover on a $114 billion market capitalization.
For patient Barnes and Noble investors, Mirasol could be a game changer. Barnes and Noble's enterprise value is only $749 million. In 2013, Barnes and Noble reported earnings of $227 million for their retail stores and $64 million for their college stores. Digital media sales totaled $310 million, and since that is net reportable income it is 100% profit. If Barnes and Noble can simply avoid losing money on hardware sales, they should be able to swing to a profit and easily justify their current valuation.
Barnes and Noble would not need to sell something like Mirasol at a loss, and they could still benefit from there cookie jar reserve account on their remaining E ink and LCD devices.
Disclosure: I am long BKS. I wrote this article myself, and it expresses my own opinions. I am not receiving compensation for it (other than from Seeking Alpha). I have no business relationship with any company whose stock is mentioned in this article.