As we largely agree, when a firm cuts its dividend, it is a sign to all future potential dividend growth investors that its shares may not be worth their weight in salt. But is this fair? Does Harley-Davidson's (NYSE:HOG) dividend cut in 2009 mean that dividend growth investors should forget all about it...forever?
Well, like most answers, it depends. Unfortunately, in our view, Harley's business model is still dependent on the same trends that it was in 2009, and its financial services operations still contains similar risks. This is why we think a firm's dividend growth track record is so important--not because we care one iota about how many consecutive years the firm has raised its dividend or what time of year the company raises its dividend, but instead, what those consecutive years of dividend hikes mean as it relates to the strength of a firm's business model and future potential for further increases.
If a firm hasn't been forced to cut its dividend as a result of the structural characteristics of the industry in which it operates, then its track record really means something. However, as dividend growth investing has become the "next greatest thing," management teams all over the world are now looking to generate those nice track records (after all, what's a penny or so a year on a diluted earnings stream of a couple dollars). In fact, some companies have raised their dividends for more than 25 consecutive years and still don't boast a meaningful payout--think CR Bard (NYSE:BCR), Sherwin-Williams (NYSE:SHW), or Sigma-Aldrich (NASDAQ:SIAL). These shenanigans are more common than you think.
Understanding why the track record is important is more important than the track record itself. That said, let's dive into our assessment of the health of Harley's dividend.
Investment Considerations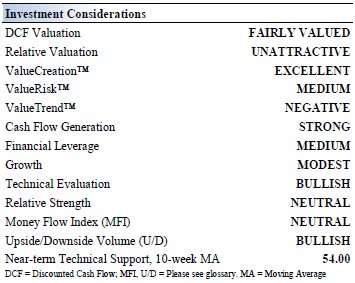 Harley-Davidson's Dividend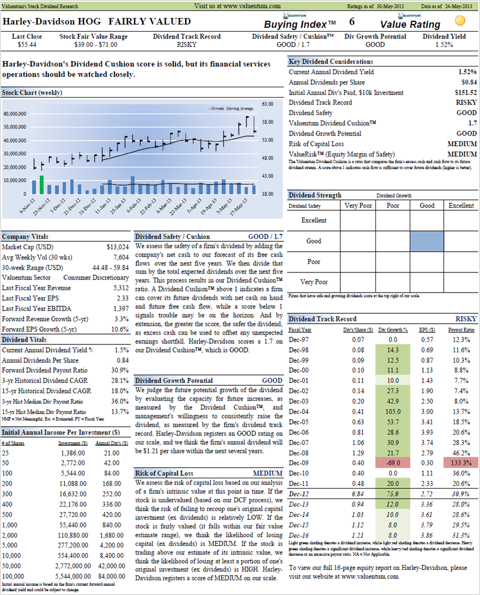 As you can see by the image above, which reflects our full-page dividend report on Harley-Davidson, its dividend yield is below average, offering just at a 1.5% annual payout at recent price levels. You'll also notice in the bottom right table that its dividend cut stands out like a sore thumb (see it in red?). Quite simply put, we prefer yields above 3% and don't include firms with yields below 2% in our dividend growth portfolio. But what do we think of the safety of Harley's dividend today?
Well, we think it's good (please see our definitions at the bottom of this article). We measure the safety of the dividend in a unique but very straightforward fashion via the forward-looking Valuentum Dividend Cushion™. The measure is a ratio that sums the existing cash a company has on hand plus its expected future free cash flows over the next five years and divides that sum by future expected dividends over the same time period. Basically, if the score is above 1, the company has the capacity to pay out its expected future dividends. As income investors, however, we'd like to see a score much larger than 1 for a couple of reasons: 1) the higher the ratio, the more "cushion" the company has against unexpected earnings shortfalls, and 2) the higher the ratio, the greater capacity a dividend-payer has in boosting the dividend in the future. For Harley-Davidson, this score is 1.7, revealing that on its current path the firm should be able to cover its future dividends with net cash on hand and future free cash flow. The score is not a rating, but an actual fundamentally-derived ratio that reveals how well the company covers its dividend payments.
Now on to the potential growth of Harley-Davidson's dividend. As we mentioned above, we think the larger the "cushion" the larger capacity it has to raise the dividend. However, such dividend growth analysis is not complete until after considering management's willingness to increase the dividend. To do so, we evaluate the company's historical dividend track record. If there have been no dividend cuts in 10 years, the company has a nice growth rate, and a nice dividend cushion, and its future potential dividend growth would be excellent, which is not the case for Harley-Davidson. This is where our process dings Harley for its dividend cut. Instead of rating it as an excellent potential grower, we assign it a good rating.
And because capital preservation is also an important consideration, we assess the risk associated with the potential for capital loss (offering investors a complete picture). In Harley-Davidson's case, we currently think the shares are fairly valued (its share price falls within our fair value estimate range--see image above), so the risk of capital loss is medium. If we thought the shares were undervalued, the risk of capital loss would be low.
All things considered, Harley-Davidson's Cushion score is solid, but its financial services operations should still be watched closely and it remains exposed to the same risks as in 2009 (when it cut its dividend). We like the company (and love its products!), but we call it how it is. Good, but not great.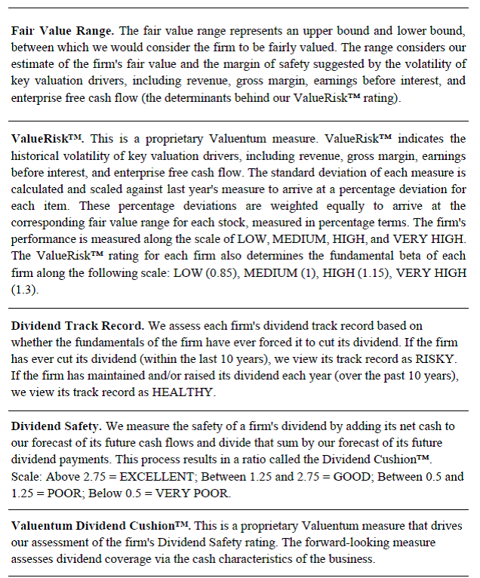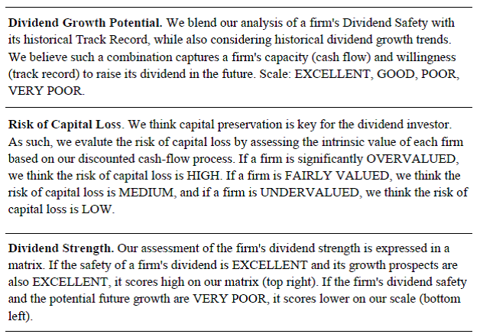 Disclosure: I have no positions in any stocks mentioned, and no plans to initiate any positions within the next 72 hours. I wrote this article myself, and it expresses my own opinions. I am not receiving compensation for it (other than from Seeking Alpha). I have no business relationship with any company whose stock is mentioned in this article.