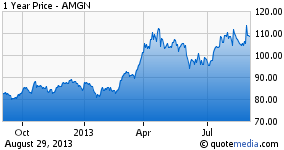 Amgen Inc. (NASDAQ:AMGN) the world largest biotechnology company develops manufactures and markets products for the treatment and cure of cancer, nephrology and other disease primarily in the United States, Europe and Canada.
About Amgen
Amgen reported second quarter earnings on July 30th. Total revenues were $4.68 billion which was a 5% increase from the second quarter of 2012. Net income was $1.44 billion up 1% from a year ago. The earnings highlights were that the sales of its top selling drugs Neulasta/Neupogen was up 7%, and sales of Enbrel its second best selling drug were up 9%. While the earnings report showed that Amgen was once again profitable, there were no new products that could help to propel the company into the future.
Amgen's Future
As baby boomers become older developing medicines for the maintenance and treatment of cancer patients has become increasingly important. Amgen has several drugs that help patients cope with the side effects of cancer treatments, but no drugs that actually attack the cancers. There, blockbuster drugs Neulasta and Neupogen help to prevent infections in cancer patients that are undergoing chemotherapy, but they are not cures. What Amgen executives have wanted are treatments for the cure of cancer. On August 24th, Amgen executives got their wish when the Amgen announced that it would be getting larger.
Amgen had struck a deal to purchase Onyx Pharmaceutical (NASDAQ:ONXX) for $10.4 billion in cash. Onyx is a biotech company that specializes in the development of drugs for the treatment and cure of cancer. At the time of the announcement, the company had a market cap of close to $9 billion with a stock price of around $117. Onyx had not been a financially successful company, in the second quarter it lost $53.2 million and in 2012 it lost $187.8 million. However despite its poor earnings its stock price has increased by over 70% in the last 52 weeks. The reason for its stocks success was the potential of its highly prized drug Kyprolis. Kyprolis received FDA approval in July of 2012, and it has been used as a late term treatment for a rare blood cancer called multiple myeloma.
When Amgen came public about the purchase, Robert A Bradway Amgen's CEO issued a statement in which he said, "Amgen has a unique opportunity to add value to Kyprolis, a product which is at an early and promising stage of its launch," Cancer treating drugs like Kyprolis are coveted because companies can charge patients high fees for them. For instance Kyprolis cost $10,000 for a 28 day cycle.
Sales of Kyprolis reached $125 million in the first six months of 2013, and analysts believe that its sales could grow to as high as $2 billion per year. While buying the patent for Kyprolis was the driving force behind Amgen's purchase of Onyx, the company received other valuable patents including the patent on Nexavar which treats liver and kidney cancer and Stivarga which treats colon cancer and gastrointestinal tumors.
While buying Onyx and its signature cancer treating drug Kyprolis looks like a great purchase for Amgen it was not without risk. For instance Kyprolis still has not been approved to be used in Europe or for early term treatment of multiple myeloma in the United States. In addition Celgene Corporation (NASDAQ:CELG), a key competitor of Amgen's currently sells the blockbuster drug Revlimid which is currently the leading drug treatment for multiple myeloma. Revlimid is Celgene's top selling drug, and in the second quarter its sales totaled $1.5 billion. Revlimid which is also expensive to use, cost patients about $12,900 a month. Celgene has also begun selling a drug called Pomalyst which also treats multiple myeloma. Pomalyst which received FDA approval in February, had $66 million in second quarter sales.
Amgen's Finances
As of June 30th Amgen's balance sheet showed $22 billion in cash and equivalents. However, the company had to borrow $8.1 million in order to pay for the purchase of Onyx Pharmaceuticals. The reason that the company had to borrow so much money is because $19.2 billion of its cash is stranded in the accounts of its foreign subsidiaries. Amgen's accountants calculated that it would be cheaper to borrow the money than to repatriate cash and pay taxes. By the end of the third quarter, the company will be over $30 billion in debt. With the current low interest rates, that kind of debt is tolerable, but with rates moving higher carrying over $30 billion in debt could become a problem.
The company has a market cap of $87.8 billion, and its stock price is around $109. At its current valuations, price to earnings ratio 18.3 and price to book ratio 3.9 the stock is not cheap, but it is in the same neighborhood as competitors such as Novrtis AG (NYSE:NVS) or Teva Pharmaceutical (NYSE:TEVA) and less than Celgene, which has a price to earnings ratio of 39.8 and a price to book ratio of 10.8.
Conclusion
For several quarters Amgen's revenues have been relatively flat, and the company needed a catalyst to help boost its revenues and earnings. That is why I believe that its purchase of Onyx was an excellent decision. Kyprolis is just the start of Amgen's foray into developing and marketing treatments for the cure of cancers. Apparently other investors believe that it was an excellent decision also, because on the day that the purchase was announced Amgen's stock price rallied higher by $8.15 or 7.5% on extremely high volume. The jury is still out but I expect Amgen's stock to continue moving higher.
Disclosure: I have no positions in any stocks mentioned, and no plans to initiate any positions within the next 72 hours.
Business relationship disclosure: The article has been written by an Analyst at ResearchCows, ResearchCows is not receiving compensation for it (other than from Seeking Alpha). ResearchCows has no business relationship with any company whose stock is mentioned in this article. Any analysis presented herein is illustrative in nature, limited in scope, based on an incomplete set of information, and has limitations to its accuracy. The author recommends that potential and existing investors conduct thorough investment research of their own, including detailed review of the company's SEC filings, and consult a qualified investment advisor. The information upon which this material is based was obtained from sources believed to be reliable, but has not been independently verified. Therefore, the author cannot guarantee its accuracy. Any opinions or estimates constitute the author's best judgment as of the date of publication, and are subject to change without notice.