In April I wrote an article in which I make the case for shorting Barrick Gold (NYSE:ABX) either as a good way for gold bears to short the yellow metal, or as a good way for gold bulls to hedge their other gold positions. In that article I criticize the company's hedging of its gold production in the face of rising prices. I also criticize its Equinox purchase and its handling of the Pascua Lama project. More generally I make the case that Barrick Gold has been a terrible steward of shareholder capital.
Since then Barrick Gold has underperformed the Market Vectors Gold Miners ETF (NYSEARCA:GDX) by over 8%.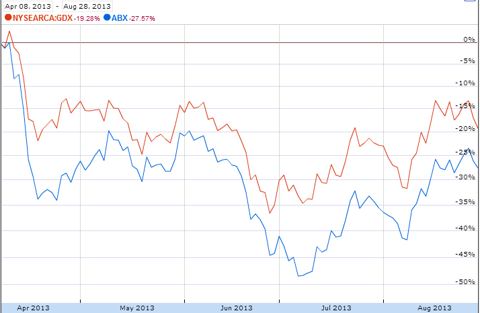 Furthermore, several events have transpired that have made me more confident in my position that Barrick Gold should be avoided by investors in gold mining companies and perhaps shorted as a hedge against a long gold portfolio.
The company's development of its Pascua Lama project in Chile is delayed after the court of appeals ruled that "the company must complete Pascua-Lama's water management system in compliance with the project's environmental permit to the satisfaction of Chile's Superintendence of the Environment (Superintendencia del Medio Ambiente or "SMA") before resuming construction activities in Chile."
The company sold its Barrick Energy Inc. subsidiary for roughly $455 million Canadian. It took a write-down of $500 million in the second quarter because it carried Barrick Energy on its books for nearly $1 billion.
The company slashed its dividend to $0.05 per share per quarter from $0.20 per share per quarter.
As I hope to demonstrate the first three events are very telling of the company's inability to manage shareholders' capital (the fourth is a natural consequence of this). Ultimately one can question the alignment between shareholders' interests and management, and that a long position in Barrick Gold shares cannot be justified.
1: The Pascua Lama Fiasco
When I wrote my first article on Barrick Gold a decision had not been made by the Chilean court, but I was fairly convinced that the decision that was made would be the end result. While the company intends to eventually resume construction, it has increased its estimated capex to $8 billion and took a $5.1 billion write-down.
Furthermore, in July we learned that:
Lewis and Patricia Clark filed a class action lawsuit for themselves and other shareholders against the world's largest gold miner for "making false and misleading statements and concealed material information" relating to Pascua-Lama's delays and costs.
Court documents filed by Labaton Sucharow LLP on August 2, 201,3 related to a class action lawsuit on behalf of shareholders of Barrick Gold reveal the testimonies of five former Barrick employees. These confidential witnesses confirm that Barrick top management knew that construction at the Pascua Lama Project was contaminating nearby water sources and breaching environmental conditions that led to the suspension of the project. These witnesses also testify that at a time when the company was estimating that the Project's cost would be between $2.8 and $3 billion, Barrick already had in its possession an engineering report estimating costs for the Project at nearly twice that figure.
The company's most recent F-10 makes no mention of the Clark lawsuit.
This should raise a glaring red flag to investors and prompt them to sell. Management is being accused of concealing information from shareholders in order to make it seem that the Pascua Lama project was safer and more valuable than it really was, and this made the overall company appear to be more valuable than it actually was.
2: The Divestiture of Barrick Energy
The divestiture of Barrick Energy appears to be a good idea. It shows intent to focus on gold production, and it also raised some much needed cash. The material impact of the $500 million write-down is more or less negligible, as this amounts to only about $0.50 per share, or about $2.6% of the company's market valuation.
But there is an underlying issue here that would make me very concerned as a Barrick Gold shareholder. The company sold Barrick Energy for $455 million Canadian (about $435 million U. S.), but the $500 million write-down implies that the company had it valued on its books for nearly $1 billion.
It would be somewhat easier to ignore this over-valuing assets on its books as a one-time occurrence if there was no Pascua Lama fiasco. Thus in the second quarter investors learned that the company was carrying two assets on its books at an unreasonable valuation. Are there any others? There is potentially a pattern here, which means that the practice could extend to other Barrick Gold assets. While there is no concrete evidence of the company over-stating its assets' values, the precedent that I point out is unsettling.
Of course there is another possibility regarding Barrick Energy, that the company sold it at a discount to its intrinsic value. After all, that is what happened last week with the company's sale of its Yilgarn South assets.
3: Yilgarn South Assets
Yilgarn South consists of three mines: Lawlers, Granny Smith and Darlot. The company sold these assets to Gold Fields last week for $300 million. In all there are roughly 2.6 million ounces of gold reserves and 1.9 million ounces of gold resources on these properties. Furthermore, the three properties combined to produce around 450,000 ounces in 2012 at an "all-in sustaining" production cost of $1,137/ounce. In the first two quarters of 2013 they produced 196,000 ounces at $1,145/ounce, which annualized is 392,000 ounces. At $1,415/ounce gold, this comes to $106 million in annual cash flow. Despite the fact that these are depleting assets (although they have exploration potential, especially Granny Smith), the undeniable winner here is Gold Fields, which essentially picked up these assets at less than 3-times cash flow.
Why, you might ask, would Barrick Gold divest these profitable mines in one of the safest mining jurisdictions in the world at 3 times cash flow? The following comes from the company's press release:
The agreement to divest Yilgarn South demonstrates further progress as we work to optimize the company's portfolio and maximize free cash flow in line with our disciplined approach to capital allocation," said Jamie Sokalsky, Barrick's President and CEO.
It would seem to me that keeping these assets, or at least selling them at a much higher price, would help achieve the objectives mentioned here. The rationale for such a transaction eludes me, and my conclusion is that it is just another instance of Barrick Gold squandering shareholders' hard earned money.
4: The Dividend Cut
The dividend cut is simply a consequence of the company's general inability to manage capital. It is also a signal to me that my concerns are well-founded.
Conclusion
In the past few months we have learned that Barrick Gold's management team simply cannot manage its assets with any prudence. We have also learned that the company has misstated the values of at least two of its assets. This is on top of the points that I made in my previous article:
The company undervalued its gold and lost shareholder capital by hedging its production.
The company overvalued Equinox.
Thus we have four instances of the company mis-valuing assets that lead to write-downs, as well as the sale of an asset at a deep discount to its intrinsic value.
There is no point in debating fine points such as whether management is corrupt, inept, desperate or some combination of the three. If you own Barrick Gold it shouldn't matter: you should just sell. There are so many other high quality gold mining companies to choose from whose management teams do not overtly engage in such blatantly irresponsible oversight of shareholder capital.
Disclosure: I have no positions in any stocks mentioned, and no plans to initiate any positions within the next 72 hours. I wrote this article myself, and it expresses my own opinions. I am not receiving compensation for it (other than from Seeking Alpha). I have no business relationship with any company whose stock is mentioned in this article.