The first article of the series introduced the Carbonate Triangle of the renowned Canadian oil sands. The region is the world's third largest oil reserve with its rich carbonate-hosted bitumen deposit located in northern Alberta's deep underground. Precisely, the Carbonate Triangle is situated between three major bitumen areas, Athabasca, Cold Lake and Peace River.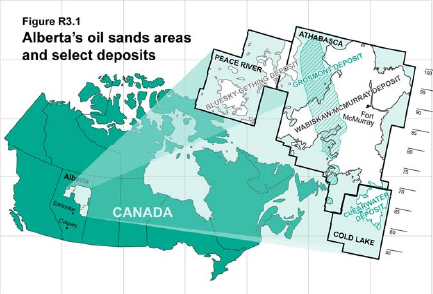 Source: ERCB
In today's investment guide on the Carbonate Triangle, I will present the main characteristics of the Athabasca area to have a better assessment of its potential. Then, I will discuss a well-known producer of oil and gas owning a few assets in Athabasca. So far, I looked into various producers involved in the Peace River and Cold Lake regions of the Carbonate Triangle:
Peace River's most notable producers:
Cold Lake's most notable producers:
Athabasca's most notable producers:
An analysis of the current operations of the company will be examined with the objective to provide the most complete information available to potential investors before deciding to seize the opportunity that the 54,132 square miles of the Carbonate Triangle has to offer. Let's start by introducing Athabasca, a famous and most prolific region in the Canadian oil sands as well as one of the largest reserves in the world.
Athabasca Region
The Athabasca oil sands are named after the Athabasca River which cuts through the heart of the deposit, and traces of the heavy oil are readily observed on the river banks. Commercial production of oil from the Athabasca oil sands began in 1967, when Great Canadian Oil Sands Limited, now incorporated into an independent company known as Suncor Energy, opened its first mine, producing 30,000Bls/d of synthetic crude oil.
The Athabasca region can be defined with two major oil sands deposits: the Grosmont Formation and the Wabiskaw-McMurray Formation. The Grosmont Formation is a late-Devonian shallow marine to peritidal platform carbonate consisting of four recognizable units within the deposit. All of the hydrocarbons are located in an updip position, structurally trapped along the erosional edge and contained by the overlying Clearwater Formation.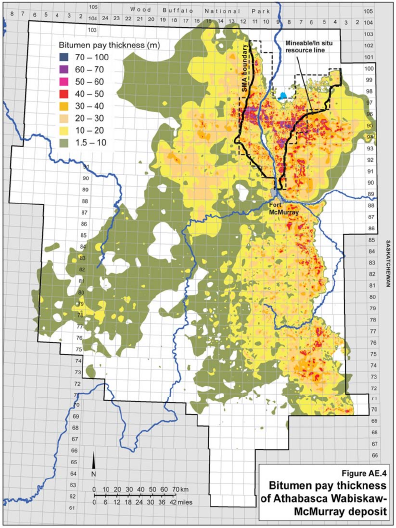 Source: ERCB
The McMurray Formation was deposited on an exposed karstic landscape of ridges and valleys and varies in thickness from being absent over Devonian highs to over 426 feet thick in the Bitumont Basin. Bitumen-rich reservoirs formed within estuarine valleys stacked above the Lower McMurray channel sands and are assigned to the Upper McMurray Formation.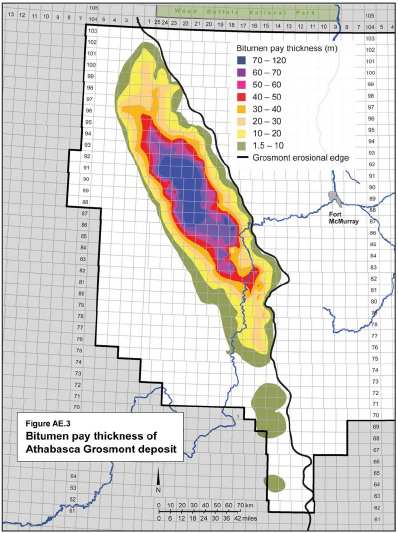 Source: ERCB
The Athabasca region is estimated to hold total reserves of 1.34 trillion barrels of oil. Approximately 8-10% would be recoverable with current technology, which would represent a total reserve of 134 billion barrels. Compared to the estimated 7 billion barrels contained in Peace River and approximately 16 billion barrels in Cold Lake, the Athabasca region is the most prolific and the most promising of the three, located in the Carbonate Triangle.
Nexen (NYSE:CEO)
Nexen's origins date back to the formation of Canadian Occidental Petroleum, a western Canadian oil and gas producer established in 1971. Its early success in Canada fueled the company's first discovery in Yemen in 1990. It was a bold move that tripled the proved plus probable reserves of the company at the time and exceeded expectations by yielding more than a billion barrels of oil.
Canadian Occidental was renamed Nexen in 2000 as it embarked on its next growth phase by investing in the Buzzard offshore facility in the U.K's North Sea as well as its Long Lake oil sands operation.
A new chapter in Nexen's history began when CNOOC acquired the company in a $15.1 billion transaction. The Calgary-based headquarters remained one of CNOOC's international headquarters after the acquisition of February 2013. Nexen continues its activities worldwide as a wholly subsidiary of CNOOC.
The transaction was one of the biggest acquisitions of a Canadian energy company by a foreign entity. It proved that China's interests were not only looking to invest in some assets in the Canadian oil sands but concrete actions were taken in order to acquire its own strategic interests in the region. The move recognized the tremendous value that will profit China for years to come. This just recalls the stake of TransCanada's (NYSE:TRP) Keystone XL Pipeline Project that Obama's administration is delaying that would de-bottleneck the heavy crude oil from the Canadian oil hubs to refineries in the U.S. Does China's feat a prelude for the future?
Nexen's Strategy To Unlock Growth Value
Nexen maintains a diverse portfolio of assets, locations and commodity types to provide flexibility through changing economic conditions and world events. The strategy allows the company to mitigate the risk associated with more sensitive geopolitical regions as well as protecting itself against price volatility.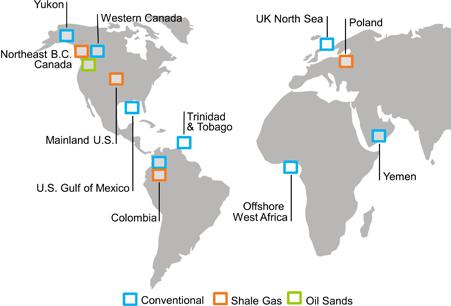 Notably, the company develops strategic partnerships to invest in large-scale assets that could potentially deliver attractive returns. Combined with a flexible balance sheet, it enables Nexen to finance large capital projects through the economic cycle.
Using innovation, it generates value from its three core businesses: conventional oil and gas, shale gas and the Canadian oil sands. Let's take a quick look at the first two before examining Nexen's activities in the Canadian oil sands.
Conventional Oil and Gas
Nexen has major positions in some of the world's most significant conventional offshore basins: the U.K's North Sea, West Africa and Gulf of Mexico. From Europe to Africa to North America, the conventional business forms the heart of its current production and cash flow as well as some of its best prospects going forward.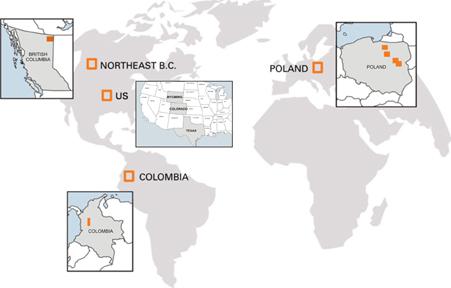 Source: Nexen
Nexen is the second largest oil producer in the U.K's North Sea thanks to the resource-rich Buzzard facility, which in 2012 generated about 160,300Boe/d (barrels of oil equivalent per day), from which 69,000Boe/d are net to Nexen.
At full capacity, the Usan FPSO (Floating Production, Storage and Offloading) unit has the capacity to handle 180,000Bls/d (barrels of oil per day). Of that capacity, 36,000Bls/d is net to Nexen.
Furthermore, Nexen is one of the largest leaseholders in the Gulf of Mexico, with approximately 200 blocks of land. Its joint-venture discoveries at Appomattox are its best yet. Located about 72 miles off the Louisiana coast, Appomattox is estimated to contain, net to Nexen, about 106Mmboe (million barrels of oil equivalent) of probable reserves.
Shale Gas
At its Horn River facilities located in northeastern British Columbia, the company began producing in 2007 at Dilly Creek. Currently, it has an operating capacity of about 29,000Boe/d. Actual production from Horn River averaged 8,800Boe/d, net to Nexen in 2012.
In Colorado, Wyoming and Texas, Nexen manages CNOOC's 33% working interest in two major U.S. shale projects operated by Chesapeake Energy (NYSE:CHK): Eagle Ford with 600,000 net acres in South Texas and Niobrara with 800,000 net acres in Colorado and Wyoming. The Colorado and Wyoming assets are primarily shale oil assets with some shale gas. The Niobrara shale, an early discovery also nicknamed the Neo-Bakken, has a huge potential that is still getting assessed by oil producers of the region.
Canadian Oil Sands
Nexen has an interest in more than 300,000 acres in the Athabasca region, with billions of barrels of contingent recoverable oil sands resource.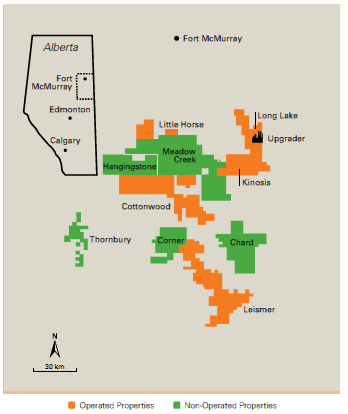 Source: Nexen
Syncrude Canada
Nexen has a 7.23% interest in Syncrude's oil sands mining and upgrading facility, located about 24 miles North of Fort McMurray, Alberta. The facility's current production capacity is 350,000Bls/d, of which 25,000Bls/d are net to Nexen.
MEG Energy
CNOOC holds 12.39% in equity interest of MEG Energy, a small-cap Canadian oil sands developer. For more information on this play in the Canadian oil sands, access it here.
Hangingstone
According to Nexen, it has a 25% working interest at this non-operating SAGD project being developed by Japan Canada Oil Sands, which is located about 31 miles southwest of Fort McMurray. Initial production at Hangingstone is expected to average about 20,000Bls/d of bitumen, about 5,000Bls/d net to Nexen. Production start-up is expected to begin in the first half of 2016.
Long Lake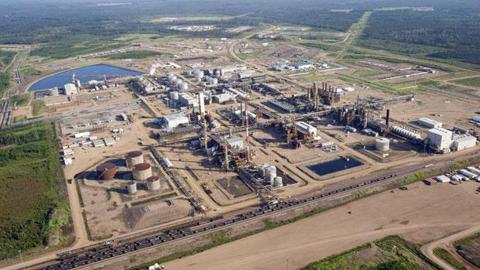 Source: Nexen
Long Lake, which began producing bitumen in 2008, is an integrated SAGD and upgrading operation that uses a proprietary OrCrude technology as well as hydrocracking and gasification to produce PSC (Premium Synthetic Crude) oil. With OrCrude, bitumen is partially upgraded and asphaltenes (the lowest value portion of the barrel) are removed. The diluent is also removed and returned to the production separation and treatment facility where it is reused.
A section of the SAGD Inlet and OrCrude Unit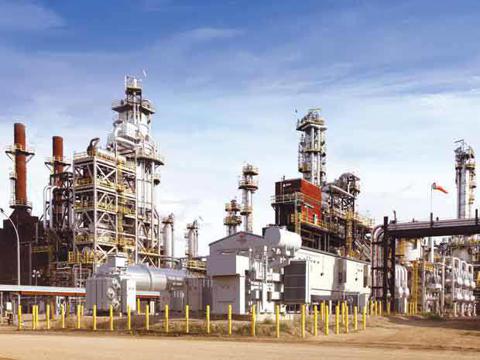 Source: Nexen
Production capacity at Long Lake is 72,000 barrels of bitumen per day, which when upgraded, is capable of generating approximately 58,500 barrels per day. Work is underway to increase bitumen production and to enable operation of the upgrader at full capacity. Nexen planned five production phases of 72,000Bls/d but no timeline has been determined yet by the company.
Nexen has estimated the proved and probable reserves at Long Lake, at approximately 1,027Mmboe.
Kinosis (Long Lake South)
Nexen is accelerating the development of K1A, a stand-alone SAGD project in the Kinosis area, 7.5 miles South of the Long Lake facility.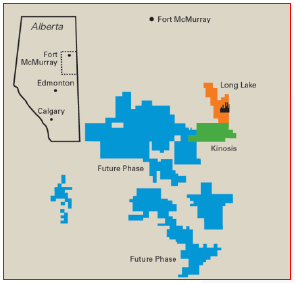 Source: Nexen
Bitumen from K1A will be upgraded at Long Lake. In total, Nexen expects to drill 29 wells, with steam injection expected for 2014. Production from these wells is expected to average between 15,000-25,000Bls/d at peak rates. Steam for the K1A wells will be provided by four generators installed at Kinosis, while using water supplied by the Long Lake facility.
By developing Kinosis in phases, the company expects to see additional bitumen production much sooner than it would have been the case under the larger projects originally planned for this field. This is consistent with a key learning, that smaller SAGD projects should focus on the best reservoir within the leases, thus enabling Nexen to better manage capital requirements and facilitate shorter ramp-up of the Long Lake upgrader to reach its capacity.
Future Opportunities
Nexen is strategically positioned for future in-situ oil sands development, with land holdings in a number of Athabasca prospect areas including operated leases at Leismer and Cottonwood and non-operated leases at Meadow Creek, Corner and Chard.
Bottom Line
Nexen has a strong presence in the Canadian oil sands. Furthermore, adding about 22% of its production to CNOOC with the recent acquisition, that obviously contributes to the value of CNOOC's shares.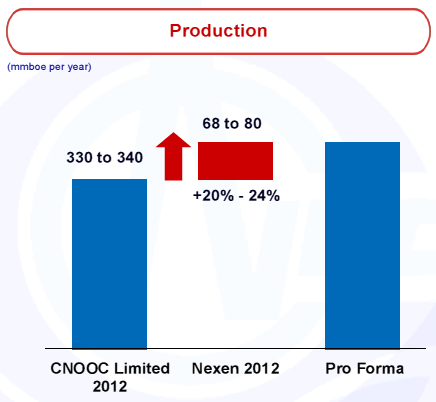 Source: CNOOC
Notably, the transaction increased its long-term growth with contingent resources of 5,600Mmboe and 1,122Mmboe of proved and probable reserves to CNOOC's reserves.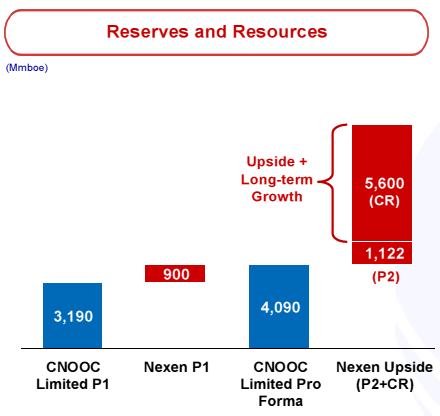 Source: CNOOC
CNOOC is a worldwide major producer of oil and gas and to invest in Nexen investors have to acquire CNOOC shares as a result. With a long-term debt to equity ratio of 9.38, the company uses its financing capital at low levels and generates enough cash flow from its operations to develop its projects.
The TTM (trailing twelve months) of its return on equity ratio is at 22.24% compared to its industry's average of 3.40%, which suggests that the company returns include high amounts of net income as a percentage of shareholder equity. Finally, with a TTM P/E ratio of 7.96 compared to its industry's average of 38.24, investors are not expecting high earnings growth.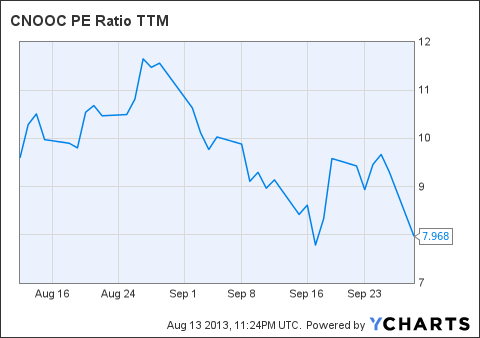 I think that CNOOC is an interesting company for investors looking to enter the oil and gas industry with a major producer with operations worldwide. In addition, the assets held by Nexen allow CNOOC's shareholders the benefit that a part of Nexen's production comes from one of the most prolific regions and one of the lowest geopolitical risks on the planet.
CNOOC's stock is trading in the range of $198 a share and it appears to be well below its fair price. As a matter of fact, Morningstar assessed the stock price at $228 a share. Therefore, this could be a good opportunity to add the equity into your portfolio.
Disclosure: I have no positions in any stocks mentioned, and no plans to initiate any positions within the next 72 hours. I wrote this article myself, and it expresses my own opinions. I am not receiving compensation for it (other than from Seeking Alpha). I have no business relationship with any company whose stock is mentioned in this article.