In this article, I will feature one industrial sector company that has seen intensive insider buying during the last 30 days. Intensive insider buying can be defined by the following three criteria:
The stock is purchased by three or more insiders within one month.

The stock is sold by no insiders in the month of intensive purchasing.

At least two purchasers increase their holdings by more than 10%.
Superior Plus Corp. (OTCPK:SUUIF) engages in the energy services, specialty chemicals, and construction products businesses primarily in Canada and the United States. Superior has three operating segments: the Energy Services, Specialty Chemicals segment, and Construction Products Distribution. Superior's Energy Services operating segment provides distribution, wholesale procurement and related services in relation to propane, heating oil and other refined fuels. Specialty Chemicals is a supplier of sodium chlorate and technology to the pulp and paper industries and a regional supplier of potassium and chloralkali products in the United States Midwest. Construction Products Distribution is the distributor of commercial and industrial insulation in North America, and specialty construction products to the walls and ceilings industry in Canada.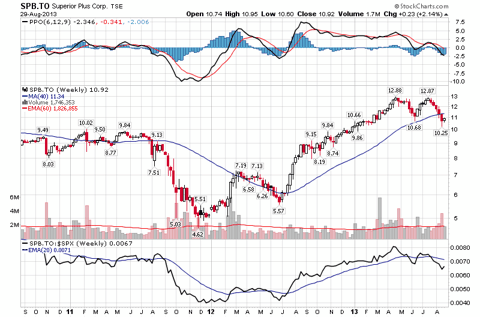 Insider buying during the last 30 days
Wayne Bingham purchased 10,000 shares on August 14-15, and currently holds 208,696 shares or 0.2% of the company. Wayne Bingham is Executive Vice President and Chief Financial Officer. Wayne Bingham increased his holdings by 5.0% in August.
Gregory McCamus purchased 10,000 shares on August 23, and currently holds 42,987 shares or less than 0.1% of the company. Gregory McCamus is President, Energy Services and Superior Propane. Gregory McCamus increased his holdings by 30.3% in August.
Walentin Mirosh purchased 3,000 shares on August 15, and currently holds 6,000 shares or less than 0.1% of the company. Walentin Mirosh serves as a director of the company. Walentin Mirosh increased his holdings by 100% in August.
Insider buying by calendar month
Here is a table of Superior Plus's insider-trading activity by calendar month.
| | | |
| --- | --- | --- |
| Month | Insider buying / shares | Insider selling / shares |
| August 2013 | 23,000 | 0 |
| July 2013 | 0 | 0 |
| June 2013 | 34,000 | 0 |
There have been 57,000 shares purchased and there have been zero shares sold by the insiders since June 2013.
Financials
Superior Plus reported the second-quarter financial results on August 1, with the following highlights:
| | |
| --- | --- |
| Revenue | $854.4 million |
| Adjusted operating cash flow | $30.2 million |
| Cash | $12.9 million |
| Debt | $939.9 million |
Outlook
Superior expects 2013 adjusted operating cash flow per share of $1.60 to $1.85, which is an increase of $0.05 per share to the bottom end of the 2013 outlook from the outlook provided at the end of the first quarter of 2013 of $1.55 to $1.80 per share.
Competition
Energy Services
Propane is sold in competition with other energy sources such as fuel oil, electricity and natural gas, some of which are less costly on an energy-equivalent basis. While propane is usually more cost-effective than electricity, electricity is a major competitor in most areas. Fuel oil is also used as a residential, commercial and industrial source of heat and, in general, is less costly on an equivalent-energy basis, although operating efficiencies, environmental and air quality factors help make propane competitive with fuel oil. Except for certain industrial and commercial applications, propane is generally not competitive with natural gas in areas where natural gas service exists. Other alternative energy sources such as compressed natural gas, methanol and ethanol are available or could be further developed and could have an impact on the propane industry in general and Canadian propane distribution in particular, in the future.
Specialty Chemicals
Specialty Chemicals competes with sodium chlorate, chloralkali and potassium producers on a worldwide basis. Key competitive factors include price, product quality, logistics capability, reliability of supply, technical capability and service. The end-use markets for products are correlated to the general economic environment and the competitiveness of customers, all of which are outside of the segment's control, along with market pricing for pulp.
Construction Products Distribution
Construction Products Distribution competes with other specialty construction distributors servicing the builder/contractor market, in addition to big-box home centers and independent lumber yards. The ability to remain competitive depends on the segment's ability to provide reliable service at competitive prices.
Conclusion
There have been three different insiders buying Superior and there have not been any insiders selling Superior during the last 30 days. Two out of these three insiders increased their holdings by more than 10%.
There are three analyst buy ratings, three neutral ratings and zero sell ratings with an average target price of $12.96. Superior is trading at a P/E ratio of 21.86 and a forward P/E ratio of 11.04. Superior has a book value of $4.16 per share and the stock has a dividend yield of 5.5%. I have a cautiously bullish bias for the stock currently based on the intensive insider buying.
Disclosure: I have no positions in any stocks mentioned, and no plans to initiate any positions within the next 72 hours. I wrote this article myself, and it expresses my own opinions. I am not receiving compensation for it (other than from Seeking Alpha). I have no business relationship with any company whose stock is mentioned in this article.