Groundhog day at the New York Stock Exchange as UBS (NYSE:UBS) legend Art Cashin got to wear his new "Dow 10,000" hat after a slew of stellar Q3 earnings reports and better than expected retail sales numbers. But maybe it might be illustrative and enlightening to compare and contrast where we are now versus March 29th, 1999 as Cody Willard at Fox Business has done:
"The first time we crossed this 10k threshold, the biz headlines included Microsoft (NASDAQ:MSFT) defending itself against Netscape/DoJ, the Fed Funds rate was at 4.75%, unemployment was at 4.4%, our national public debt stood at about $6.5 trillion and Lil Timmy Geithner was Under Secretary of the Treasury for International Affairs (1998–2001) under Treasury Secretaries Robert Rubin and Lawrence Summers. Summers was his mentor, but other sources call him a Rubin protégé.

This time as we pass the mark, the business headlines include stories of housing's supposed recovery and the suspected end of the recession, the Fed Funds rate is at 0.00%, unemployment has spiked to 9.8%, our national public debt is over $11 trillion, and Ben Bernanke's been reappointed to his post as Fed Head by the latest President from the Republican/Democrat Regime."
That said the key thus far has been that US companies reporting thus far are saying that the outlook has improved and that they are raising guidance with cyclical names leading the way forward.
But the European morning on Thursday saw a bit of a reality check with bellwether telecom stock Nokia (NYSE:NOK) reporting a bigger than expected loss on a 20% drop in sales and impairment charges. The stock is off 5%.
Back across the pond Goldman Sachs (NYSE:GS) again beat equity analysts (who are beginning to make the rating agencies look competent) lowly expectations. But judging from the muted price action (after Morgan's had set the bar so high for its peers) investors were looking for a number way north of "official" Street estimates. Note the "compensation and benefits" column at Goldie's was up 84%, nice. Should be the cue for some self righteous indignation from politicians and the public and a few rants on YouTube.
There are two heavyweights in IBM (NYSE:IBM) (expected EPS $2.38) and Google (NASDAQ:GOOG) ($5.42) reporting after the bell Thursday night.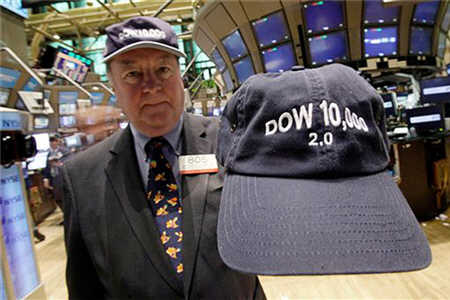 Today's Market Moving Stories
MPC member Paul Fisher said "I feel much more confident now that the asset purchase program is having the scale and speed of impact that we would have hoped for when we started." He added that "people obviously are expecting us to stop at some stage, and so to a degree it will be priced into the market. Whether we'll (stop) in November or at some later date may be uncertain."
The British government will not underwrite a planned rights issue by Lloyds Banking Group. This will hamper attempts by the partly state-owed bank to raise enough money to free itself from a government toxic asset insurance program. Analysts and bankers have said Lloyds may struggle to raise even a few billion pounds from an expected debt swap, leaving a rights issue and asset sales as key to any exit from a government insurance plan. It may need to raise as much as £25 billion to satisfy UK regulators. In a separate story, the Guardian said UK Finance Minister Alistair Darling was ready to hand over as much as £5 billion of taxpayers' money to Lloyds in order to shore up its finances. The Guardian said negotiations between the bank and the government were continuing.
Confidence among Japan's manufacturers has fallen for the first time in seven months, hurt by rises in the yen and oil prices as well as weak demand at home and abroad, a Reuters monthly poll showed. Service-sector firms' sentiment improved slightly for the second straight month but still hovered just above a record low seen early this year. Both manufacturers and non-manufacturers expect conditions to improve in the coming three months, but sentiment indexes for both sectors were expected to remain negative, reflecting a fragile recovery due to sluggish demand.
From the Fed minutes released Wednesday night we can garner one thing: all the talk of an early wind-down to US QE was a wind-up. I now see it as very hard for the Fed to change its mind on finishing the $1.25t trillion that it has started, with the door open to more thereafter. At the margin, this all makes it that bit less uncomfortable for the UK to be seen as going it alone with yet another tranche of its own QE. Of course, this didn't help treasuries, which were trashed yesterday, but it is more likely to be supportive of gilts – pumping a little more air into the bubble.
A sign that we are near the top? Private equity firms are trying to cash out of their investments. Worth a read.
The Lighter Side. All I want for Xmas is an "Emotion Mirroring System for Online Traders."
The Former Speaker Of The Irish Parliament – A Chancer From Kerry


Equity News
Xstrata (OTC:XSRAF) put out a comment Thursday morning announcing that "it has no intention of making an offer for Anglo American (OTCPK:AAUKY)," meaning that under UK takeover rules they cannot bid for Anglo American for another six months unless invited to by Anglo's board or if a third party bids for Anglo. Xstrata's announcement expresses predictable disappointment that Anglo did not take their proposal more seriously, and once again emphasised the strategic benefits of the merger. They also state that they "continue to assess a range of alternative growth options, in full recognition that transactions of this nature often take time and patience to mature," meaning that door is not fully closed regarding their ambitions towards Anglo, or indeed other M&A.
Siemens (SI) is contemplating the sale of its hearing aid business which could net the Group more than €1 billion in proceeds. The hearing aid market is highly consolidated – Siemens has a c. 25% market share – suggesting that a sale to a trade buyer may fall foul of competition rules, with an IPO or a sale to financial investors thought to be Siemens' favoured exit route. Goldman Sachs Capital Partners is a potential interested party, although only as a co-investor. Elsewhere, speculation has been building that Siemens is also close to reaching an agreement to acquire Israel based Solal Solar Systems in a deal that could be worth $400 million.
The miners, and in particular Rio Tinto (RTP) and BHP Billiton (NYSE:BHP), could get a boost from the annual contract negotiations with China which start this week. According to the FT, Rio and BHP will ask for 30-35% price increases in iron-ore for 2010-11 compared with the 33% cut for 2009-10, and a 40-40% rise in coking coal prices compared to a 58% fall this year. While the actual outcome could be very different, with Rio yesterday reporting record iron ore production figures, higher Chinese imports, and continued confidence in the global recovery, I'd expect credit in the miners to continue to perform.
There were few surprises in September's Euro auto sales which were up 6% on the prior year reflecting the strong showing from all of the main markets, which now have fully active scrappage schemes. German sales were up 21%, French sales were up 14%, Spanish sales up 18%, UK sales were up 11% and Italian sales were up 7%. Other markets where there are no scrappage schemes in place remained very weak with most still down double digit percentages (e.g. Netherlands down 18%, Sweden down 15%). Only Fiat (FIATY.PK) and Renault (OTC:RNSDF) made meaningful market share gains. VW (OTCPK:VLKAF), Peugeot (OTCPK:PEUGF), BMW (BAMXY.PK), Daimler (DAI) all lost ground. The market situation is currently "unreal," but as scrappage schemes start to unwind in Germany first (then likely the UK at the end of the year), sales are likely to stabilise at a lower level placing further pressure on already weak profitability.
Insurance stocks were supported in London today by a Bank of America / Merrill Lynch upgrades of RSA and Old Mutual (OLA) to "buy."
Rumours that UK grocer Sainsbury's have accepted a 420p offer from QAI, who currently own 26%. It would be a £5.7 billion deal.
And Finally… Bernanke And Obama Examine The Patient
Disclosures: None