My last article on Bank of America (NYSE:BAC) was in regards to Warren Buffet seemingly holding on to his paper profit in the company's stock after meeting with BAC's CEO, Brian Moynihan. I stated the following:
Perhaps the lunch and meet up with Moynihan was a litmus test for Buffett, to try and get a grasp on his outlook - if not on the company - then at least how he feels about the sector and the economy from a macro sense. Any stock moves in the coming days from Buffett will be very telling. If he reports to have sold, he clearly wasn't happy with how things went. Should we hear silence, we can assume what we're assuming now: Buffett is still riding the Bank of America wave. QTR is bullish on Bank of America here, as well.
Well, we've learning nothing of the selling sort from Buffett since then, reaffirming my contention that he wanted to "ride the wave" and keep his money with the bank. Since that article on August 20th, the stock has been performing well, eventually getting ready to test levels above $14.25 and beyond.
The company's stock has been performing consistently over the last year, having nearly doubled in price. Investors that have been in for the last three months have yielded a rather pedestrian 2%, but those that have been in for the last twelve months have been rewarded with an upside that's more than 70%.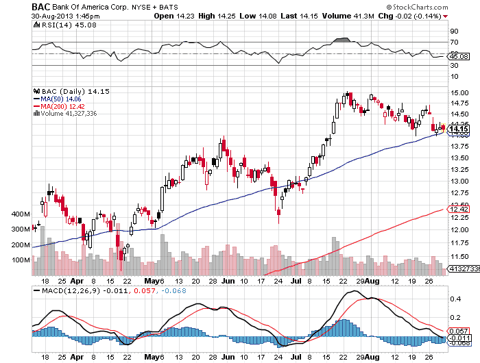 In addition to Buffet staying in, there was some encouraging news (unless you're one of the mentioned BAC workers) for the company. They appear to be sticking to their plan in cutting costs, which was a main contributor to the impressive quarter that the bank reported last. It was reported today, on Cleveland.com, that BAC was laying off 1,000 workers in Beachwood, Ohio and closing three more mortgage offices:
Bank of America notified about 1,000 workers in Beachwood Thursday that they will lose their jobs as of Oct. 31 as the company closes its mortgage and consumer banking office.

Also closing Oct. 31: the bank's 55-person office in Independence and its 100-person office in Cincinnati. Workers were notified earlier today, said company spokesman Terry Francisco.

In Beachwood, about 660 of the jobs are in home loans fulfillment -- most of them working in refinance -- and 350 to 400 more are in customer service for consumer banking. The Independence and Cincinnati offices both involved home loans.

Employees will keep their jobs until Oct. 31.

Workers are being given severance packages. There are few opportunities for transfers because North Carolina-based Bank of America doesn't have any other similar operations locally -- only its Merrill Lynch investment offices.
Layoffs are not the easiest way to get things running smoothly, but in BAC's case, where revenue growth isn't through the roof, it's extremely effective in helping out the bottom line - and subsequently, building value for the company's shareholders. Other shareholder-abrasive maneuvers, like lowering dividends, are not likely to take place as BAC seems to be trimming the fat from their operations elsewhere.
So, Monynihan continues to show me that he's a man of action, is making the right moves, and is concerned with getting the company's fundamentals in order before moving forward.
In keeping with getting the fundamentals in order, Moynihan has put his head down and knocked out an onslaught of BAC's legal woes through settlements, slowly and steadily, one at a time.
As I stated in another article about Bank of America, "Why You Should Ignore Bank of America's Legal Woes":
In all seriousness, this legal onslaught is a battle that the company has been at since earlier this year, as CEO Brian Moynihan has been systematically knocking lawsuits out of the way slowly, steadily, and one at a time. The year started with a $1.7 billion settlement with mortgage insurer MBIA, which was mostly cash with a small investment in MBIA securities.

Although this DOJ civil suit is likely to give investors pause when they see the headline, it's likely to be settled for a much smaller amount than the others once it goes through the legal ringer headlines.
One point that concerns me is the fact that many of the jobs cut lie in the mortgage component of the company. One of the bullish stances I took on the company was that it was likely to improve from the housing recovery - so, this news wasn't incredibly exciting to hear and is likely a potential risk I'll keep my eye on going forward.
I've been bullish on BAC for a couple of months now, but this continued progress compounded with Buffett's confidence in the company is leading me to consider taking my first bullish bet on the company with my own money. I'll be watching closely for an entry point, and going long the lean, mean, and sexy Bank of America. As always, best of luck to all investors.
Disclosure: I have no positions in any stocks mentioned, but may initiate a long position in BAC over the next 72 hours. I wrote this article myself, and it expresses my own opinions. I am not receiving compensation for it (other than from Seeking Alpha). I have no business relationship with any company whose stock is mentioned in this article.