In the past month, silver and gold prices have been performing very well relative to how they performed for the most part of the year. This is great news for all the precious metals investors who held onto their investments even as metal prices went into freefall since January. Reasons for the bounce back in precious metals' pricing include a recent weakening of the Indian currency, strong physical demand for jewelry, coins, and bars globally, and the continuation of "cheap money" policies in the U.S. due to growing economic and geopolitical uncertainty.
On July 11, 2013 I wrote an article calling for very specific bullion price actions to occur by late August of 2013. Here's a brief rundown of my predictions:
Gold prices will move towards and test the $1800 price level that we hit back in late 2011
Silver prices will move back up towards the $40 price level that we hit back in late 2011
Since the official publication date of my article, silver prices have increased by approximately $5.25 or 28%, and gold prices have rallied by approximately $195 or 16%. Despite positive news coming from the metals sector recently, bullion prices still have ways to go before my predictions come to fruition.
In this article, we will utilize a fundamental approach to conclude that gold and silver prices will continue to rally upwards following a strong month of August. This fundamental analysis will look at three points:
Federal Reserve and its "cheap money" policies;
Oil prices; and
Gold supply peak in South Africa
1. Federal Reserve not slowing stimulus or 'tapering'
Throughout most of the summer, talk about the possibility of the Federal Reserve slowing stimulus or 'tapering' sent precious metals' prices into an extremely volatile state, with the general trend being downwards. But talk is really all it is. Seeing how debt will continue to increase and how central banks will continue their monetization not only in the U.S. but on a worldwide scale, I see very little possibility of tapering which leads me to assume that metal prices will trend higher.
2. Oil and gold prices moving sharply upwards since alleged chemical weapons attack in Syria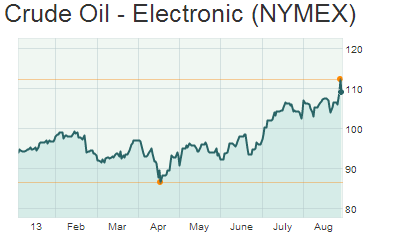 Year to date, NYMEX crude oil prices have risen approximately 13% and have not fallen below $86 a barrel.

Since the alleged chemical weapons attack on August 21, geopolitical risk from the Middle East is once again a huge issue leading to oil prices rising about 5.5%. And since gold and oil are often correlated especially in periods of sharp increases in oil prices, the event sent gold prices about 3.9% higher. I don't think the full effects of this event is priced into gold and silver prices since the geopolitical risks emanating from the Middle East has been underestimated for quite some time.
3. Gold market poised to rise due to delicate supply situation in South Africa
Another positive factor for the gold market is the very delicate situation regarding peak gold and supply from South Africa.
Beginning as early as next Tuesday, gold miners in South Africa will go on strike in demand for up to a 60% increase in wages. South Africa's biggest gold miners - AngloGold Ashanti, Gold Fields, Harmony Gold and Sibanye - as well as several smaller operators, have been served with a formal strike notice, the chamber of mines said. The union leading the strikes-National Union of Mineworkers-represents about 64% of South Africa's 120,000 gold miners.
Workers in the automotive, construction and aviation industries are already on strike to demand pay increases in excess of the considerable inflation rate of 6.3% in July.
Of course, this is not the full scope of my fundamental analysis. Other points in which I look at include but are not limited to:
China's economic slowdown
India's depreciating currency
Strong global silver demand
Some technical indicators - i.e. moving averages, silver-to-gold ratios
I chose to leave out these points because they have already been discussed in varying forms of detail on my previous articles. One last note I should point out is that despite the recent gains, gold remains down 16% this year which is leading to contrarian buyers buying gold at what they see as discount prices. Overall, I believe we are back into that track where gold is the hard currency of choice, and I expect for this trend to accelerate going forward.
Disclosure: I have no positions in any stocks mentioned, and no plans to initiate any positions within the next 72 hours. I wrote this article myself, and it expresses my own opinions. I am not receiving compensation for it (other than from Seeking Alpha). I have no business relationship with any company whose stock is mentioned in this article.