The Dividend Champions spreadsheet and PDF have been updated through 8/30/13 and are available here. Note that all references to Champions mean companies that have paid higher dividends for at least 25 straight years; Contenders have streaks of 10-24 years; Challengers have streaks of 5-9 years. "CCC" refers to the universe of Champions, Contenders, and Challengers.
New Projection Added
The Summary tab now contains a projection of the number of CCC companies at the end of each of the next 10 months, based on expected deletions of "overdue" increases (that may lead to "freezes") and companies being acquired, as well as additions of new Challengers, based on firms listed in Appendix B (on the Notes tab) as having four years of higher dividends. The former group appears likely to lower the overall count by about 10 companies through the end of November, after which we should see a steady rise in the CCC population, with the total number exceeding 500 by next March and approaching 550 by mid-2014.
One revision this month was a change to the Sector designations in column BV, where the data was changed from the FinViz format to the more widely recognized GICS (Global Industry Classification Standard) developed by Morgan Stanley Capital International and Standard & Poor's in 1999. The most noticeable difference is that the former includes "Consumer Goods," while the latter includes the familiar "Consumer Staples" and "Consumer Discretionary." Many thanks to fellow SA Contributors Chuck Carnevale and Craig Lehman for their assistance in making this change.
A few words are in order about specific corporate actions. First, Contender Murphy Oil (NYSE:MUR) planned to spin off its Murphy USA unit after the close of August 30, under the symbol MUSA. You'll notice that MUR's dates appear in Pink (rather than Red). That's because its latest dividend increase isn't "really" overdue, since it announced that it will pay the same rate as before the spin-off. However, like all spin-offs, the previous history will be adjusted once the distribution ratio is announced, so the latest dividend payment will actually be a de facto increase. The second item to take note of is that two water companies are splitting immediately in September, so their numbers will, of course, be adjusted for next month's update. Champion American States Water (NYSE:AWR) will split 2-for-1 on September 3 and Contender Aqua America (NYSE:WTR) will split 5-for-4 on September 1.
The strong rally in July gave way to selling in August, especially toward the end of the month, as can be seen in the table below, lowering the average price of CCC stock by about $1.50 and boosting the average yield from 2.88% back to 3.00%, still well above the yield of the S&P 500. The average of the Most Recent Increases remains well above 9%. As always, please use the CCC only as a starting point for more in-depth research. Feel free to leave any suggestions in the Comment area below.
Quick Summary
The Summary tab includes a table comparing the composite numbers from the latest update to those from the previous month and the end of the previous year. Below that is a summary of the latest month's activity, in terms of companies added, deleted, or promoted. That is reflected below:
Quick Summary:

8/30/13

Champions

Contenders

Challengers

Total

No. of Companies

105

209

158

472

Ave. No. of Years

39.6

14.3

7.1

17.5

Average Price

59.02

57.99

50.22

55.62

Average % Yield

2.68

2.83

3.43

3.00

Ave. MR % Increase

8.91

8.56

10.58

9.26

7/31/13

Champions

Contenders

Challengers

Total

No. of Companies

105

208

156

469

Ave. No. of Years

39.5

14.3

7.1

17.5

Average Price

61.94

59.17

51.15

57.12

Average % Yield

2.52

2.78

3.27

2.88

Ave. MR % Increase

8.84

8.66

10.41

9.23

12/31/12

Champions

Contenders

Challengers

Total

No. of Companies

105

183

170

458

Ave. No. of Years

39.0

14.3

7.2

17.3

Average Price

53.48

50.89

45.25

49.39

Average % Yield

2.93

3.02

3.62

3.22

Ave. MR % Increase

7.75

8.58

10.43

9.06

MR = Most Recent

Additions:

BCE Inc. (NYSE:BCE) to Challengers

Chemed Corp. (NYSE:CHE) to Challengers

China Petroleum & Chemical Corp. (NYSE:SNP) to Challengers

Oracle Corp. (NYSE:ORCL) to Challengers

Solera Holdings Inc. (NYSE:SLH) to Challengers

Deletions:

AstraZeneca plc (NYSE:AZN) from Challengers

Kinross Gold Corp. (NYSE:KGC) from Challengers

Promotions:

Westlake Chemical Corp. (NYSE:WLK) from Challenger to Contender
(Table from author; may include underlying data from FinViz.com)
Every Picture Tells a Story
As a bonus, I usually insert one of Chuck Carnevale's F.A.S.T. Graphs below, highlighting one of the companies listed above. But this month I decided to try presenting a table using the Portfolio feature to compare the metrics of the companies mentioned above.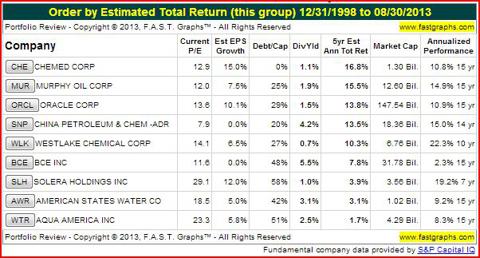 Disclosure: I am long WTR. I wrote this article myself, and it expresses my own opinions. I am not receiving compensation for it (other than from Seeking Alpha). I have no business relationship with any company whose stock is mentioned in this article.