Dr Pepper Snapple Group (NYSE:DPS) is among the leading beverage companies in North America and the Caribbean. The company has posted satisfactory financial performance in recent years. DPS generates strong annual cash flows, which are used to reward its shareholders in the form of dividends and share repurchases. It currently offers a strong dividend yield of 3.3% and analysts have projected a healthy average next five growth rate of 7.5%. Moreover, based on my price target of $50, the stock offers potential price appreciation of 10% and a potential total return of more than 13%, including the current dividend yield of 3.3%. Therefore, I remain bullish on the stock.

DPS reported lower profits in 2Q2013, mainly due to the weak sales volume growth; reported sales volume for the quarter was down almost 4% YoY, partially offset by a 2% increase in pricing. The company reported a core EPS of $0.84 for 2Q2013, down 1% YoY, in line with analyst estimates. Net sales for the quarter came out to be $1.61 billion, representing a decline of 1% YoY, missing analyst estimates by almost 1%. The financial results for the quarter were also adversely affected by the increased commodity cost, which translated into a 0.3% drop in gross profit for the recent quarter.
Volumes of the carbonated soft drink (NYSEARCA:CSD) category of the beverage industry have been on a decline in recent years due to general health concerns attached to the consumption of carbonated soft drinks. The decreasing sales volume trend for the CSD category has been an ongoing concern for the beverage industry; beverage companies are being forced to focus on healthy drinks and product innovation. DPS has been working on product innovation, and is focused on developing healthy drinks to keep up with the changing consumer preference. The following graph shows how DPS has been shifting its product portfolio towards non-CSDs.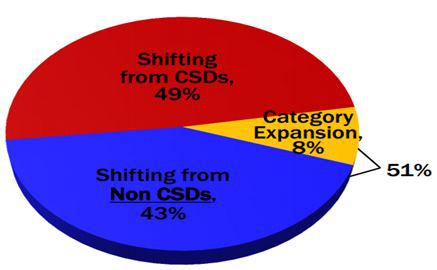 Source: Investors Presentation
DPS came up with its new 'TEN Platform' offering; drinks that contain 10 calories per 12 ounces. The TEN Platform is still in its early stages and is expected to have a positive impact on the company's future earnings potential. The company at present is rolling out distribution of its five brands, including 7UP, Canada Dry, RC Cola, A&W Root Beer and Sunkist. It has planned to spend $30 million on marketing efforts in the ongoing year to introduce 12-ounce serving versions of drinks in the U.S.
DPS has been aggressively spending on advertisement and marketing (A&M) to promote its main brands, which will have a positive impact on its future volume and earnings growth. I believe DPS will continue to aggressively spend in the ongoing year (2013) to support its TEN Platform rollout in the U.S. It currently has higher A&M spending in comparison to its peers; Coca-Cola (NYSE:KO) and PepsiCo (NYSE:PEP). The following chart shows the A&M to sales ratio comparison between DPS, KO and PEP.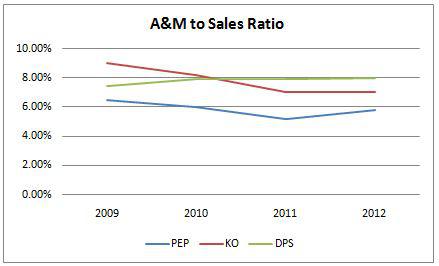 Source: Company Reports
Another important factor that can drive the company's future earnings is its ongoing initiatives to improve operational efficiency. It has been working on its three-year Rapid Continuous Improvement (NYSE:RCI) program, which is likely to result in savings of $150 million by the end of 2013. Cost control efforts will also lead to margin expansion for DPS, as it currently has a lower operating margin of 18% in comparison to KO and Monster Beverages (NASDAQ:MNST), who have operating margins of 23% and 25%, respectively.
Dividend and Share Repurchases
The company generates strong cash flows annually, which are used to share its success with shareholders. Currently, it offers a strong dividend yield of 3.3%, backed by its healthy free cash flow yield of almost 7%. Dividends for the company are likely to grow in the high single digit range and DPS is expected to have a long term dividend payout ratio of 50%. The company has spent almost $925 million to repurchase a portion of its shares outstanding in the last two fiscal years; which makes 10% of its current market value. As the company continues to generate strong cash flows, it is likely to further repurchase shares, which will also result in EPS growth.
Outlook
The company's management expects net sales to grow by 2% YoY for the ongoing year (2013) and reaffirmed its EPS guidance range of $3.04-$3.12. The company lowered its CAPEX for the full year 2013 by 50bps to 3% of net sales, consistent with its ongoing RCI program.
Analysts have projected a decent next five years growth rate of 7.5% for DPS. The following are analyst EPS estimates from 2013 up till 2016.


| | | | | |
| --- | --- | --- | --- | --- |
|   | 2013 | 2014 | 2015 | 2016 |
| EPS Est. | $3.08 | $3.29 | $3.55 | $4.07 |
Source: Nasdaq.com
Conclusion
DPS has delivered satisfactory financial performance in the recent past. Also, the company has been aggressively spending on advertisement and marketing, and is working towards strengthening its product portfolio. These efforts are likely to bode well for DPS and fuel its future earnings growth.
Moreover, the stock offers investors potential price appreciation of 10%, based on my price target of $50, which I calculated using the S&P 500 forward P/E of 15.05x and the 2014 EPS forecast of $3.29. Due to the aforementioned factors, I remain bullish on the stock.


| | | |
| --- | --- | --- |
| Forward P/E | 2014 EPS est. | Target Price |
| 15.05x | $3.29 | $50 |
Disclosure: I have no positions in any stocks mentioned, and no plans to initiate any positions within the next 72 hours. I wrote this article myself, and it expresses my own opinions. I am not receiving compensation for it (other than from Seeking Alpha). I have no business relationship with any company whose stock is mentioned in this article.