The recent U.S. Department of Justice challenge to the proposed merger of American Airlines (AAMRQ.PK) and US Airways (US Air, LCC) nudged this Grumpy Old Accountant to see what all the fuss was about. Critics of the deal argue that the combination will reduce competition and choice, and also lead to higher prices. However, none of the criticism to date has addressed the potentially misleading financial picture that the creditors, courts and regulators may be getting from the accountants about the financial health of the entity emerging from bankruptcy (post BK firm). The accounting culprit this time is something called "fresh-start" accounting. For those of you unfamiliar with this reporting tool, John M. Bonora provides an excellent summary of "fresh-start" accounting in "Fresh-Start Reporting: An Opportunity for Debtor Companies Emerging from Bankruptcy." Note the use of the word "opportunity"…
One would think that the reorganized entity would be financially sound and stable, right? And shouldn't the new shareholders have some prospect of earning a return on their investment? Well, this is exactly the picture that this financial reporting "gimmick" helps a post BK firm paint. Rather than continuing the reporting of the old bankrupt entity, fresh-start financial reporting reflects a new entity with no beginning retained earnings or deficit with asset and liability values that are reset to their fair value. Sounds theoretically appropriate, right? Well, as with so many things, it's the execution that's the problem.
Not surprisingly, Jon Weil noted this problematic accounting back in 2010 when General Motors (NYSE:GM) emerged from Chapter 11 bankruptcy protection. At that time he used terms like "funky numbers" and "fluffy balance sheet" to describe the less than transparent financial reporting caused by this accounting technique. And I applaud Jon for his excellent descriptors. So what's the problem: our old friend goodwill. As Jon pointed out, goodwill normally results from a buyer paying an excess purchase price in an acquisition. But when a post BK firm adopts "fresh start" reporting, the goodwill is something quite different, causing the company to appear to be financially healthy, when it is not.
Let's see just how a new American's "fresh-start" balance sheet might look. First, we have to come up with an estimate of the post BK firm's reorganization value. Generally, reorganization value is computed using a variety of different factors including forecasts of operating results and cash flows of the new entity. In the case of new American, this is a big problem given its continued negative operating results and cash flows. And since the "bride and groom" in this potential union did not share their blissful forecasts with this Grumpy Old Accountant, I decided to rely on the market to create an estimate of new American's "fresh-start" balance sheet.
I estimated the value of the merger deal to currently be about $12 billion. This valuation is based on the recent average price of US Air common stock ($16) multiplied by the its diluted number shares reported in US Air's most recent 10-Q, page 5 (207,439,000 shares). This means that US Air's investment in new American is worth $3.319 billion. Since US Air shareholders would own only 28 percent of the new American Airlines group after the merger, reorganization value would be approximately $12 billion ($3.319 billion divided by 28 percent). This essentially also yields total stockholders' equity for new American.
According to "fresh-start" accounting rules (ASC 852-10-45-20):
"the reorganization value of the new entity shall be assigned to the entity's assets and liabilities in conformity with the procedures specified by Subtopic 805-20 (Business Combinations – Identifiable Assets and Liabilities, and Any Non-controlling Interest)."
In short, the accounting is similar to that applied to purchase business combinations, with reorganization value being analogous to the purchase price in an acquisition. So think of the $12 billion as the purchase price. This total value then is to be allocated to the identifiable assets and liabilities of the entity with any excess being allocated to goodwill.
At this point, a simplifying assumption is in order. Given that new American is coming out of bankruptcy, where its balance sheet values were clearly scrutinized and adjusted, I assume that any fair value adjustments to its balance sheet will be minor, and that its June 30, 2013 asset and liability values approximate fair value. Based on my review of US Air's fair value note, I made the same assumption for it. By the way, since this is likely a "tax free" reorganization, the deferred tax values are likely to remain relatively unchanged, as there will be no tax deduction for reported goodwill (i.e., a permanent difference). So, to compute a pre "fresh-start" balance sheet for new American, I simply added the June 30, 2013 balance sheets for both companies together as illustrated below.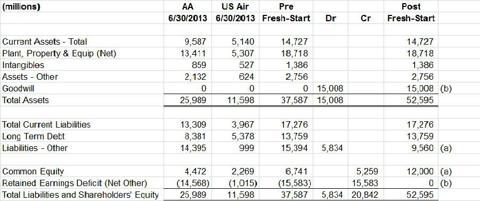 Now comes the fun part. According to American's 10-Q, liabilities subject to compromise totaled $5.834 billion at June 30, 2013. Since these parties will ultimately get common equity according to the transaction terms, I backed these obligations out of debt and added them to common equity (noted by (a)). However, to balance to the $12 billion reorganization value/shareholders' equity number, I deducted $575 million from common equity and goodwill. Next, I zeroed out retained earnings by adding $15.583 billion to goodwill. The result…a $52.6 billion behemoth with over 30 percent of its assets in goodwill!
Not a problem you say? Well then, just where did the goodwill come from? It is nothing more than capitalized prior year old American LOSSES. I would not have a problem at all with this so called "fresh-start" intangible if we renamed it "Prior Company Capitalized Losses." Now that would be transparent! Probably wouldn't be too good for future stock prices, huh? And impairment would likely be assured…
Still not convinced. Then consider the view of Thomas Lawton who indicates:
"beyond operational and financial synergies, this merger does not, in and of itself, fix many key competitive challenges that beset both airlines."
So just why would we expect new American's goodwill to have any value? And if Lawton is correct, there also is little likelihood that any new "identifiable intangibles" other than goodwill will find their way to new American's "fresh-start" balance sheet, thus reducing goodwill.
Many of you are probably thinking, everybody does it…so what? And you'd be correct. After all, Delta Airlines (NYSE:DAL) used "fresh-start" reporting on its emergence from bankruptcy in 2007. But new American's goodwill will dwarf that of Delta. Using accounting data from Wharton Research Data Services Compustat for FYE 2012, this is how new American stacks up with other major players in the airline space when it comes to intangibles, intangibles to total assets, and tangible stockholders' equity:

Should my estimates hold, new American's goodwill number will swamp that of the other major carriers. If we are to believe the analyst Hewitt Heiserman, that a ratio of intangibles to total assets over 20 percent is a cause for concern, then we should really be worried.
As if this projected goodwill amount is not high enough, there's also the potential for this intangible to go even higher than my forecast. Any increase in "fresh-start" liabilities might add more goodwill. For example, old American has a significant amount of off-balance sheet arrangements that just might qualify for the "fresh-start" balance sheet (e.g., liabilities related to variable interest entities, special facility revenue bonds, general operating leases, etc.). Also, if US Air's stock price goes higher, then the "excess purchase price" will increase, again yielding more goodwill.
Then there is the issue of negative tangible stockholders' equity. After deducting the aforementioned Prior Company Capitalized Losses from "fresh-start" stockholders' equity, new American finds itself with a negative tangible stockholders' equity number of $4.4 billion. This brought to mind an eloquent statement made by Tom Selling of the Accounting Onion when discussing the accounting anomaly called "negative shareholders' equity":
"Who wants to invest in a company, especially after fresh-start accounting is applied, whose assets and liabilities are so obviously out of whack?"
And I couldn't agree more. Despite all of the cost reductions and labor agreements and revenue enhancements noted by old American in its FYE 2012 10K (page 38), the fact of the matter is that negative tangible stockholders' equity means the post BK firm will have more liabilities than income producing assets…clearly, "out of whack."
Finally, there is the virtual certainty of future write-offs of the "fresh-start" goodwill. Old American even acknowledges this possibility in its FYE 2012 10-K (page 28). And to make matters worse, the airline industry has a recent history of goodwill write-offs. According to a study by the Financial Executives Research Foundation conducted by Professor Mark Holtzman and William Sinnett, airlines impaired 65 percent of their goodwill during 2008. For example, in July of 2008, both United Airlines and US Air wrote off significant amounts of goodwill, $2.2 billion and $622 million, respectively. US Air's charge is particularly noteworthy because it related to goodwill from its America West merger which occurred just three years earlier in 2005.
So what's the take-away here? Courts, creditors, and regulators beware! The post BK firm is likely not as healthy or viable as the accounting magic of "fresh-start" reporting would suggest. As a final decision on this merger transaction nears, I would encourage decision-makers NOT to ignore economic reality. This industry is characterized by fierce service and price competition, fuel cost volatility, high debt levels, and a host of factors that put a premium on "real" financial strength. Does the post BK firm have a chance? The "fresh-start" numbers seem to say yes, but…
"Courage is doing what you're afraid to do. There can be no courage unless you're scared."
— Eddie Rickenbacker
Scared yet?