South Korea-based, MagnaChip Semiconductor (NYSE:MX), represents an intriguing investment opportunity. This small-cap company offers a variety of analog and mixed signal semiconductors that satisfy the demands of high-growth markets in the consumer electronics field. The company's products are used in LCD televisions, smartphones, ultrabooks, and tablets. These products are expected to grow through 2015 with CAGRs of 3%, 26%, 52%, and 31% respectively. The company has an attractive valuation. It also has high expected earnings growth being driven by increased sales of rich-media electronics. This should allow MagnaChip's stock to grow at an above average rate over the next few years.
Broad Range of Semiconductors
MagnaChip's products support the continuously advancing technologies of new electronic devices. MagnaChip's Semiconductor Manufacturing business comprised 48% of 2012 net sales. Customers look to MagnaChip for a wide range of semiconductor products to be used in: display drivers, LED drivers, touch screen controllers, RF switches, park distance control sensors for autos, power management, and more. Sales of the company's products in this segment should continue to see strength as sales of the end products continue to grow.
The company's Display Solutions, which comprised 37% of 2012 net sales, include source & gate drivers and timing controllers that are used in LCD, LED, 3D, OLED, low temperature polysilicons (LTPS), thin film transistors (TFTs) and active matrix organic light emitting diodes (AMOLEDs) displays for TVs, notebooks, and other mobile devices. Since MagnaChip supports the most advanced display technologies and has the broadest range of analog and mixed-signal semiconductors in the industry, the company is well poised to benefit from the increasing sales of these types of devices.
The Power Management segment comprised about 15% of 2012 net sales. MagnaChip offers MOSFETs, Power modules, analog switches, DC-DC, and LED drivers. These products are used in a variety of devices such as: LCD, LED, 3D TVs, smartphones, tablets, notebooks, mobile phones, and more. Most of the company's top 20 customers use MagnaChip as their primary manufacturing source for this space. For example, many of the customers employ MagnaChip to manufacture products in each of the company's segments. This gives the company overall sales strength as it offers a broad array of semiconductor products. The continued sales growth of smartphones, ultrabooks, and tablets will drive MagnaChip's revenue and earnings for the next few years.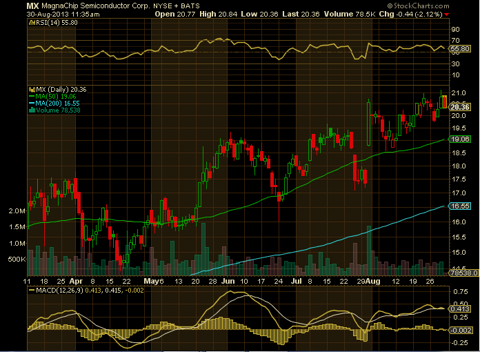 Undervalued
MagnaChip is undervalued as compared to its competitors Himax Technologies (NASDAQ:HIMX) and Taiwan Semiconductor Manufacturing Company (NYSE:TSM). The company is also undervalued as compared to the S&P 500. Let's look at a comparison chart:
Valuation Comparison

| | | | | | |
| --- | --- | --- | --- | --- | --- |
| Metric | MagnaChip | HIMX | TSM | FCS | S&P500 |
| Trailing PE | 4.3 | 17.9 | 13.8 | 509 | 16.6 |
| Forward PE | 7 | 9.95 | 12.5 | 13.7 | 14.8 |
| PEG Ratio | 0.36 | 0.62 | 0.93 | 9 | N/A |
| Price to Book | 2.4 | 2.5 | 3.4 | 1.2 | 2.34 |
| Price to Sales | 0.86 | 1.37 | 4.5 | 1.1 | N/A |
| Enterprise Value/EBITDA | 4.64 | 11 | 7 | 8.22 | N/A |
The reason for MagnaChip's low valuation as compared to its competition and the market is due to the company's strong earnings for the past twelve months. MagnaChip's earnings increased more than 9x in 2012 over 2011. Although the stock price did experience a nice increase over the past year, rising from about $14 to $20, it wasn't even close to keeping pace with its earnings growth. The company's growth was driven by consumer demand for high quality audio and video devices. MagnaChip provides the semiconductors that deliver the high-quality capabilities that consumers are looking for in their devices. With MagnaChip trading at just seven times next year's earnings, the current stock price is at an attractive level for investors. With the enterprise value/EBITDA under five, MagnaChip also represents an attractive opportunity for other companies to consider acquiring the company.
Competition
MagnaChip has the competitive advantage of having a broader product line as compared to its competitors. For example, Himax Technologies produces semiconductors for flat panel displays while Taiwan Semiconductor is focused on producing semiconductors for lighting and solar applications. Another competitor, Fairchild Semiconductor (FCS), is primarily focused on providing power solutions for mobile, computing, and communication products. MagnaChip operates a broader product line across the semiconductor, display, and power segments. Once a customer becomes satisfied with the company's products in one segment, it increases the likelihood that additional products will be ordered from MagnaChip's other segments. This should help drive revenue and earnings growth going forward as MagnaChip increasingly becomes a go-to comprehensive semiconductor manufacturer in the eyes of customers. MagnaChip's competitors are respected, important players in the industry. However, MagnaChip is likely to outperform them from a business standpoint due to the company's broad product range.
Catalysts for Stock Growth
MagnaChip has been able to increase its gross profit margin to 33% in Q2 of 2013 as compared to 31% in the same quarter last year. This increase was achieved as a result of an increase in average selling prices in the Power Solutions segment and volume increases in the Semiconductor segment. This trend should continue with the expected strong growth of smartphone, ultrabook, and tablet device sales outweighing declining PC sales over the next few years.
Another catalyst for the stock includes the company's $100 million share repurchase plan. This repurchase plan is planned to last through December 15, 2014 and should retire approximately 4.3 million common shares over six quarters. By reducing the amount of outstanding shares, shareholder value increases. This should create a floor in the stock as the shares become less diluted and earnings per share increase. The increase in earnings per share should lead to higher stock prices over time.
The outlook for the company looks bright. The slowdown in PC sales is being offset by increased sales of tablets, smartphones, and ultrabooks. Sales of these products are expected to grow at a rapid pace over the next couple of years as mentioned in the first paragraph. MagnaChip provides some of the key components of these devices in the power, semiconductor, and display areas. Therefore, MagnaChip is likely to see continued strength in revenue and earnings growth for at least the next couple of years.
The Risks
The highly cyclical nature of the semiconductor industry creates large fluctuations in the demand for the company's products. MagnaChip's stock could lose significant value in the case of a downturn in the demand for semiconductors. However, it looks likely that the next few years will continue the current upswing in the industry.
The semiconductor industry is rapidly changing along with technological advances. MagnaChip needs to proactively evolve along with the changing technology and customer's demands. The company must be effective in designing new products to meet the high performance requirements of this changing technology. It must also simultaneously keep costs to a minimum. The company has executed well in these efforts and should continue its positive momentum with its expertise in the industry.
Conclusion
With a low valuation and above average expected annual earnings growth of 23% for the next five years, MagnaChip is priced well for market-beating future stock gains for the next few years. The company should grow as a major player in the industry as it has a broad array of semiconductor products and because it rapidly updates its products as the industry evolves. The company's growth will be driven by growing sales of smartphones, ultrabooks, and tablet devices. The higher sales of MagnaChip's products that are used in these devices will lead to higher earnings, which will drive the stock price higher. The share buyback will also positively contribute to shareholder value by boosting earnings per share, further increasing the stock price. Overall, MagnaChip should outperform the S&P 500 based on its undervaluation, its above average expected earnings growth, and its broad range of semiconductor, display, and power products.
Disclosure: I have no positions in any stocks mentioned, and no plans to initiate any positions within the next 72 hours. I wrote this article myself, and it expresses my own opinions. I am not receiving compensation for it (other than from Seeking Alpha). I have no business relationship with any company whose stock is mentioned in this article.