Based in Portland, Oregon, Craft Brew Alliance, Inc. (NASDAQ: BREW), formerly Redhook Ale Brewery, Inc., is an independent craft brewing enterprise. The company established in 2008 through the merger of Widmer Brothers Brewing and Redhook Ale Brewery. In 2010, Craft Brew Alliance acquired Kona Brewing Co.
Craft Brew Alliance could be a long play for small-cap niche investors interested in the company's new focus from solidifying its foundation to its current appetite for growth. However, the fickle nature of consumers' tastes as applies to the beer, wine, and spirits industry, in tandem with the inherent tough competition in the Beverages (Brewers) industry may prevent some investors from investing in the company.
Nevertheless, here's a rundown on the strengths of the company as well as some challenges it faces as a brewer.
Strengths
High-Growth Unique Brands
Craft Brew Alliance has a selection of diverse, original craft beer brands. The company's Kona, Redhook, and Omission brands are driving growth. Kona is its largest brand family, offering Big Wave Golden Ale; Fire Rock Pale Ale; Koko Brown Nut Brown Ale; Wailua Ale, and Pipeline Porter.
Pertaining to 2Q 2013 results (quarter ended June 30, 2013) the company noted, "Net sales and branded beer shipments increased 10.7% and 13.5%, respectively, in the second quarter due to the continued organic growth of our portfolio and the launch of new products, including Redhook Audible Ale, Kona Big Wave Golden Ale, Omission Beer and cross-brand variety packs."
Smart Distribution Strategy
Craft Brew Alliance can get its product to market faster than many smaller craft brewers. It's all about the company's distribution approach. Sometimes companies have to give up some to get.
Concerning Craft Brew Alliance The Street's Jason Notte said, "In a move that elicits grumbles [from the] craft beer community to this day -- and stripped Redhook and Widmer of their "craft" distinction in the eyes of the Brewers Association craft beer industry group -- the brewers gave Anheuser-Busch InBev (BUD) a 32.2% stake in the operation in exchange for access to its sprawling distribution network."
Sentiment and semantics are for greeting cards; stakeholders want Return on Investment (NYSE:ROI) and will raise a glass of suds to widespread distribution via powerhouse Anheuser-Busch's network over a "craft" distinction for some brands.
Along with this distribution, Craft Brew Alliance has a national sales force that targets national sales accounts. The company has breweries on the east and west coasts and in Hawaii. Accordingly, this contributes to cost-effective beer distribution.
Broad-Based Growth
Investors can take away that Craft Brew Alliance (NYSE:CBA) is experiencing growth in all brands as noted by the company's President of Commercial Operations, Mr. Andy Thomas in an August Earning's Call, "For the first time in CBA's history, CBA's quarterly growth was propelled by growth in all brand families and across all CBA sales divisions. Our overall plus 12% STR growth came from a healthy blend of plus 23% growth for Kona, plus 14% growth for Redhook, and plus 1% growth for Widmer Brothers; all accompanied by the continued expansion of Omission in our international markets."
This broad-based growth, albeit much smaller for Widmer Brothers, is a hedge against relying on one brand family. Sales downturns in one brand can sometimes be offset by growth in other brands. This can help a company maintain sales levels in a very competitive marketplace.
Commitment to Building its International Business & Gross Margin Rate
Important for investors to note is that in 2010, the company's international reach for Kona was only in Japan. For 2013, the company's targeting the exporting of all brands to 14 countries. Craft Brew Alliance's Gross Margin Rate in 2010 was 26%. The rate targeted for this year is 28.5% - 30.5%. (Craft Brew Alliance Investor Presentation, A Three Year Perspective, pg.8)
Tapping New Tastes
The company is catering to consumers' demands for new beer tastes and beer concoctions relevant to their lifestyles. Its gluten-free Omission brand helped increase the company's sales by volume and net income in 2Q 2013. As Bloomberg Businessweek noted, "The gluten-free market is approaching $5 billion." The Omission brand hit the market last year.
In the Redhook line, Craft Brew Alliance has Pumpkin Porter. The Widmer Brothers line offers Raspberry Russian Imperial Stout '13, and Barrel Aged Brrrbon '11, among other intriguing beers.
Quality Partnership
Craft Brew Alliance and Buffalo Wild Wings (BWLD) are working together on a new beer brew called Game Changer. The company's Redhook has partnered with BWLD.
As Chris Katje noted in his May 3, 2013 Seeking Alpha article, "One of those brands (Redhook) has a partnership coming with Buffalo Wild Wings that could create coverage of the company's stock and blow revenue estimates out of the water."
Buffalo Wild Wings has 925 stores across America. For the two parties, as well as investors, there exists the potential for significant beer sales of this Game Changer brew. In addition, this is a major way for the Redhook brand to increase its national exposure and benefit from diverse consumer demographics.
Focused Capital Expenditures
The company's forecast for capex for 2013 is USD$11 million to $13 million. It is directing this money to capacity improvements and efficiency improvements, as well as restaurant and retail.
Concerning restaurant/retail, Craft Brew Alliance owns five locations: Woodinville, Washington; Portland, Oregon; Hawaii Kai, Hawaii; Kona, Hawaii, and Portsmouth, New Hampshire.
Total CBA Restaurant & Retail
Seats: 1,331
Square Feet: 41,183
Guests/Year: 1.5 Million
Total 2012 Revenue: $23.6 Million
Craft Brew Alliance Investor Presentation- Appendix‐CBA Restaurant & Retail, pg. 30)
Challenges
Revitalization of Its Widmer Brothers Brand
Craft Brew Alliance is investing in giving new energy to its Widmer Brother brand, founded as Widmer Brothers Brewing by Kurt & Rob Widmer in 1984. The company's looking to build sales of Widmer Brothers Alchemy Ale, which hit the market in April 2013. This new line was responsible for more than half of Widmer Brothers Quarter 2 gainers.
The company has updated Widmer Brothers' graphics and secondary packaging. The challenge is to maintain a consistent effort to keep this new look, and new product offerings within the brand, in front of consumers. It means aggressively going after retail shelf space to revitalize this brand and build on that 1% growth. Craft Brew Alliance is working to build Widmer Brothers as a high-margin craft brand.
New Regional Breweries
The good news for Craft Brew Alliance is the fast transformation occurring in the craft beer industry. The bad news for Craft Brew Alliance is the fast transformation occurring in the craft beer industry. Consumers' penchants for craft beers of quality, with unique tastes is good for all who want to play in this arena. However, the Catch-22 is that new craft brewers are setting up shop every month. Consequently, there is increased competition for the company for retail shelf positions and for getting its brews into pubs where there's limited opportunities 'on tap.'
The Demanding Pub Business
Craft Brew Alliance has the aforementioned five brew-pub restaurants. This provides good PR for the company's various brands. Personally, as an investor, I'd rather see the company focus just on distribution and retail shelf space and pub/restaurant tap handle growth then heavy investment in their own brew pubs.
That's just my personal opinion, and the company may prove me wrong in the long run, but I see this business sector as too tough and too dependent on consumers who can change like the wind when it comes to dining and drinking out, especially in tough economic times. I believe these brew-pubs can detract from the more lucrative core business of Craft Brew Alliance.
Conclusion
Craft Brew Alliance has potential as a small-cap long play and is a "maybe" for me right now. Its stock price is near its 52-week high, which does not concern me at these levels. I like that distribution configuration with Anheuser-Busch. I like the innovation with new brands such as its gluten-free offering.
I don't like the inherent strong competition in the brewing industry, and in the pub/restaurant industry. I like Craft Brew Alliance's revenue growth and gross profit (ttm $50.3 million), but am not particularly enamored with the company's profit margin (ttm: 0.34%) and operating margin (ttm: 1.09%). So, I'll have a beer… and wait… to see what develops with Widmer Brothers and other company initiatives for the rest of 2013.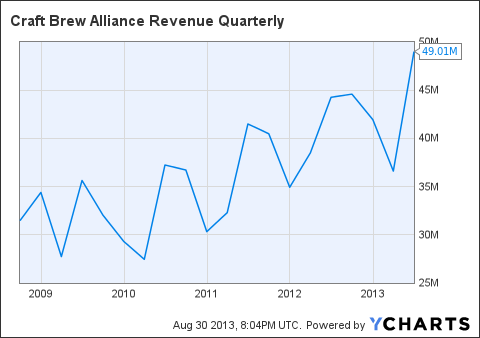 BREW Revenue Quarterly data by YCharts
Disclosure: I have no positions in any stocks mentioned, and no plans to initiate any positions within the next 72 hours. I wrote this article myself, and it expresses my own opinions. I am not receiving compensation for it (other than from Seeking Alpha). I have no business relationship with any company whose stock is mentioned in this article.