Over the past 15 years, perhaps no asset class has been adopted as much as Master Limited Partnerships thanks to their super-charged dividend yield and advantageous tax structure. There is one MLP that I believe offers a strong dividend yield with the potential for significant increases: Atlas Resource Partners (NYSE:ARP). Publicly traded since March 2012, it is the newest member of the Atlas family of MLPs. Atlas like Linn Energy (LINE) is an upstream oil company that purchases oil fields with high proven reserves whose production has peaked.
Many major oil companies prefer to sell these fields to invest in riskier land where they will either find more oil or none at all. Atlas and others can model out depletion of these already discovered fields and buy them at a discount to their present value to generate returns for unitholders. Thus far, ARP has been able to do just that. The company is now producing 260 mmcfe/d compared to 39mmcfe/d at inception a mere 17 months ago.
Now by borrowing money, any company can grow; as investors, we care about revenue growth that is profitable, and ARP has rewarded shareholders. In the past 17 months, the quarterly distribution has grown from $0.17 to $0.54, growth of 350%. More importantly, this dividend is very sustainable. Several MLPs have seen their coverage ratio (distributable cash flow/distribution) fall below 100%, which in the long run is not sustainable. When the coverage ratio falls below 100%, the firm needs to borrow or use cash earmarked for growth projects to meet the payout, so if there is a special event in one quarter, it is permissible, but that payout is not sustainable if it is occurring consistently. Last quarter, Atlas had DCF of $0.62, giving it a coverage ratio of 114%. Consequently, I feel comfortable that ARP could maintain this payout even if gas prices were to deteriorate a bit from here. Fortunately, ARP has also hedged out significant amounts of production over the next three years above market prices, which insulates much of its business from volatility in the futures market. The firm also has avoided using put contracts that have caused such a headache for holders of Linn: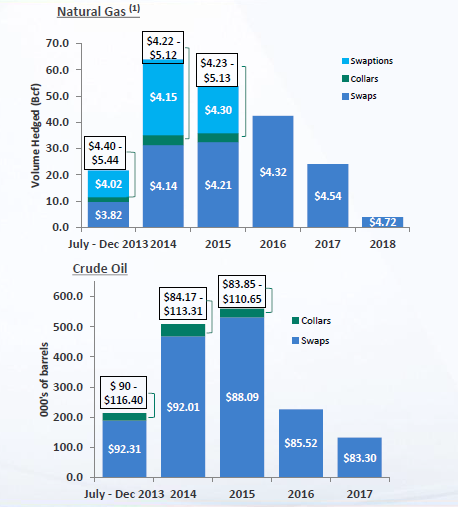 Atlas also recently completed its transformative acquisition of EP Energy for $733 million, which increased its proven reserves to 1.4 tcfe (79% natural gas, 21% oil), which gives ARP the second largest reserves of any upstream MLP. It is the potential value of these reserves that make ARP such a compelling value play beyond its 10% dividend yield. It is also worth noting that historically wells produce far more oil and natural gas than their proved reserves because GAAP accounting is inherently cautious to keep energy companies from overstating their value.
For reserves to be counted as proved, they must be economically viable at a certain price, so a company may have significant reserves it could extract profitability when oil is 10% higher, but for accounting purposes, its value is zero. In the real world, a company uses its cheap reserves when prices are low, and as commodity prices rise over time because of inflation and perpetually declining supply, they can use their now profitable unproven reserves. For Atlas, its benchmark has been natural gas below $3. Given the fact natural gas is currently trading above that level, it really has more reserves than it states. Based on several comments from its acquisitions, I believe the company will be able to extract well over 2.1tcfe from its existing properties. Like the SEC, I prefer to be cautious and invest in companies who are attractive on a proven reserve basis only, and if that is the case, you basically own a free call option on their probable and unproven reserves.
Over the past year, ARP has generated between $1.50 and $2.00 per mcfe. As the US builds the capacity to export natural gas, I believe our price for gas will move closer to that of the rest of the world. By 2017, I believe natural gas will be over $5; if natural gas becomes the fuel of choice for cars, it could move well over $7. In this situation, ARP will earn far more than $2 going forward, but in the name of caution, I am going to assume that going forward, profit margins stay flat at their midpoint of $1.75. This figure gives ARP's proved reserves a nominal value of $2.45 billion. Along a production schedule that is in line with ARP's depletion of 11%, I discounted ARP's future cash flows at 10% to determine its fair present equity value to be $1.52 billion, providing 20% upside from current levels. This means that when ARP trades at $25 investors will receive a 10% annualized return, assuming that over the life of its wells, ARP never discovers another drop of oil or cubic foot of gas and that prices never go up from current levels.
What I have tried to do is build an extraordinarily conservative model and find companies that are cheap even on that metric. ARP fits that profile perfectly because it is trading at a 20% discount to a level where I can earn 10% annualized. I personally am more optimistic about natural gas pricing, believing that Atlas can earn $3 by 2016 instead of its current $1.75. Again using my 10% required return, I come out to a fair value of $3 billion or 150% upside from current levels.
When I start crunching numbers and find that a stock is trading at a discount to my conservative case and is only 40% of what I believe to be its true value, I grow a little concerned that I'm totally missing something. Otherwise, I try to investigate what could lead to such a gigantic mispricing. I began by looking for major holders in ARP to see if well regarded investors shared my optimism for ARP, and I discovered that Leon Cooperman had a 6% position in ARP at the end of the second quarter, more importantly, he quadrupled the size of the position in the second quarter meaning that he has grown increasingly bullish about its prospects.
I also found a reason why ARP is trading at such a discount to its fair value. Over the past 6 months, ARP has traded in lockstep with Linn Energy. LINE is the giant of upstream MLPs with proven reserves that are larger than the combined reserves of the next six MLPs. As it goes so go them all. In July when LINE disclosed an informal inquiry into its accounting practices, ARP fell 14%. While not as severe as LINE's 30% drop, it was a stunning fall nonetheless. Many investors want no part of companies under SEC scrutiny, and I think because of its relative size, many decided that problems with LINN meant problems everywhere, dumping the entire sector en masse.
However, LINN's problems are unique, relating to its use of put options, something ARP does not do. Even if there is SEC action against LINN (which I think is unlikely), there will be no impact on ARP. LINN has led investors to shun the entire upstream MLP sector, providing relative value. Further thanks to extremely aggressive rhetoric at a small research firm, tons of misinformation has been spread about upstream MLPs with a wrong-headed focus on profits when in reality cash flow is all that matters for MLPs. DCF not EPS determines payouts with new debt or equity financing acquisitions rather than the usage of retained earnings. LINE and misguided research have made investors ignore the space, providing attractive value.
Amazingly though, blind selling of the sector has led to serious mispricing. For instance, ARP trades at a slightly lower Enterprise Value/Proven Reserves than Linn despite the fact that it does not have an SEC probe and is significantly less levered. Its debt to capitalization is a mere 35% compared to Linn's 48%. Prior to all of the negative headlines, ARP was trading around $25, which is where I pegged its fair value for a 10% annual return. I believe that ARP can return to that level as investors recognize it trades less than its beleaguered peer. I also recognize that the market is clearly less optimistic about natural gas's future than I am, but even if gas prices stay flat, ARP will provide you with a 10% return. Given its history of accretive acquisitions, you are likely to do even better.
Conclusion:
Income, value, and dividend growth investors would all be well served investing in ARP. It offers 20% upside to its fair present value if natural gas prices stagnate while presenting massive upside should prices move to a more globally normal level as the U.S. begins exporting gas. At the same time, ARP has the capacity to grow its dividend thanks to its strong coverage ratio. It also trades at a discount to its beleaguered peer, Linn Energy, which is nonsensical. The increased bullishness of noted value investor Leon Cooperman gives me even more confidence in ARP. I strongly recommend considering ARP in your portfolio because it is trading at a discount to a conservative case's asset value, let alone its potential value if gas prices rally.
Disclosure: I have no positions in any stocks mentioned, but may initiate a long position in ARP over the next 72 hours. I wrote this article myself, and it expresses my own opinions. I am not receiving compensation for it (other than from Seeking Alpha). I have no business relationship with any company whose stock is mentioned in this article.