Encore Wire (NASDAQ:WIRE) is a value-added manufacturer of interior electrical wire that is highly leveraged to residential and commercial construction, with a great stock symbol and an even better corporate culture. While the macroeconomic conditions have been very challenging, the industry has experienced some consolidation that should benefit WIRE. Further, the company has several initiatives to drive growth. While the stock is no bargain after nearly doubling over the past two years, it is an excellent company worth watching closely in my view, and could really take off if construction accelerates.
Background
I had the opportunity to meet with the CEO and CFO and listen to their presentation at the Hodges Capital Investment Forum in Dallas on August 29th. The slides they used are available on their corporate website. The company, which is based in nearby McKinney, is covered by only two sell-side firms though it has some very smart institutional owners.
WIRE, a leading provider electrical wire used in the interiors of buildings, had several predecessor companies in the industry but launched its "encore" in 1989, and it went public in 1992. Founders Vincent Rego and Don Spurgin had sold Capital Wire to Penn Central in 1988. Today, Daniel Jones (49) has served as CEO since 2006. He apparently used to cut grass at Capital Wire, where his father worked as a trucker, and has served as a director since 1994. Jones joined the company as Director of Sales in 1987 and worked his way up, serving as COO from 1997 until being names CEO. CFO Frank Bilban (56) has served in that role since joining the company in 2000.
Insiders own about 3.6% of the company, with CEO Jones owning almost 2% and CFO Bilban 122K shares (10K of which are options). Director William R. Thomas, III purchased 3500 shares on the open market at $33.96 on June 25th, his first shares acquired despite serving on the Board for the past six years. There are several large institutional owners, including Piper Jaffray (Advisory Research), Vanguard, DFA, Capital Southwest and Heartland Advisors.
The company operates from a single location and is able to make delivery within 5-7 days for 99% of orders. It is vertically integrated, operating its own copper rod mill since 1998 and a plastics mill since 1999. With the completion of its aluminum wire plant last year, it now operates six different plants on its McKinney campus.
I see several positives that could help growth even without strong expansion in construction. First, the company entered the aluminum wire recently, which is helping to drive cross-selling. Second, industry leader Southwire (privately held) has purchased two smaller competitors in recent years, which has led to more pricing discipline. Encore is #2, and the balance of its competitors includes privately held companies like Cerro Wire, United Copper Industries, BICC General and AFC Cable Systems. Third, the company is taking share with its "True Colors" wire that promises to save time and cost with installation.
Of course, the bigger driver of future earnings will be the overall industry, which is tied to commercial and residential construction. At the conference, CFO Bilban characterized the post-2007 conditions as being a "depression". On the recent call, CEO Jones alluded to some improvement:
We are actually seeing a little bit more strength, the time involved from the quote or actually when we start the process possibly even before the quote comes in. That timeline from beginning to purchase order has shrunk a little bit, which is a good thing, and what that means, the decision to go forward with the project itself is happening a little bit faster.
The proxy details several related party transactions that anyone looking at WIRE should know about, including purchases from Aegis Pallet and Lone Star Reel (40% owned by son-in-law of director Donald Courtney) and the use of Best H&A Trucking, which is owned by CEO Jones' mother, for $267K in 2012. Additionally, the company discloses pay on only the CEO and CFO. My review of their compensation suggests that cash bonuses are highly subjective. Further, the company doesn't include a significant amount of equity pay for either of these executives, with cash pay representing 94% of total compensation over the past three years.
Fundamentals
In the most recent quarter, which was reported on July 26th (press release, conference call transcript), sales grew 9% on an 8% jump in copper unit volume. Another driver was aluminum building wire sales increasing from 3.5% of sales in Q2-12 to 6.6%. Earnings soared to $0.75 from $0.11 in the prior year, helped by about $0.08 from the aluminum production expansion. So far in 2013, EPS of $1.06 have increased by 165% on pretty flat sales (increased volume, decreased price). Analysts, according to First Call, project that EPS will increase 107% this year to $1.90 and 38% in 2014 to $2.63 as sales grow 3% in 2013 and 7% in 2014. CEO Jones explained the recent success:
As we have repeatedly noted, one of the key metrics to our earnings is the 'spread' between the price of copper wire sold and the cost of raw copper purchased in any given period. That spread increased 18.1% in the second quarter of 2013 versus the second quarter of 2012, while our copper unit volume shipped in the second quarter of 2013 increased 8.1% versus the second quarter of 2012. The copper spread expanded as the average price of copper purchased fell 8.3% in the second quarter of 2013 versus the second quarter of 2012, but the average selling price of wire sold fell only 2.1%, as a result of improved pricing discipline in the industry.
From a longer-term perspective, it's somewhat remarkable that the company made money during the downturn, though it did have two small losses on a quarterly basis (Q4-09, Q1-10) as a rival that had been acquired liquidated inventory at below-market prices in advance of its acquisition closing. 2013 looks to be the 18th year of consecutive positive earnings.
The balance sheet is very strong. The company has had no debt since 2009 and hasn't ever done an acquisition, so the book value is all tangible ($21 per share roughly). It has an untapped $150mm revolver. During Q1, WIRE spent $26mm to buy 201 acres of land adjacent to its current operations, more than doubling its current acreage to 382 acres with 1.6mm square feet of factory and office space. This will boost CapEx to $42-45mm this year. Last year's spending was elevated too at $40mm, as WIRE constructed an aluminum wire plant. More typically, spending has been in the $20-25mm range, and D&A has been $14mm in the past several years. The company has repurchased shares insignificantly in the past, but a massive buy of almost 12% of the company took place in May 2012, with WIRE paying $67mm ($24.02 per share) to acquire stock from an existing shareholder (Capital Southwest). WIRE pays just a nominal dividend of $0.02 per quarter.
Valuation
WIRE has about 20.7mm shares outstanding and a market cap of $780mm. The company believes that tangible book value per share is the key valuation metric for the company, and this appears to be a valid assumption. Their presentation included a chart that indicates an average of 2X since 1996, but of 1.2-1.3X for 2008-2012. Here is a valuation perspective over the past 15 years from Baseline: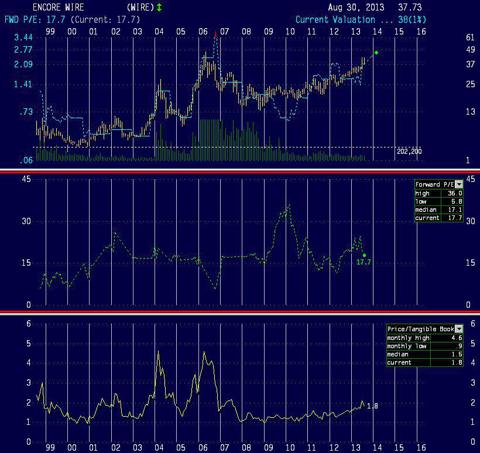 The bottom panel indicates that the current 1.8X TBV is a premium to the median over the past fifteen years. Changes in the share-price will come from growth in book value as well as changes in the valuation metric. TBV seems to increase all the time, though at different rates from year-to-year in this cyclical business. While the business was weak, TBV acted as a floor, and the stock hugged that metric. When times are better, earnings accelerate, and investors have been willing to pay 2X or even as much as 4X TBV. I don't expect 4X, but an optimistic view would be that the stock could be valued at 2X TBV and TBV is likely to grow to $23 over the next year. This suggests the potential for $46 or so.
In the middle panel, I include a forward PE history as well. The current 17X needs some perspective. I think that we are mid-cycle at worst, but this isn't a normal economy. If one buys into the company's view, the cycle is just getting started as it comes out of a depression. Given a more rational industry, earnings could really explode. In that case, one should expect the PE to decline as it approaches peak earnings. The net income margin is just 3% now, but with more throughput the company might be able to produce 5-6% of sales on the bottom-line. This is just back-of-the-envelope and not my forecast, but, to illustrate the operating leverage, let's assume that the company can grow sales in 2014 and 2015 by 10% from the projected $1.1 billion in 2013 and hit a net income margin of 6%. This would suggest EPS of $3.85. Assuming a PE of 12X or so, this would suggest a year-end 2014 price objective of $46.
Technicals
Let's look at the LT chart first, as it is very impressive: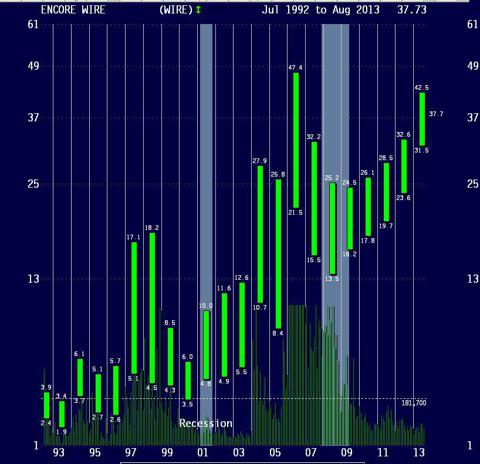 This is the third big cycle for the company since its IPO. Coming out of the recession in the early 90s, the stock increased by 8X from the low to the peak. Coming out of the 2002 recession, the stock increased by over 12X to the 2006 all-time high of $47.40. The recent peak fell short of this level, and $42.50 is less than a quadrupling of the trough set in 2008.
Let's look now at the one-year chart:
It seems as if the stock went parabolic following a great Q2 but is settling in now after being extended and overbought. I see support in the 34-36 area and would look for it to build a base there. The chart is bullish, but with an overdue correction currently in effect.
Conclusion
WIRE has performed very well in my view, though the stock also reflects this operational success in a consolidating industry that has become more rational. Management takes a long-term view and is well aligned with outside shareholders. While the stock is in correction and not as cheap as it can get, it could really take off if commercial and residential construction starts to improve significantly. For now, those interested in the company have some time to investigate it, as the likely forms a base in the 35 area.
Disclosure: I have no positions in any stocks mentioned, and no plans to initiate any positions within the next 72 hours. I wrote this article myself, and it expresses my own opinions. I am not receiving compensation for it (other than from Seeking Alpha). I have no business relationship with any company whose stock is mentioned in this article.