Q.E. Then And Now
At the beginning of the quantitative easing phase in 2009 many investors and traders were caught focusing on current economics, and not the implications of the U.S. government's massive backstop against a further economic slowdown. One thing that helped us recognize the potential of QE early on was the conviction shown by Larry Summers, the White House's economic policy czar, on the Sunday morning talk show circuit. We distinctly remember Mr. Summers talking about the crisis in past terms, even though the rest of us were up to our ears in it. A full 50% of the value of the S&P 500 had gone up in smoke, and Summers - the most likely future Fed Chairman -- was as calm as we've seen a government official on camera be. He was telling the talking heads that everything was going to be fine, and he was doing it years ahead of anyone else. This particular dialogue on "Face the Nation" in the summer of 2009 stood out:
"People aren't talking about whether the recession is going to turn into a depression, they are talking about when it is going to end. And that is a real accomplishment -- it is a real accomplishment for these policies. But we also recognized -- and this is saying the president has also talked about, that in addition to rescuing the economy, we have to rebuild it on much stronger foundation, so we don't have the kind of problems that brought this expansion to an end, that led to the mess we've suffered for the last two years."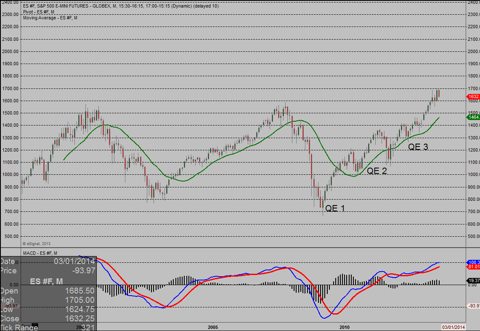 Figure 1. Monthly Chart of the S&P 500 Stock Index with 20-month Simple Moving Average & MACD
Summers' comments were remarkably prescient, particularly under such challenging circumstances.
Bubble Wrapping the Recovery
We are going to be hearing a lot more from Mr. Summers given he is the odds on favorite - 2/5 compared to Yellen's 12/5 -- as of this writing -- to be the next Fed Chair of the Federal Reserve. (For those of you who don't bet the ponies, this means if you bet $5 on Summers and you are correct you would get $7 back; compared to betting $5 on Yellen, where you would get $12 back if she gets the appointment.)
In 2009 market pundits and analysts were focusing more on what had just happened economically instead of what was about to happen because of quantitative easing. Now the financial press seems more fixated on analyzing Q.E. and guessing when it will end, instead of focusing on how the market will behave once the training wheels - Q.E. -- are removed from the bicycle - the market. And we believe it is also no coincidence that President Obama spoke out 4 different times over a 5 day period in mid-August regarding the need to avoid "artificial bubbles" in the economy and market. More specifically the President said: "We have to turn the page on this bubble-and-bust mentality that created this mess".
Given the rumors that the President's most trusted economic advisor is still Larry Summers, and that Mr. Summers' odds of getting the Fed post improved sharply over this same period, it would seem Obama's words are a reflection of Summers' own 2009 line: "…we have to rebuild it (the economy) on much stronger foundation, so we don't have the kind of problems that brought this expansion to an end…"
In a Bloomberg interview this past week, Lido Isle Advisors President Jason Rotman refers to the stock market under a Larry Summers-led Fed as the "Dog Days of Summers" because of his believe that the days of quantitative easing are numbered and it will also spell a corrective phase for the stock market. Looking at the Monthly chart of the S&P 500 in Figure 1, we would have to agree a correction in stocks over the coming months might be a good thing in preserving the overall health of the market. We also believe Obama's economic team, or more specifically their godfather, Larry Summers, is thinking the same thing.
In order to tame bubbles, the runaway rallies that first create them must be corralled and we think investors need to be focusing on how the Fed and Treasury will bubble wrap the current recovery or, ideally, how they can get the marketplace to engineer it for them. We think a strong dollar policy, which would be supported by a steady to slightly higher interest rate outlook -- due to the ending of QE -- will work against inflated stock prices and other asset class imbalances, just as the previous stealth weak dollar policy helped bolster earnings and market share.
Trade ideas we like going forward: long the U.S. dollar, and hedging long stock market exposure, i.e., eyeing sell set-ups and signals in stock indices over the next few quarters.
Disclosure: I am long UUP. I wrote this article myself, and it expresses my own opinions. I am not receiving compensation for it. I have no business relationship with any company whose stock is mentioned in this article.