Invesco Mortgage Capital Inc. (NYSE:IVR) is an REIT that acquires, finances, and manages residential and commercial mortgage backed securities and mortgage loans. Its objective is to provide good returns to customers primarily through dividends and secondarily through capital appreciation. Its portfolio includes Agency RMBS, non-Agency RMBS, CMBS, and residential and commercial mortgage loans. IVR is externally managed and advised by Invesco Advisers Inc., a subsidiary of Invesco Ltd. (NYSE:IVZ) -- a leading independent global investment management company.
Like many of its peers IVR had a huge -$2.54 loss in book value in Q2 2013. This was -12.4% of book value. It left the June 30, 2013 book value at $17.88 per common share. The company attributed this to the roughly 100 bps raise in the US Treasury long bond rates and mortgage rates (and hence MBS rates). IVR got hurt badly in Q2 2013; but the damage would have been much worse if it had not taken safety actions after the lesser problems in Q1 2013. Perhaps most importantly it added $1.85B in notional value in interest rate swaps and $1.4B in swaptions positions. These were all struck on longer term swaps (10 years); and most were 25 to 75 bps out of the money. In other words, IVR is planning well ahead for future interest rate rises.
For Q2 2013 IVR earned $1.03 per share on a GAAP basis; and it had core earnings of $0.59 per share. This allowed IVR to maintain its $0.65 per share quarterly dividend (about 17% annualized). The core earnings of $0.59 per common share were lower than the year ago quarter at $0.64 per common share. However, after the volatility of Q2 settles down, core earnings may go back up.
The tables below show the changes to IVR's portfolio during Q2 2013 (Q2 end and Q1 end).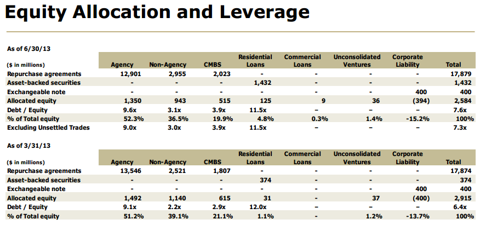 As you can see IVR lost value in Agency RMBS; and it gained value in Non-Agency RMBS and CMBS as these categories were less affected by the interest rate rises. IVR also bought $195 million more in Non-Agency RMBS and $149 million more in CMBS during Q2 2013. IVR completed three securitizations in Q2 which added $1.1B in consolidated loans to IVR's balance sheet. It also closed its first mezzanine loans, which were about a $42 million commitment; and it purchased an approximately $25 million in CRE (commercial real estate) mezzanine loans. These actions are tending to move IVR away from its dependence on repo financing, which may get more expensive in the not too distant future.
IVR probably has more work to do to adjust its portfolio. Its leverage went up in Q2 2013 in Agency RMBS, non-Agency RMBS, and CMBS. Short term this may play out to IVR's advantage, as it did not succumb to the panic selling that occurred in late Q2. It may well be able in Q3 and Q4 2013 to sell some of its Agency RMBS to move again to a lower leverage level, although it may be nearly delevered enough after its unsettled trades at the end of Q2 2013 do settle. (9.0x down from 9.6x on June 30, 2013 and down from 9.1x on March 31, 2013).
A more detailed description of IVR's portfolio as of June 30, 2013 is below.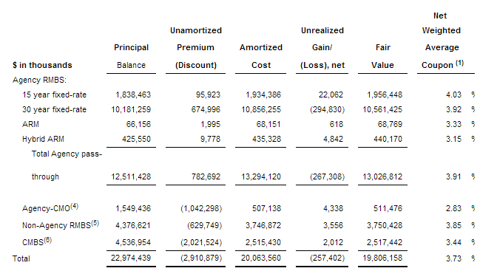 As you can see the possible book value gains on IVR's CMBS are considerable. This situation should play out well if the US economy recovers over the next five years or so.
Overall it appears that IVR has gotten considerably safer. It has more hedging coverage; and it has less invested in Agency RMBS, which has been the biggest area of loss with rising interest rates. In Q3 2013 the US Treasury 10 year bond rate seems to have stabilized (see chart below).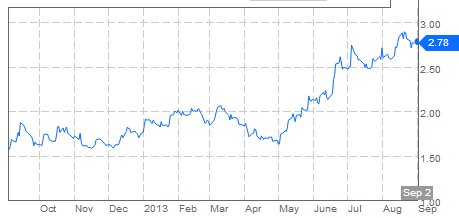 The June 2013 high was 2.61%. The early August 2013 low was 2.58%. The August 30, 2013 close was 2.78. This is higher; but after two thirds of Q3, it is only marginally higher. IVR's hedges should cover this amount of interest rate rise very well. When you consider the threat of a Syrian war has unsettled markets recently, the 20-30 bps rise in Q3 is hardly a big move at all.
There is the threat of a Fed cut back to its QE programs; but many think that this will only amount to a maintenance of the percentage of the market that the Fed has been buying in both the Treasuries markets and the MBS markets. The US Treasury is expected to finance less debt through bonds in 2H 2013. It has increased income from the re-instatement of the payroll tax cut in January 2013; and it has lower expenses due to the sequester budget cuts.
There will also be fewer MBS available. The Refinance Index has been falling for many months now, especially after the large mortgage rate rise recently. The Purchase Index has only been falling very recently; but it may be starting a trend. The chart below of the Composite Index (or the combination of the above two) versus the 30 year fixed mortgage rate shows clearly that fewer MBS are likely to be available on the market in 2H 2013. The Fed has to cut back on its buying just to maintain the same percentage buying in the market. Otherwise it will completely dislocate the market.
The Composite Index versus the 30 Year Fixed Mortgage Rate: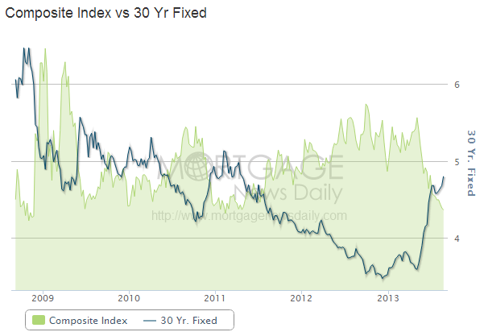 With the weak economic numbers recently many are calling for the Fed not to cut back on quantitative easing at all. However, the above chart should convince you that the Fed will have to cut back on its MBS purchases. Otherwise it will essentially destroy the market (be buying everything). With this in mind, it is unclear that the Fed will make any cutbacks to QE other than those needed to maintain its same percentages in the markets above. The thought that such Fed cuts will be hugely inflationary seems absurd. If the economy weakens further, Fed QE cutbacks beyond those suggested above by the market dynamics seem even less likely. Interest rates could even fall later in 2013. IVR appears to be preparing well for the near term and the longer term (in which interest rates are virtually sure to rise).
The only remaining question is how did IVR fair against some of its peers in the mortgage REIT sector in Q2 2013. Virtually all of them had bad book value losses as the US Treasury long bond yields rose roughly 1% in the last month and one half of Q2 2013. The table below provides a quick comparison.
| | | | | |
| --- | --- | --- | --- | --- |
| Stock | Stock Price at the close on August 30, 2013 | Book Value Loss In Q2 2013 | Book Value % Loss In Q2 2013 | Book Value As Of Q2 End 2013 |
| IVR | $15.31 | -$2.54 | -12.44% | $17.88 |
| American Capital Agency Corp. (NASDAQ:AGNC) | $22.76 | -$3.42 | -11.82% | |
| Western Asset Mortgage Capital Corp. (NYSE:WMC) | $15.61 | -$2.03 | -10.45% | |
| Hatteras Financial Corp. (NYSE:HTS) | $18.30 | -$6.00 | -21.29% | |
| Armour Residential REIT (NYSE:ARR) | $4.18 | -$1.26 | -18.83% | |
In other words, IVR performed well compared to many of its peers. Q2 2013 was the quarter from hell for the mortgage REIT companies. Many managers did not foresee the abrupt rise in rates. They were caught off guard. Many have since realigned their portfolios to reflect the likely environment of increasing interest rates. They will likely continue to proceed in this vein over the next couple of years as the ultimate end of Fed quantitative easing by the Fed in mid to end 2015 approaches.
With the fundamentals reviewed above, IVR and other mortgage REITs should do much better in 2H 2013. They will automatically gain performance (net interest spread) as the volatility of Q2 2013 settles down in 2H 2013. They will gain net interest spread due to increased mortgage rates.
The fears of the Fed cutting back on easing are also far exaggerated. Such cutbacks should have very little effect on both mortgage rates and interest rates. The near term moves by the Fed are virtually sure to be only to make the cutbacks necessary to maintain their percentage participation in the markets. The fear mongers are clearly making hay scaring investors. When investors fears settle down a bit, mortgage and interest (Treasuries) bond markets seem likely to gain a bit of value (see yields go down a bit). At the very least yields (rates) should rise little. This should make for a good mortgage REIT environment in 2H 2013. This makes an even safer IVR a buy. IVR's leadership is a plus. IVZ, the external manager, has a lot of experience. It is already starting to address the problem of possibly higher repo rates when (or before) the Fed eventually ends the essentially 0% Fed Funds rates in mid to end 2015. When investors realize that IVR actually provided an 11.5% total economic return in the last "troubled" year (dividend and stock appreciation), many will think IVR is a buy.
The two year chart of IVR provides some technical direction for this trade.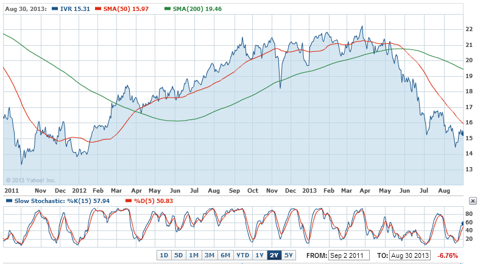 The slow stochastic sub chart shows that IVR is neither overbought nor oversold. The main chart shows that IVR has been in a downtrend. However, it also shows that IVR may be bottoming. The fundamentals of the overall markets mentioned above and the recent moves toward further safety by IVR make IVR a buy. The average analysts' recommendation is 2.5 (a weak buy). The CAPS rating is four stars (a buy). Short interest is only 2.10% of the float. Insiders have increased their holdings in IVR by 8% in the last six months; and institutions have increased their holdings by 9.89% (7,823,170 shares) from the prior quarter to this one. The 17% dividend will likely get cut a bit soon; but it should still be well over 10%.
IVR is a buy. There are a lot of positives, including the fact that the stock is beaten down. However, if you are worried that the overall market may fall dramatically in the near future, you may wish to average into an IVR position over the next year.
NOTE: Some of the above fundamental financial information is from Yahoo Finance.
Good Luck Trading.
Disclosure: I have no positions in any stocks mentioned, but may initiate a long position in IVR over the next 72 hours. I wrote this article myself, and it expresses my own opinions. I am not receiving compensation for it (other than from Seeking Alpha). I have no business relationship with any company whose stock is mentioned in this article.