The share price of Starbucks Corporation (NASDAQ:SBUX) took a particularly large hit during 2007 and 2008 as investors believed that the company had overextended itself in a premium coffee market that appeared to be under threat. CEO Howard Schultz was put back at the helm of the company in January 2008 and within less than six months had announced the closure of 600 of its US stores in attempt to decrease the cannibalization of its own sales.

The company's most recent earnings, for its fiscal third quarter ended June 28th, reported that net earnings for the 13-week period were $151.5M compared to a net loss of $6.7M in fiscal Q3 2008. Starbucks also saw higher operating margins at 8.5% compared to negative 0.8% over the year-earlier period. However, the company's comparable store sales revenue declined 5%. The company has also taken a more cautious approach to its international expansion as international results were hurt by lower numbers of transactions and declines in the value of each transaction.

Starbucks released its VIA Ready Brew nationwide across the US at the end of September. The product is an answer to investor fears that premium coffee would be one of the first things that recession-hit consumers would drop from their shopping lists. The company hopes that the product will boost its bottom line, offering cash-strapped consumers a cheaper option to get their premium coffee fix at less than a dollar per cup.

We should focus on the company's long-term fundamentals when making any long-term investment decision. After splitting the company's key long-term fundamental indicators into three groups (Business, Management, Price-Attractiveness) we run them though our proprietary StockMarks rating models, placing the company on a scale of 1-100. The chart below shows Starbucks Corporation's ratings for the three fundamental groups as well as a combined 'Total StockMark' rating since mid-2005.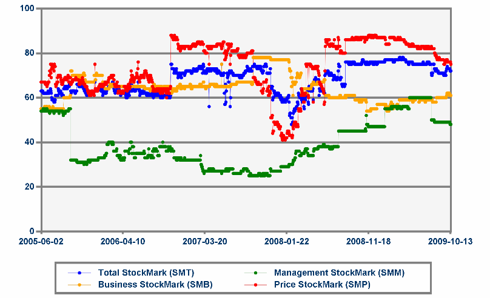 We last recommended Starbucks as an investment on October 13, 2008. The stock has since risen 87%, compared to the 31% increase in the broader Nasdaq composite index. Despite a P/E ratio of 62, the highest of the company's ratings is its Price StockMark, which is based on SADIF's proprietary valuation algorithms, taking into account both fundamental and technical indicators to arrive at a rating of the attractiveness of a company's stock to long-term investors at its current price. However, this rating is declining as the stock price continues to rise. The business rating remains above the US market average as cost savings and higher margins offset lower revenues. The management rating, which is based on fundamental measures of management efficiency, has increased since Howard Schultz became CEO in early 2008.

A recent poll from ChangeWave Research revealed that consumers are intending to purchase more coffee from Starbucks over the current quarter, while expecting to reduce expenditure on coffee from McDonalds (NYSE:MCD). While we believe that McDonalds remains a solid investment, Starbucks has greater potential based on its underlying fundamentals and market strategies. The company has proved the resilience of its business over the past 12 months, while maintaining a strong position to take advantage of any global economic recovery.


Disclosure: No positions