The first article of the series has introduced the Carbonate Triangle of the renowned Canadian oil sands. The region is the world's third largest oil reserve with its rich carbonate-hosted bitumen deposit located in the northern Alberta's deep underground. Precisely, the Carbonate Triangle is situated between three major bitumen areas, Athabasca, Cold Lake and Peace River.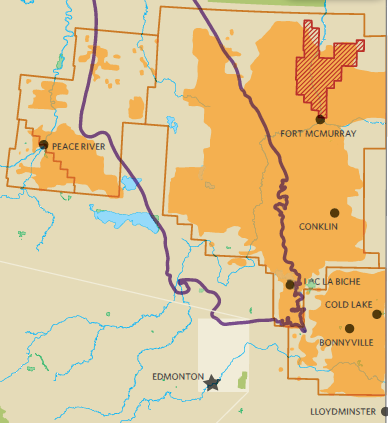 In today's investment guide on the Carbonate Triangle, I will present the main characteristics of the Athabasca area to have a better assessment of its potential. Then, I will discuss one small oil producer involved in Athabasca, with a potential production of more than 100,000Boe/d by 2016 from its core assets. So far, I looked into several producers involved in Peace River and Cold Lake regions of the Carbonate Triangle:
Peace River's most notable producers:
Cold Lake's most notable producers:
Athabasca's most notable producers:
An analysis of the current operations of the company will be examined with the objective to provide the most complete information available to potential investors before deciding to seize the opportunity that the 54,132 square miles of the Carbonate Triangle has to offer. Let's start by introducing Athabasca, a famous and most prolific region in the Canadian oil sands as well as one of the largest reserve in the world.
Athabasca Region
The Athabasca oil sands are named after the Athabasca River which cuts through the heart of the deposit, and traces of the heavy oil are readily observed on the river banks. Commercial production of oil from the Athabasca oil sands began in 1967, when Great Canadian Oil Sands Limited, now incorporated into an independent company known as Suncor Energy, opened its first mine, producing 30,000Bls/d of synthetic crude oil.
The Athabasca region can be defined with two major oil sands deposits: the Grosmont Formation and the Wabiskaw-McMurray Formation. The Grosmont Formation is a late-Devonian shallow marine to peritidal platform carbonate consisting of four recognizable units within the deposit. All of the hydrocarbons are located in an updip position, structurally trapped along the erosional edge and contained by the overlying Clearwater Formation.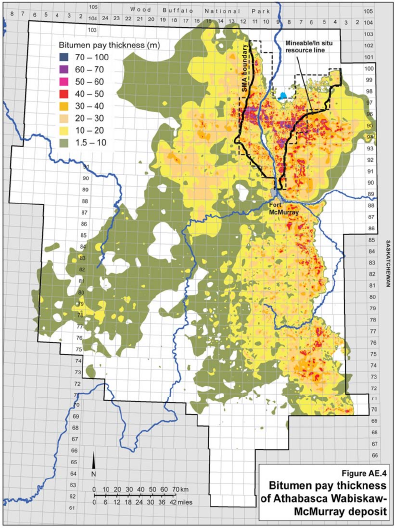 Source: ERCB
The McMurray Formation was deposited on an exposed karstic landscape of ridges and valleys and varies in thickness from being absent over Devonian highs to over 426 feet thick in the Bitumont Basin. Bitumen-rich reservoirs formed within estuarine valleys stacked above the Lower McMurray channel sands and are assigned to the Upper McMurray Formation.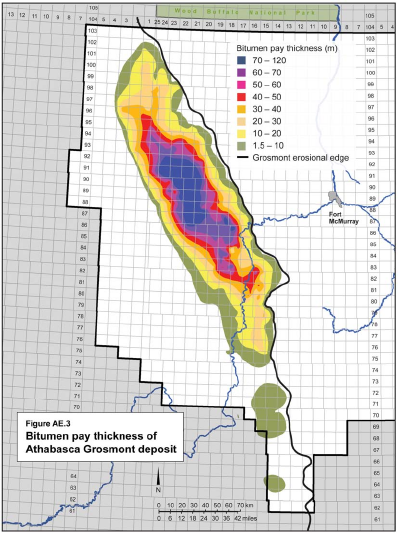 Source: ERCB
The Athabasca region is estimated to hold total reserves of 1.34 trillion barrels of oil. Approximately 8-10% would be recoverable with current technology, which would represent a total reserve of 134 billion barrels. Compared to the estimated 7 billion barrels contained in Peace River and approximately 16 billion barrels in Cold Lake, the Athabasca region is the most prolific and the most promising of the three, located in the Carbonate Triangle.
BlackPearl Resources (OTCPK:BLKPF)
BlackPearl is an oil and natural gas company engaged in the exploration, development and production of oil and gas, primarily heavy oil and bitumen in Canada. BlackPearl was incorporated in 1984 and is currently headquartered in Calgary, Canada.
The company''s principal projects include the Onion Lake Project, a conventional heavy oil property located in Saskatchewan. In 2011, the majority of the heavy oil production came from Onion Lake. The property also has a future 12,000Bls/d (barrels per day) SAGD development on a portion of the lands.
BlackPearl also has the Mooney Project, a conventional heavy oil property located in northern Alberta. The field was initially developed using primary production techniques. The property has the potential to produce over 7,000 to 10,000Boe/d (barrels of oil equivalent per day).
Finally, the producer owns the Blackrod Project, a bitumen property located in the Athabasca oil sands region of northern Alberta. Blackrod will be analyzed in-deep further in this article.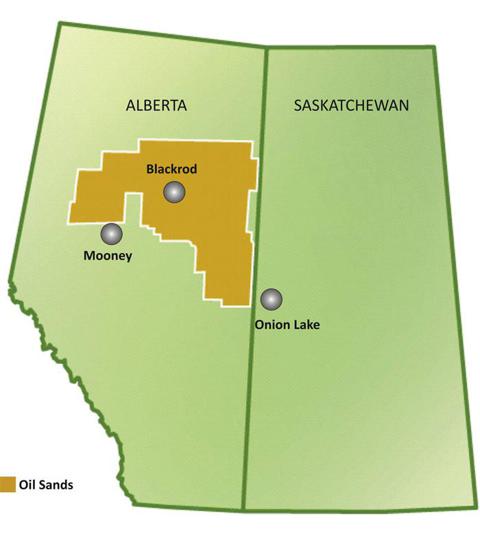 Source: BlackPearl Resources
BlackPearl's strategy consists to continue to invest in existing low-risk conventional heavy oil production at Mooney and Onion Lake in order to provide stable cash flow base to support its development projects. As a matter of fact, the existing production from primary wells at Onion Lake provides consistent cash flow for the junior producer. The management plans also to focus on developing its Onion Lake Thermal Project to increase corporate production to over 20,000Bls/d in 2016.
Furthermore, the producer is pursuing a joint-venture arrangement for its Blackrod oil sands project to accelerate its development. As part of its whole strategy, the producer is hedging a portion of its existing production to protect the project economics during the construction phase of its material development projects.
Blackrod Thermal Heavy Oil Asset
In July 2007, BlackPearl acquired 6,958 contiguous acres of oil sands leases located South of Fort McMurray, in the Athabasca oil sands region of northern Alberta. In addition, the company acquired an additional 2,560 acres in this project a few months later.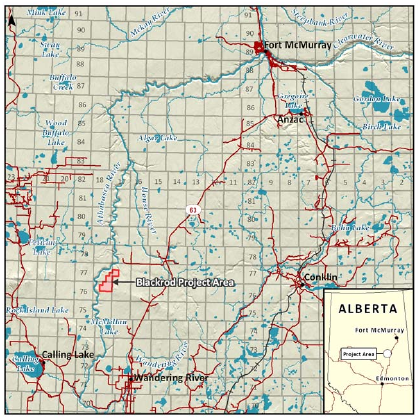 Source: BlackPearl Resources
Blackrod is a planned SAGD development and the largest of the three core properties of BlackPearl. The project is located on Crown Land, on the East side of the Athabasca River, approximately 31 miles northwest of the Hamlet of Wandering River, Alberta and the property holds about 34,560 of net acres.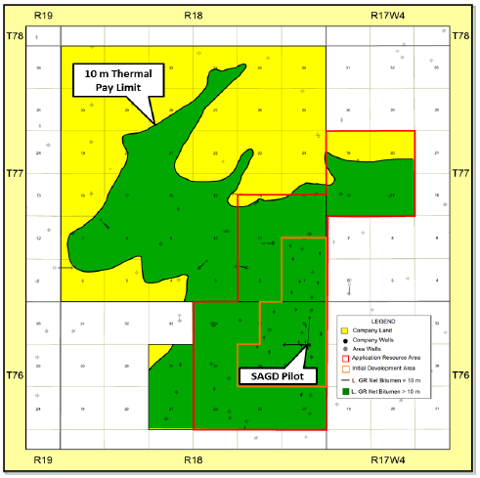 Source: Calgary Energy Conference, July 2013 Presentation
In October 2010, BlackPearl received regulatory approval for the construction, operation and reclamation of the Blackrod SAGD Pilot Project in the Lower Grand Rapids Formation. The Blackrod Grand Rapids development is within a relatively homogeneous and predictable shoreface sand reservoir in contrast to those in the more common but less predictable McMurray estuarine fluvial channel systems.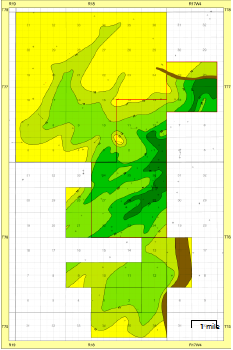 Source: Calgary Energy Conference, July 2013 Presentation
According to BlackPearl, the lower productivity in the Grand Rapids is more than compensated by scale and homogeneity. The scale and predictability has helped Canadian Natural Resources' Primrose Project become one of the most prolific and profitable thermal projects. For more information on Canadian Natural's Cold Lake assets, you can access it here while its Athabasca assets can be reached here.
The Blackrod Pilot consists of a single horizontal well pair, water source and disposal wells, observation wells, water monitoring wells and a central facility consisting of water treatment and steam generation equipment and other associated facilities. Steam injection was initiated in June 2011 and following a warm-up period, the production well was put on pump in September 2011.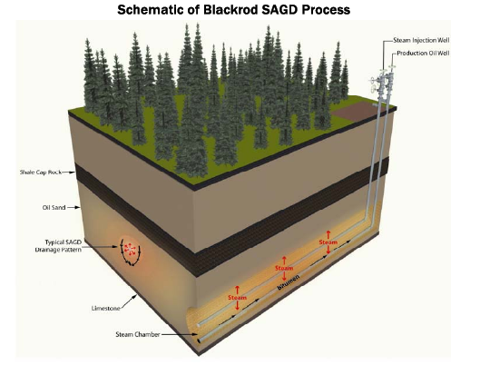 Source: BlackPearl's Plain Language Document Of Blackrod Project
In 2012, the producer began the detailed engineering work for the first commercial development phase of its project. It planned a second horizontal well pair to the existing pilot at Blackrod to provide the company with additional completion and start-up information that will further enhance the design of its commercial operations.
BlackPearl said that during Q1 of 2013, the company drilled the second well pair, and steam injection is expected to commence during Q2 of 2013. The producer continues to optimize production techniques with the first well pair and with the most recent modifications, production is headed back towards commercial rates. Detailed engineering for the first commercial phase of development continues. Phase 1 is expected to be commissioned in 2015.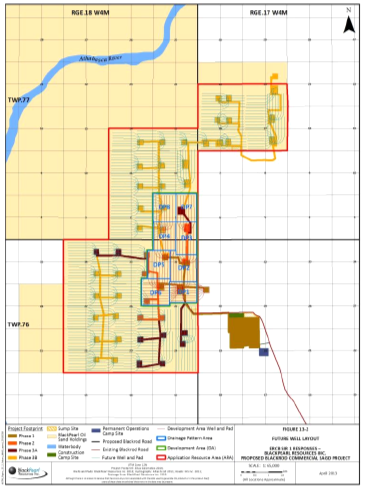 Source: Calgary Energy Conference, July 2013 Presentation
During Q2 of 2013, BlackPearl has seen very positive initial results from its first pilot well as a result of changes it made to the sand control system in the well earlier this year. During the month of June, the pilot produced in excess of 600Bls/d. The June production volumes included some flush production and it expects that production from the well will stabilize between 400-450Bls/d.
The Blackrod Project will require several years to fully develop and has the potential for a 80,000Bls/d production capacity. The proposed project will be developed in three phases over an estimated 30-year period with the initial phase producing 20,000Bls/d of crude bitumen and the second and third phases producing 30,000Bls/d each, for a total production capacity of 80,000Bls/d. The capex required for Phase 1 has been estimated at $700-$800 million.
As of December 2012, Blackrod had an estimated 180 million barrels of probable reserves to the first phase of commercial development and a best-estimate recoverable contingent resource of 476 million barrels for the remainder of the project.
Financials At A Glance
According to its Q2 of 2013 financial results, oil and gas revenues increased 19% to $58.3 million compared with $49.1 million in Q2 2012. The increase was attributable to a 5% increase in oil sales volumes and a 13% increase in BlackPearl realized oil price in 2013. The increase in its realized wellhead price reflects higher WTI reference oil prices in Q2 2013 compared with Q2 2012 ($94.29/Bbl vs $93.44/Bbl), as well as narrower heavy oil differentials (Cdn$19.36/Bbl vs Cdn$23.08/Bbl).
Oil and gas production averaged 9,986Boe/d in Q2 of 2013, a 5% increase from the comparable quarter in 2012 and a 10% increase from its Q1 2013 production volumes. The increase in production was mainly attributable to higher production associated with the ASP (alkali surfactant polymer) flood at Mooney as well as additional drilling at Onion Lake during the first quarter.
The following chart shows the steady production growth from its existing conventional heavy oil assets between 2009 and 2012, production that increased by 78% to reach about 9,400Bls/d by end of 2012.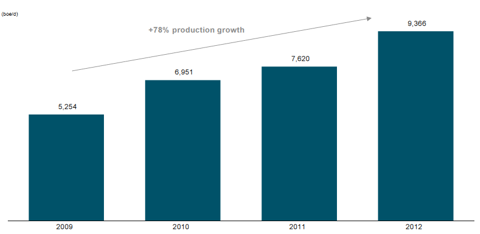 Source: Calgary Energy Conference, July 2013 Presentation
Operating costs were $20.90 per boe in Q2 2013 compared with $16.71 per boe in Q2 2012. The increase in operating costs was primarily due to starting to expense injection and polymer costs associated with the ASP flood at Mooney. During the initial re-pressurization of the reservoir, these costs were capitalized.
Operating netbacks increased 8% in Q2 of 2013 to $28.65 per boe from $26.57 per boe for the same period in 2012. The change was primarily attributable to the increase in realized crude oil prices, partially offset by higher production and transportation costs in Q2 of 2013 compared to the same period in 2012.
Comparing the netbacks with its peers, we can see that MEG Energy reported Q2 operating netbacks of $41.93/Boe, Advantage Oil & Gas' (NYSE:AAV) Q2 operating netbacks totaled $14.74/Boe, Baytex has realized $25.76/Boe for Q1 and Bonavista Energy operating netbacks for Q1 amounted to $19.49/Boe. Therefore, with an average netback of $26.11/Boe, BlackPearl's $28.65/Boe is a little higher than the average of its peers with higher realized prices and stronger recoveries.
Notably, as depicted in the chart below, the TTM operating margin from the last five years shows an interesting perspective. BlackPearl has a negative ratio compared to most of its peers except for Advantage Oil and Gas . However, despite this negative ratio, the producer has made a lot of strides since late 2009.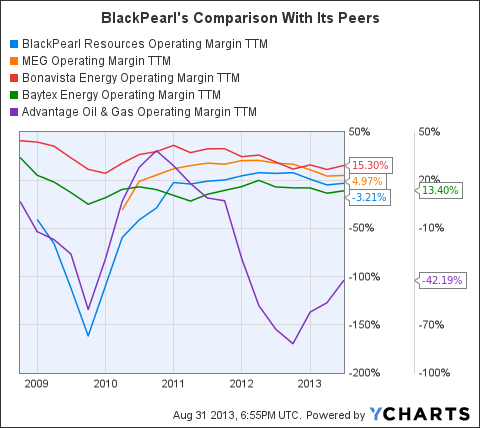 Cash from operations increased 15% in Q2 2013 to $22.8 million
compared to $19.8 million in Q2 of 2012. The increase was primarily attributable to higher sales volumes and higher oil prices. Net earnings for the quarter were $2.6 million compared to $0.2 million in Q2 2012.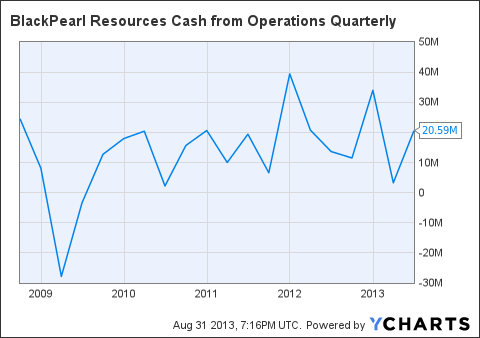 The chart above illustrates the producer's quarterly cash generated from its operations. It is worth noting that since mid-2009, the company managed to generate cash flow mainly from its Onion Lake production and its cash flow currently amounts to $3.19 million.
At June 30, 2013, BlackPearl had working capital of $4.1 million and long-term debt of $25 million with $90 million available to be drawn under the company's credit facilities. BlackPearl has a very low Long-term debt to equity ratio of 2.20 compared to its industry's average of 68.80, suggesting that management is extremely prudent in using its financial capital. As a matter of fact, the company is developing only a few assets at a time and it uses the generated cash flow from its producing assets to finance the development of new ones.
Capital expenditures during the first half of 2013 were $46.4 million, with approximately $21.6 million spent at Blackrod, $7.6 million at Onion Lake, $6.6 million spent at Mooney, $4.2 million at John Lake, $1.5 million at the Onion Lake EOR Project and $4.9 million in other areas.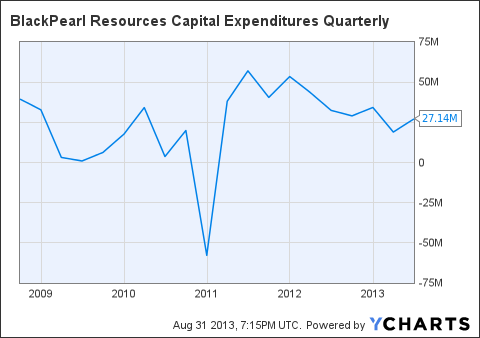 The focus of the 2013 capital program to date has been the drilling of a second SAGD pilot well pair and preliminary commercial engineering designs at Blackrod, preliminary commercial engineering designs at the Onion Lake EOR project, chemical costs at Mooney related to the continuing ASP Phase 1 flood, as well as drilling 11 conventional heavy oil wells at Onion Lake, three horizontal wells at John Lake and a well at Salt Lake.
Finally, looking at BlackPearl's return on equity ratio, the company is getting there slowly but surely. Its ratio is at -1.7% compared to its industry's average of 3.48%. As shown below, its ROE has steadily improved over the years (excepting when the market collapsed in 2009) as its producing assets were gradually coming into commissioning.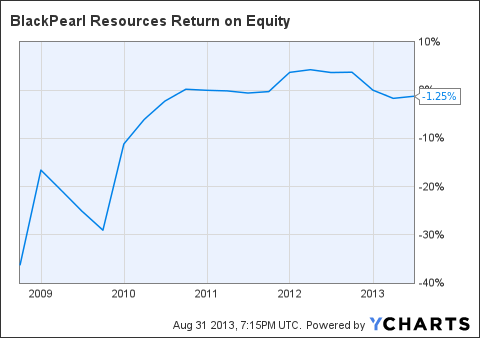 The recent drop has been attributable to lower realized heavy oil prices that occurred during the first three months of the year.
Future Outlook
During the second quarter, BlackPearl acquired an additional 6,400 acres of oil sands acreage directly South and contiguous to its existing Blackrod lands. In addition to the acquisition of this acreage, it acquired some minor natural gas production as well as pipelines and other facilities which will be used in the commercial development of the Blackrod area. Total cost of the acquisition was $4.9 million. Its internal estimate suggests that the acquisition could add 50 to 75 million barrels of best-estimate contingent resources to the Blackrod Project.
The company expects its oil and gas production to average between 9,000-10,000Boe/d for the year, unchanged from its Q1 update.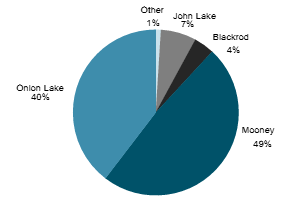 Source: Calgary Energy Conference, July 2013 Presentation
Cash flow from operations for the year is anticipated to range between $65 to $70 million. This is slightly higher than its Q1 outlook as a result of using higher forecast oil prices in the Q2 update. Capital spending is anticipated to be between $95 to $100 million for the year, a decrease from the $125 to $140 million forecast in the company's Q1 update.
BlackPearl's quarterly cash from operations is currently at $20.59 million. Still a way to go from the expectations of the end of the year. Compared to its peers, the producer is nonetheless in a good position.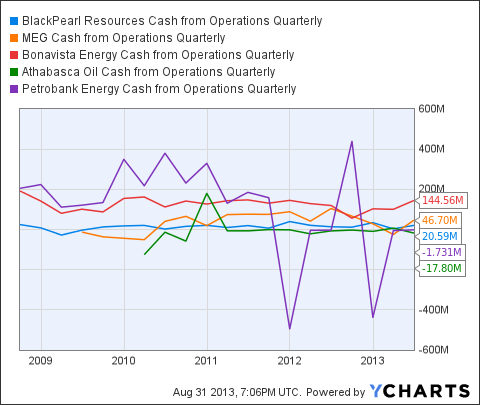 The decrease in its planned capex reflects reduced spending on its thermal projects at Onion Lake and Blackrod. Engineering and design work will continue in the Onion Lake thermal project. However, equipment orders will be deferred until additional financing is in place.
During the second half of 2013, the producer also expect to drill 20 to 25 conventional heavy oil wells at Onion Lake and up to 10 additional horizontal wells at Mooney and other areas. It is expected that this capital program will be funded from anticipated cash flow from operations and the company's credit facilities.
As of February 2013, BlackPearl's oil and gas proved plus probable reserves was estimated at 213Mmboe (million barrels of oil equivalent). The best-estimate recoverable contingent resource has been estimated at 583Mmboe. On a net present value basis, approximately 61% value of the proved plus probable reserves were attributable to the first phase of the Blackrod Project, 17% was attributable to the Onion Lake area and 18% was attributable to the Mooney area.
Bottom Line
BlackPearl Resources represents a great opportunity to get involved in the Canadian oil sands. The junior producer has a lot of potential and I like the quality of its core assets.
The Grand Rapids Formation in which the producer's Blackrod Project is located, should drive a lot of cashflow in a near future. The play in which Blackrod will be producing is considered to hold more than 120 billion barrels. Therefore, the potential is huge in this part of the land.
Furthermore, the potential production of more than 100,000Boe/d by 2016 from its core assets represent a quality asset, worth investing, for investors that are relatively risk-tolerant with a junior producer as well as with a certain degree of patience. That tolerance combined with sufficient patience could pay off a lot.
As of August 31, 2013, according to the consensus forecast amongst 15 polled investment analysts covering BlackPearl Resources advised that the company will outperform the market. This has been the consensus forecast since the sentiment of investment analysts improved on August 13, 2009. The previous consensus forecast advised investors to hold their position in BlackPearl Resources.
With a market capitalization of over $521 million, the growth potential could skyrocket in the coming years as its core assets' production will arrive at maturity.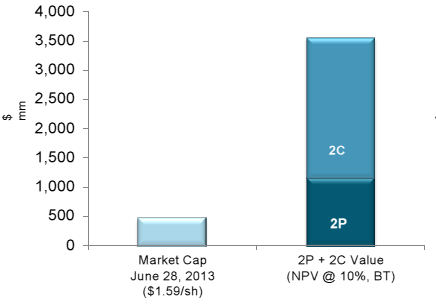 Source: Calgary Energy Conference, July 2013 Presentation
It is worth noting that management ownership of BlackPearl represents 9.5% of the common shares outstanding. Adding the stewardship of its Board of Directors, the company seems to be in good hands to achieve its goal: profitability and growing shares' value for its shareholders.
Finally, BlackPearl currently trades at an EV/EBITDA multiple of 9.29x compared to a multiple of -116.41x for Athabasca Oil, 1.43x for Petrobank Energy and Resources, 37.24x for Southern Pacific Resources and -2.79x for Ivanhoe Energy and 6.71x for Pengrowth Energy. The average EV/EBITDA of this group of junior peers has a -73.82x multiple, which suggests that BlackPearl's stock trades at a premium.
Catalysts for the stock going forward here include higher oil prices, improved recoveries, and results from the drilling program at Onion Lake this year which could lead to resource estimates being revised upwards.
The company is trading under its go forward net asset value based on the its resource potential in the ground, which is in the $10 range according to Daniel Cheng, portfolio manager at Matco Financial, with room for upside based on deliverability and continued delineation. I believe Blackpearl will be able to trade at a premium valuation given the visibility on its production profile and long life resource base.
Lastly, another reason I like this company is that they very low debt, so positive working capital which is definitely not the norm for a small cap energy company. BlackPearl is funding mostly by itself which eliminates a key risk factor that has hampered many energy companies, trying to develop its sustainability.
Here are the upsides for a potential investment in BlackPearl Resources:
A potential production of more than 100,000Boe/d by 2016 from its core assets
Low-risk position in the Canadian oil sands
Very low long-term debt adds plenty of room for developing its current assets and adding new opportunities
Generated cash flow supports BlackPearl developing projects
Several risks are associated with a small-cap oil and gas producer. Here are a few challenges that the company is facing:
Fluctuations in market prices for crude oil, natural gas and diluent as well as general economic, market and business conditions are unpredictable and challenging
Presence of operational risks and delays in the development, exploration or production activities
The producer is exposed to its focused operational activities and to the related market conditions without risk mitigation possibilities with other locations
Disclosure: I have no positions in any stocks mentioned, and no plans to initiate any positions within the next 72 hours. I wrote this article myself, and it expresses my own opinions. I am not receiving compensation for it (other than from Seeking Alpha). I have no business relationship with any company whose stock is mentioned in this article.