Kinder Morgan has one of the most complicated corporate structures of any public company. As a result, there are 5 separate tickers that are currently traded which represent an interest in the Kinder Morgan entity. In this article, I lay out each of the 5 tickers and provide a brief explanation of each.
The figure below (from their Citi MLP Conference Presentation) shows as clearly as possible the corporate structure of the various entities.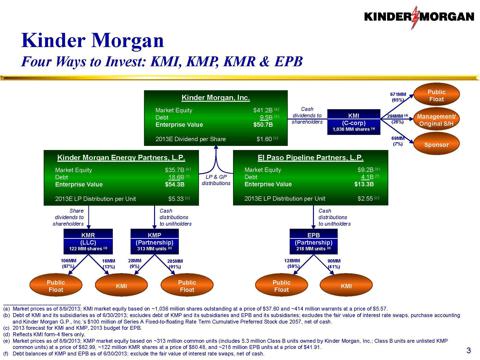 Kinder Morgan Incorporated (NYSE:KMI)
Company Type: Corporation
Market Cap: $38.3 Billion
Current Dividend: $0.40 Quarterly Qualified Cash Dividend - 4.3% Yield
As the figure above shows, KMI shares represent an ownership interest in the 'parent company' Kinder Morgan.
When the company announced their most recent quarter, the board approved a buyback of up to $350 million of common stock or warrants. The company did not provide guidance on the number of warrants and stock they plan to buy back. This buyback represents just under 1% of outstanding shares. Insiders own roughly 35% of KMI shares outstanding.
Kinder Morgan Incorporated owns 13% of the shares outstanding in KMR, 9% of the outstanding units in KMP, and 41% of EPB units. Also, KMI owns 20% of NGPL, with the other 80% being owned by Myria Acquisition Inc. KMI is a General Partner in the KMP/KMR and EPB entities and is eligible for incentive distributions based on performance.
Management expects the dividend in KMI to increase at 9% to 10% per year over the next 5 years.
KMI currently has direct ownership of several pipelines throughout the US. See the map below.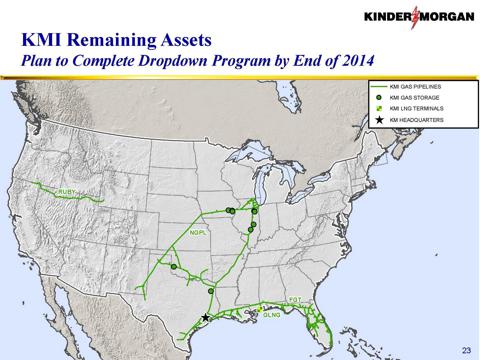 KMI plans to dropdown all of these assets except their ownership in NGPL by the end of 2014. At that point, KMI's main form of income will come from managing the entities they are the general partner for.
Here's a good article with more in-depth information on KMI.
Kinder Morgan Incorporated Warrant (KMI-WT)
Ticker Type: Derivative on KMI Common Stock
Market Cap: $2.1 Billion in warrants outstanding
Dividend: None.
Warrants on KMI were created during KMI's buyout of El Paso Corporation. The warrants have a strike price of $40.00 per share and an expiration date of May 25, 2017. Here's an introduction to warrants if you are not familiar with them. This strike price is roughly 10% above the current stock price, so the entire value of the warrant is time value with no intrinsic value.
In May 2012, KMI announced a buyback program specifically for the warrants. The program allowed repurchase of up to $250 million in warrants. In Q2 2013, the company completed this repurchase in its entirety. After this buyback, there are 414 million warrants still outstanding. This buyback reduced the number of warrants outstanding by 18%. The average repurchase price for the warrants thus far in 2013 was $5.77 each.
As mentioned above, there is a $350 million buyback program that can buy back more warrants. This will further reduce the float on the warrants if applied to the warrants.
The Kinder Morgan warrants that are currently trading require KMI shares to appreciate meaningfully between now and mid-2017. The required CAGR of 5.3% for the warrants to break even by expiration is possible given KMI's past stock performance.
For more information on these warrants, here's a more in-depth article.
Kinder Morgan Energy Partners (NYSE:KMP)
Company Type: Partnership
Market Cap: $35.9 Billion
Current Dividend: $1.32 Quarterly Cash Distribution - 6.4% Yield
Shareholders in both KMP and KMR are both owners of an entity called Kinder Morgan Energy Partners, L.P. This entity owns the majority of the pipeline assets in Kinder Morgan. As a result, they get the majority of their income from pipelines. The sources of the Kinder Morgan Energy Partners cash flow is shown below from their Citi presentation.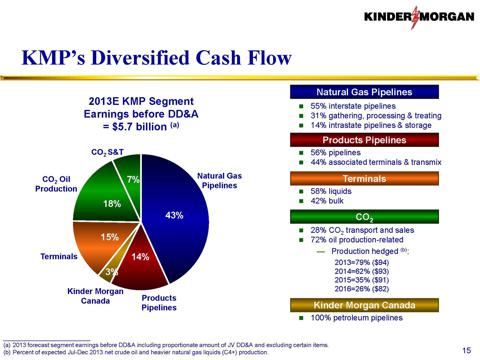 For a pipeline company, KMP/KMR does have a relatively broad variety of income sources associated with the natural gas transportation industry.
Management expects the dividend in KMP/KMR to increase at 5% to 6% per year over the next 5 years.
In addition to the El Paso acquisition mentioned above, Kinder Morgan recently made two other purchases. On June 1, 2013, the company (specifically KMR/KMP) closed on a $5.2 billion purchase of Copano Energy in an all-stock deal. Management stated that the deal would be immediately accretive. Also on June 1, the company closed on a $285 million deal to purchase gas properties and rights associated with the Permian Basin in West Texas (named the Goldsmith Landreth Unit).
Kinder Morgan has also recently sold or is selling a number of assets. In March 2013, they closed on the $403 million sale of their interests in the Express Pipeline System. The company is shopping for buyers of their stake in pipeline companies in South America - valued at roughly $88 million.
Kinder Morgan Management (NYSE:KMR)
Company Type: LLC
Market Cap: $9.65 Billion
Current Dividend: $1.32 Quarterly Dividend Paid in Additional Shares of KMR
KMR shares are equal in voting rights to KMP in the Kinder Morgan Energy Partners.
The dividend paid to KMR is equal in monetary value to the dividend paid for KMP but it is paid in additional shares of KMR. As a result, this investment vehicle is essentially an investment in KMP with dividends automatically reinvested. The number of shares purchased is calculated by taking the KMP dividend per share and dividing it by the 10-day average price prior to the ex-dividend date.
Another benefit of KMR is that the tax reporting eliminates the need or K-1 forms and UBTI. Since the shares are paid in additional shares and not cash, there are no taxes due on the additional shares until the investment is sold.
Throughout the history of the two entities, KMR and KMP, there has been a discount on KMR when compared to KMP. The graph below shows the discount since inception of the entities: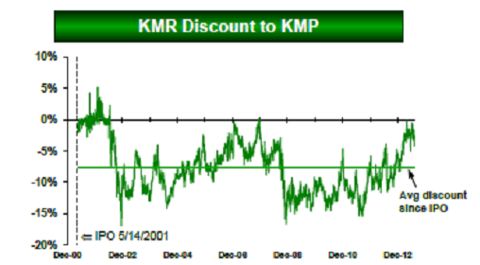 Since the shares have the same voting interests, dividends, and share of the company, the two stocks should trade at the same price. The current discount is roughly 3%.
Management expects the dividend in KMP/KMR to increase at 5% to 6% per year over the next 5 years.
Also, insiders in the KMP/KMR company greatly prefer investing in KMR - investing in KMR vs KMP at over a 3:1 rate.
El Paso Pipeline Partners (NYSE:EPB)
Company Type: Partnership
Market Cap: $9.38 Billion
Current Dividend: $0.63 Quarterly Cash Distribution - 6.0% Yield
El Paso Pipeline gets 100% of their revenue from natural gas pipelines. The company gets 90% of their revenues from capacity reservation charges - with the average contract for this of 7 years for interstate pipelines and 19 years for LNG pipelines.
Management expects the dividend in EPB to increase at 5% to 6% per year over the next 5 years.
Here's a good in-depth article on EPB specifically.
Kinder Morgan is a proven company that has met the promises they have made in the past and should continue to do so in the future as natural gas plays a bigger and bigger role in the national energy picture. With so many different ways to gain exposure to the company, a piece of it fits in most investors' portfolios.
Disclosure: I have no positions in any stocks mentioned, and no plans to initiate any positions within the next 72 hours. I wrote this article myself, and it expresses my own opinions. I am not receiving compensation for it (other than from Seeking Alpha). I have no business relationship with any company whose stock is mentioned in this article.