Following Alcoa's Q2 results in early July, I wrote Breach Or Breakdown For Alcoa As Weak Aluminum Overshadows Downstream Success. The two key levels that I have been watching are the $8 share price for Alcoa (NYSE:AA) and the $1,800 mt level for aluminum (3 month buyer). Alcoa's share price and the price of aluminum attempted a bounce over the last few weeks, but are back down to similar levels. The question of "bounce or breakdown" remains, but the longer these levels are tested, the greater the chance of a breakdown. In this article I will give an update on aluminum prices, the dynamics in the aluminum market and the impact on Alcoa and its stock price.
Basic Thesis Alcoa
The following is my basic thesis about Alcoa from my previous article:
"Alcoa is a well run company with an attractive downstream business that produces components for several growing end-markets, especially automobile and aviation. However, its upstream business has been pressured from very weak aluminum prices. Alcoa has a lot of debt and is marginally cash flow positive, so the price of aluminum is the key driver of Alcoa's overall profitability and the stock price. The drop in aluminum prices below $1,800 could lead to a sharp move lower. The more time it takes for aluminum to recover this level, the greater the downside risks. Alcoa faces continued short term pressure with these low aluminum prices. Eventually, low aluminum prices will lead to more supply cuts, but it is unclear when that will happen and if they will be successful in reversing the downward move."
LME Aluminum Prices
Here is a look at the London Metal Exchange (LME) price of aluminum (3 month buyer) over various timeframes.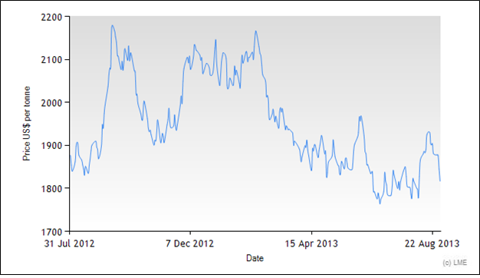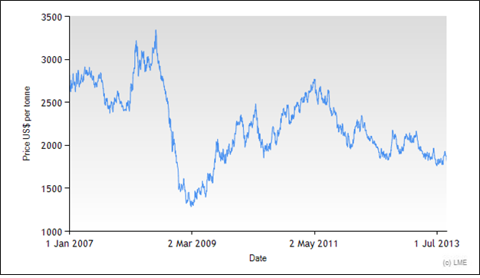 (Source: LME.com)
Since early 2011, the price of aluminum has made a series of lower highs. Although it bounced off the important $1,800 level, it remains to be seen if aluminum can make a higher high.
On a positive note, the price of aluminum has not traded down in Q3. If aluminum can stay at these levels, analysts may not reduce their EPS expectations for Alcoa toward the end of the quarter.
Premiums
Alcoa's realized price for aluminum is based on the LME price and regional premiums.
According to Rusal, aluminum premiums have been very strong recently: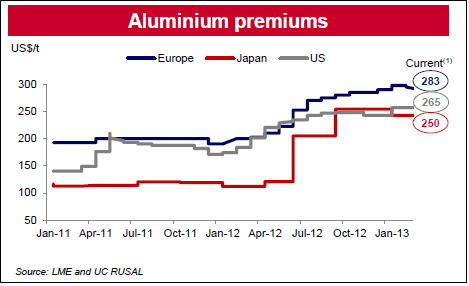 (Source: Rusal 1H 2013 earnings presentation, August 19, 2013)
However, a recent report by JPMorgan suggests that premiums may be set to drop, if LME approves a change to its rules:
"Two-thirds of aluminum producers would be losing money because of lower premiums paid on top of exchange benchmarks if the world's biggest metals bourse approves rules to cut waiting times at its warehouses, according to JPMorgan Chase & Co.
Premiums to obtain the metal will drop 60 percent to about $100 a metric ton as a result of the new rules the London Metal Exchange is expected to approve in October, Benjamin Defay, an analyst at the bank in London, wrote in a report e-mailed today. The LME proposed to oblige warehouses where waits extend for 100 days or more to let more metal out than they take in." (Source: Bloomberg, August 30, 2013)
In case you missed it, the New York Times published an investigation of aluminum warehousing: A Shuffle of Aluminum, but to Banks, Pure Gold.
The article has drawn a lot of attention to aluminum warehousing and may result in changes to the way warehouses operate.
The Wall Street Journal reported that Morgan Stanley also thinks that changes to the LME system could lead to lower prices:
"Moreover, the LME has proposed changes to its warehouse rules that will link the amount of metal going into storage with the amount of metal coming out, with the aim of resolving the warehouse logjam. "While still a proposal, if the changes are adopted, we think the markets most impacted by these changes will be in already oversupplied aluminum and zinc," Morgan Stanley said. "Given the substantial amount of metal in these warehouses, the LME system would temporarily become a supplier and we expect increased availability of physical metal to exert downward pressure on the LME price," the bank said."
Other Metals
The bounce in aluminum prices is in-line with the recent bounce in the prices of gold (NYSEARCA:GLD), silver (NYSEARCA:SLV) and copper (NYSEARCA:JJC).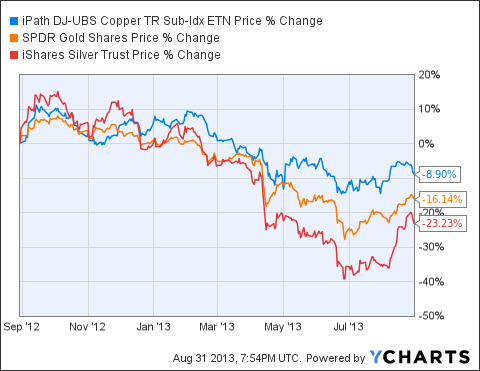 Going forward, I am not sure if aluminum and copper will continue to trade with gold and silver. There are a lot of macro risks (Syria, rising bond rates, end of QE) that may benefit gold, but may not help aluminum and copper. It will be interesting to see if the correlation continues.
Rusal
On August 19, Rusal reported 2Q earnings. In the press release management said:
"Our industry remains in a crisis of its own making with over supply leading to excess of stock overhanging the market. This status quo cannot be allowed to continue and the sector as a whole needs to take action to optimize capacity.
In an industry-leading move, in the first half of 2013 RUSAL reduced its aluminium output by around 100,000 tonnes, compared to the same period in 2012, in line with its approved production volume reduction programme at the Company's least-efficient smelting facilities. Furthermore the Board of the Company has approved an additional programme of reductions, beyond those previously announced. The updated programme will see production halted at a number of high cost smelters in the Aluminium division West as well as reduced at certain smelters in Siberia...
Whilst demand remains strong for aluminium, the sustainability of our industry relies on industry players to taking a uniformed and disciplined approach towards inefficient and unprofitable production, with a focus on the customer at the forefront. RUSAL is taking the lead in confronting the current negative market environment and will continue to do more to further improve business efficiency."
Rusal clearly is more pessimistic than Alcoa and its tone is more harsh.
Production Cuts
The key to the industry now is production cuts.
According to Bloomberg, announced capacity cuts total 3.2 million tons by the end of 2014.
Here is a review of some of the production cuts announced in the last few months:
However, it seems like additional production cuts will be necessary.
Aluminum Supply/Demand
Alcoa's Q2 earnings presentation, Alcoa predicted a 315,000 mt deficit of aluminum for 2013.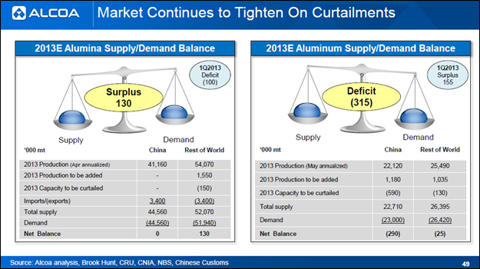 Rusal's recent estimate of supply/demand is:
"Market to remain very tight, with estimated 200Kt deficit outside China" (Source: Rusal 1H 2013 earnings presentation, see link above).
The supply/demand equation does not seem like a catalyst for a big jump in aluminum prices in the short term.
Stock Price
Alcoa still hasn't broken the multi-year pattern of lower-highs. Furthermore, the stock is threatening a breakdown of the key $8 level.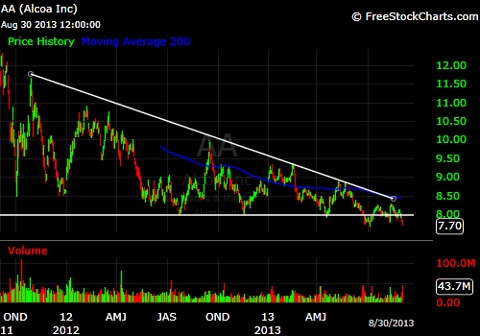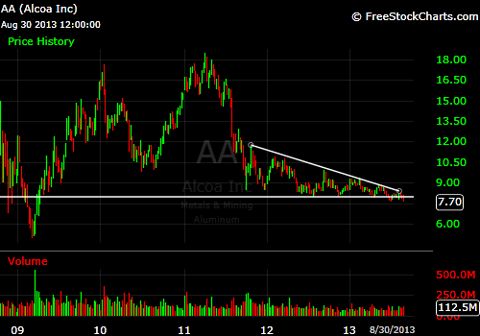 (Source: FreeStockCharts.com)
On Friday, Alcoa's share price fell 1.4% on volume of 43.7 million shares. The average daily volume over the last 3 months is 17.7 million shares. It is unusual to see so such high volume, except around earnings. I am not sure why volume was so high.
Short Interest
Short interest has been rising, but dipped on August 15: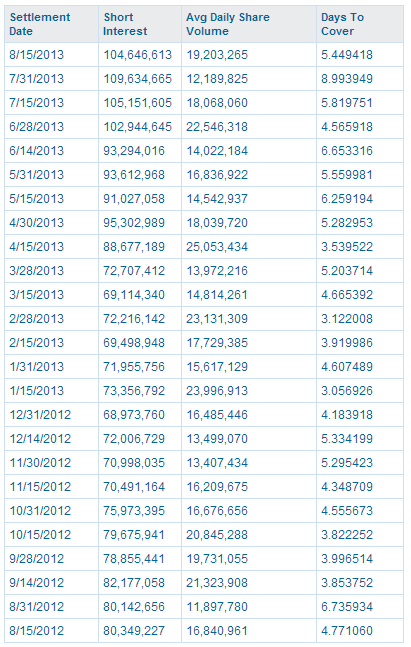 Valuation
As I mentioned previously, it is hard to make a bullish or bearish argument about Alcoa based on valuation. The price of aluminum is a more important catalyst than valuation.
However, it is important to point out that the equity component of Alcoa's total enterprise value is only 34%, according to the calculations below that factor in the pension obligations. Therefore, big swings in the stock price do not impact the total enterprise value as much.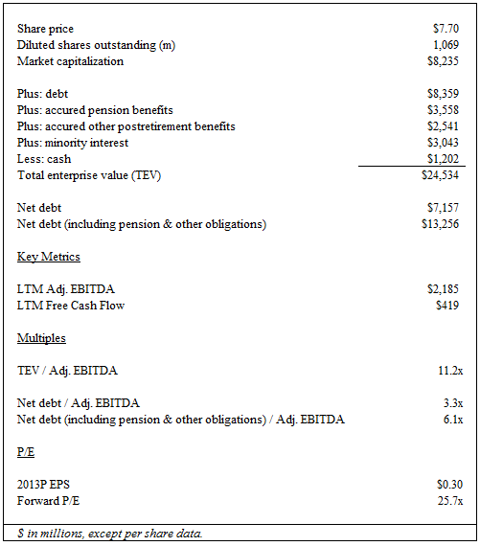 Analyst estimates were cut following Q2 earnings: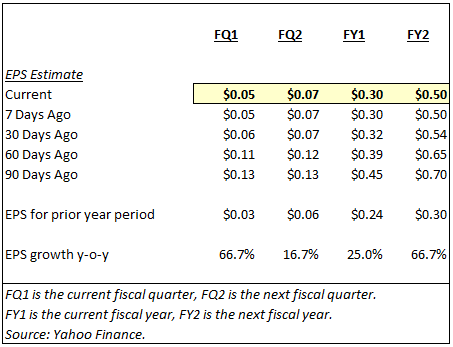 Conclusions
Alcoa's share price is barely holding the line around $8 and aluminum is not making a convincing bounce off $1,800 mt. These have been important levels over the last few years and a breakdown from them could lead to significant downside.
The most important catalyst since my last article has been the debate about aluminum warehousing and the potential impact on aluminum prices. Wall Street analysts believe that proposed changes to the LME warehousing system could lead to a drop in aluminum prices (specifically the regional premiums). A drop in aluminum prices would be a negative catalyst for Alcoa given its current financial profile.
On a positive note, although aluminum prices haven't bounced convincingly, they have not yet dropped in Q3. If this can be maintained for the last month of the quarter, there could be less downward pressure on Alcoa going into the next earnings season.
Finally, from a long term perspective, the supply cuts will eventually have a positive impact on the price of aluminum. Alcoa is highly levered (both financially and operationally) so it should benefit if/when there is a bounce in aluminum prices. However, it is unclear if there will be more downside beforehand.
Disclaimer: The opinions expressed above should not be construed as investment advice. This article is not tailored to specific investment objectives. Reliance on this information for the purpose of buying the securities to which this information relates may expose a person to significant risk. The information contained in this article is not intended to make any offer, inducement, invitation or commitment to purchase, subscribe to, provide or sell any securities, service or product or to provide any recommendations on which one should rely for financial, securities, investment or other advice or to take any decision. Readers are encouraged to seek individual advice from their personal, financial, legal and other advisers before making any investment or financial decisions or purchasing any financial, securities or investment related service or product.
Information provided, whether charts or any other statements regarding market, real estate or other financial information, is obtained from sources, which we and our suppliers believe reliable, but we do not warrant or guarantee the timeliness or accuracy of this information. Nothing in this article should be interpreted to state or imply that past results are an indication of future performance.
THERE ARE NO WARRANTIES EXPRESSED OR IMPLIED AS TO ACCURACY, TIMELINESS, COMPLETENESS, OR RESULTS OBTAINED FROM ANY INFORMATION IN THIS ARTICLE OR ANY LINKED WEBSITE.
Disclosure: I have no positions in any stocks mentioned, but may initiate a long position in AA over the next 72 hours. I wrote this article myself, and it expresses my own opinions. I am not receiving compensation for it (other than from Seeking Alpha). I have no business relationship with any company whose stock is mentioned in this article.
Additional disclosure: I may trade any of the stocks/ETFs mentioned in this article at any time, including in the next 72 hours.