The housing market may be dead in the US, but in China there is still significant activity. As a massive population continues its transition to a higher standard of living, millions of rural Chinese citizens are moving to large cities and are in need of housing. A real estate bubble may be in the works, but it is certainly a long way from popping.
E-House Holdings (NYSE:EJ) is a leading real-estate company serving this growing need. The firm currently operates a large real estate agency with brokerage services. It also has a consulting and information services business which allows clients to have access to a huge database of information. This information will be spun off to investors in a complicated transaction this week. The new IPO will be China Real Estate Information Corp (NASDAQ:CRIC).
Over the past year, CRIC has partnered with Sina Corp (NASDAQ:SINA) which is a leading web portal in China. The strategic alliance has allowed the information division to reach a very wide audience and has developed a strong revenue base. This joint venture will be merged into the new IPO which means that Sina will be a large shareholder in the newly issued company.
Currently it looks like the deal will raise somewhere between $210 million and $242 million depending on whether the underwriters exercise their options to sell excess stock. It is difficult to determine just how popular the deal will be with investors as we have conflicting trends to deal with. On the negative side, the most recent IPO out of China was a big disappointment. Shanda Games saw its IPO flop with the stock offered to investors at $12.50, but the stock (NASDAQ:GAME) is now trading close to $10 – or 20% below its offering. If investors see that previous IPOs are having a tough time generating profits, they will be more hesitant to buy the next deal. Underwriters may have to price CRIC at the low end of estimates in order to get the deal done which would be a red flag and also provide less capital to the company and selling shareholders.
On the other hand, investor sentiment appears very robust with the Dow crossing 10,000 for the first time since our financial collapse. Now the rally may be suspect and I understand that there are serious fundamental flaws, but for short-term trades like IPO issues, healthy investor sentiment is much more important than macro fundamental issues.
Investors in CRIC should certainly hold the IPO with a traders perspective. At this point there is very limited operating information available, and it wouldn't surprise me to see some hiccups in the first year as a stand alone company. I expect that the real estate market will remain firm in China for three to five years, which will provide some support for the company as it begins operating on its own.
If you have a relationship with Credit Suisse, UBS, or Bank of America / Merrill Lynch, you may consider taking stock on the deal. There will likely be a small pop as the underwriters need to price this one attractively to make up for investor concern following GAME. However, a week after the deal is priced, I think the best option will be to sit back and let CRIC begin to form a trading pattern and watch for the fundamental picture to mature. I would rather miss out on a good opportunity today, than commit capital to a risky situation that has the potential for disappointing losses.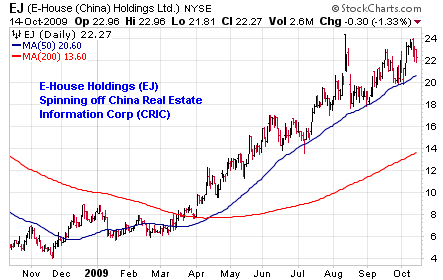 Disclosure: Author does not have a position in EJ