Ulta Salon, Cosmetics & Fragrance Inc. (NASDAQ:ULTA) and Bare Escentuals Inc. (BARE)–which sells a significant percentage of its personal care products through Ulta retail stores–are sitting in a demographic sweet spot of future growth that will be fueled by increasing populations of its core customer base and by the opening of hundreds of new Ulta stores.
The companies' potential customer base will see increases with female members of the second–and larger–half of Generation X (those born 1975 to 1984) entering the peak spending years for cosmetics, perfume and bath products. This growing customer base should be further enhanced by the increasing population of U.S. Hispanic women, who on average spend 28 percent more on cosmetics, perfume and bath products than other customers. And as the Gen. X females start exiting the peak cosmetic spending years they will be replaced by the even larger cohort from Gen. Y.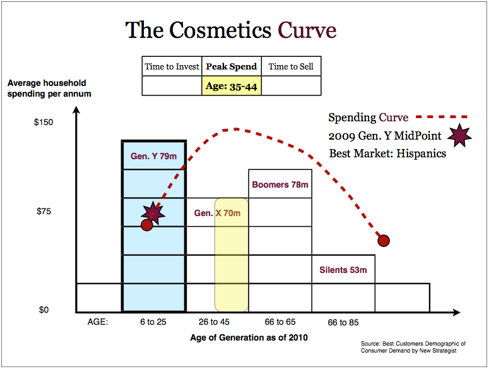 Ulta was founded in 1990 in Bolingbrook, Illinois, as a discount beauty retailer, but in 1999 began transforming itself into a beauty product superstore and specialty retailer offering "one-stop shopping for prestige, mass, and salon products and salon services." As of Sept. 1, the company operated 333 stores in 38 states offering about 21,000 different beauty products, including cosmetics, fragrances, haircare, skincare, and bath and body. Ulta stores also operate full-service salons on the premises, and offers salon styling tools and products for sale. The company prides itself on being the only U.S. retailer "that offers products and services across all segments of the [$75 billion] beauty market."
The growth of Ulta this decade has been impressive, with the company reporting for the years 2002 to 2008 a 20 percent compound annual growth rate (CAGR) in sales and comparable store sales; 25 percent CAGR in earnings before interest, taxes depreciation and amortization ((EBITDA)); and 19 percent CAGR in new store openings. The company went public Oct. 25, 2007 at an offering price of $18, which saw a 65 percent one-day return as the shares climbed to prices in the mid- to low-30s, and reached an all time high of $35.63 on Oct. 31. Since then the shares shuffled downward, hitting an all-time low of $4.11 on March 6, but have since moved successively higher and are now trading at around $17.
Bare Escentuals, which was founded in 1976 in San Francisco, California as STB Beauty Inc., develops, markets and sells a variety of cosmetics and skin care and body care products under the "bareMinerals," "RareMinerals," "Buxom," and "md formulations" brands worldwide. It markets its products through premium wholesale customers, with Ulta being its biggest; company-owned boutiques, spas and salons; home shopping television; infomercials; online; and through international distributors.
The company saw impressive growth in the first half of the decade, growing revenues more than 80 percent a year from 2001 to 2006, and maintaining operating margins above 30 percent, which is well above that of its rivals. Bare Escentuals went public Sept. 29, 2006 at an offering price of $22, which traded as high as $29 before ending the day 23 percent higher at $27.15. The share price stayed range bound in the $20s until the second half of 2008, and then drifted downward to reach an all-time low of $2.45 on March 4, 2009, before rapidly climbing higher to reach a new one-year high above $13.
While the company has not fared as well as Ulta during the recession, suffering a 4.4 percent decline in year-over-year revenue growth as of the last quarter, it has managed better than its bigger rivals such as Estee Lauder Co. (NYSE:EL) and Revlon Inc, (NYSE:REV) which recorded 16.4 percent and 12.20 percent year-over-year revenue declines respectively, and has managed to keep its operating margins near 30 percent.

Demographically, both of these companies will see significant growth in their potential U.S. customer base. According to the New Strategist "Demographics of Consumer Demand," the best customers for cosmetics, perfume and bath products, making up almost 30 percent of the customer base, are in the 35 to 44 age bracket. As of 2010, the number of Americans entering this age bracket will begin to rise as U.S. birth numbers, which had been on a 15-year general decline, began climbing in 1975 (birth plus 35 equals 2010).
By 2018, the number of Americans entering this age bracket will far outstrip the number of Americans exiting it, as birth numbers climbed ever higher through the 1980s, and–excepting a small seven-year lull in the 1990s–on into the 2000s. The population growth for this age bracket will include increasing numbers of Latinas, both from immigration and from U.S. Hispanic birth numbers that have been climbing significantly since the late 1970s. According to New Strategist, Hispanic spend "28 percent more than average on cosmetics, perfume and bath products."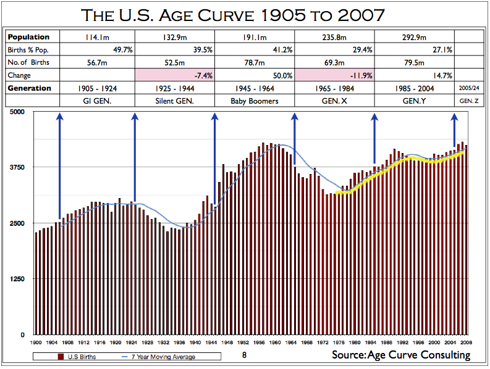 The valuation of these companies differs enormously, given their different debt levels, gross margins, revenue growth, and Ulta's earnings dilution caused by the increase in share numbers following its flotation. However, we feel that their ability to surprise analysts forecasts is likely in coming years due to their placement within a rising demographic sweet spot, and to an unanticipated spending .
We like both companies, but if forced to choose would favor Ulta as it is a much broader based play within the growing cosmetics and personal care product industry.


Disclosure: No positions, but ULTA and BARE are featured in our model portfolio.