The Farmer's Almanac recently released its forecast for a much colder than normal winter in 2013-2014. "A large area of below-normal temperatures will predominate from roughly east of the Continental divide to the Appalachians, north and east through New England. Coldest temperatures will be over the Northern Plains on east into the Great Lakes. Only for the Far West and the Southeast will there be a semblance of winter temperatures averaging close to normal, but only a few areas will enjoy many days where temperatures will average above normal."
Why is this important to Chesapeake Energy Corp. (NYSE:CHK)? Simply it is the second biggest natural gas producer in the U.S. behind Exxon Mobil (NYSE:XOM) with FY2013 production predicted to be about 1100 Bcf; and a cold winter means more natural gas will be needed to heat homes and businesses this coming winter. It means natural gas prices are likely to rise with the increased demand.
For FY2013 CHK expects to produce 1,080 - 1,100 Bcf of natural gas. Assuming oil at $100/barrel as a base case, CHK forecasts revenues (excluding hedging gains and losses) of $6.57B with natural gas prices at $3.00/MMBtu. At $4.00/MMBtu CHK revenues will be $7.02B. At $5.00/MMBtu, CHK revenues will be $7.47B. In other words, a significant ramp up in natural gas prices would mean $0.5B to $0.9B more in revenues. This would be huge for CHK, especially when you consider its Drilling and Completion CapEx costs for FY2013 are expected to be about $6B. Operating cash flow for the above three cases would be respectively $5.02B, $5.12B, and $5.21B. This is less impressive, but it is still highly significant. Plus you have to remember these are only Q2 2013 results based numbers. CHK plans to increase its operating cash flow by approximately +$1B year over year; and this is only estimating average winter weather.
In its most recent quarter (Q2 2013) CHK reported adjusted net income of $334 million or $0.51 per common share (up considerably from the Q2 2012 result of $0.06 per share). Adding $100 - $200 million to the Q2 2013 figure would be highly significant (+30%-60% more). Hence a much colder than normal winter forecast represents a huge tailwind for CHK. It should help the stock rise higher. Not only will the company get the benefit of the greater earnings; but the higher natural gas prices will mean that CHK should benefit from write-ups on its natural gas reserves. In the US these are assessed largely on a running 12 month total of natural gas prices applied to the estimated physical reserves. Production costs are also a factor. A much colder than normal winter forecast for 2013-2014 should push the 12 month total for natural gas prices up significantly; and that will in turn push the value of its natural gas reserves up significantly. Shareholders and potential investors would be encouraged by such an eventuality. Likely the stock price would be too.
With respect to production costs, CHK reduced its average production expenses in Q2 2013 to $0.78/mcfe (-20% year over year). It reduced its general and administrative expenses to $0.25/mcfe (-36% year over year). It is planning to reduce its drilling costs through the greater efficiency of pad drilling by 15%-30% over the next year. It is planning on getting further efficiency cost gains from its oilfield services such as salt water disposal, etc. in the next year. It also reduced its borrowing costs with a $2.3B bond issuance in Q2 2013 at a blended rate of 5.1%. These monies were largely used to pay off other higher interest borrowing.
CHK is making a lot of small moves to end up saving a large amount of money. As an example, CHK is now deducting 60% or more from Pennsylvania royalty checks in a move to shift a lot of the transportation and marketing costs to the landowners. The fine print in the contracts (and Pennsylvania law -- the 1979 Guaranteed Minimum Royalty Act) allows CHK to do this. This may seem underhanded; but both Pennsylvania and New York have cost CHK and other developers a lot in litigation and delays. Also Pennsylvania recently passed a new natural gas tax on drilling. CHK's actions effectively pass these costs on to the landowners. Hence this behavior is at least understandable. Other companies may do the same. This may seem harsh and unfair; but it is good for CHK shareholders at least in the short term.
Regardless of the weather this coming winter, the EIA (see chart below) expects natural gas prices to rise in future years.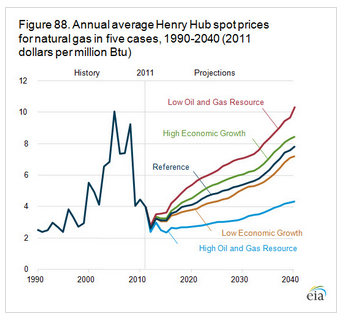 The EIA does not believe prices are going to take off. However, the above chart does indicates a strong, steady increase in natural gas prices over the next 30 years. With CHK cutting its production costs, it is set to make great profits off of natural gas in the future. This profit potential is and has been ignored by the markets for some time. Natural gas prices did hitting a historical low in the spring of 2012 helped this negative view along. However, the real view is much rosier than many investors think; and CHK with its huge natural gas reserves is set up to profit nicely from the EIA predicted uptrend in natural gas prices in coming years.
As natural gas prices rise, CHK should see its trend of increasing net cash margin continue to increase. Not surprisingly it hit a low in the spring of 2012. However, it has risen steadily since; and it should benefit further from the beginning of natural gas exports via LNG (liquefied natural gas), which should begin to ramp up starting in 2015. The table below shows the recent trend in increasing cash margin.
Plus let's not forget that CHK has been growing its oil/liquids production rapidly. It is growing liquids production as both a percent of total production and as a percent of production revenues. This benefits both the top and bottom lines; and it makes CHK's revenues much more dependable as oil prices have been much more robust than US natural gas prices. Specifically, CHK grew its oil production by 44% year over year in Q2 2013 to 116 Mbopd; and it guided higher for FY2013 total oil production of 38-40 million barrels (+1 million barrels over the previous estimate). Its liquids mix was up to 25% of total production; and its liquids revenues were 60% of total revenues. For a company that was not long ago thought of only as a natural gas company, these are huge changes for the better; and they make CHK a much more desirable company to own.
Some harp on CHK's long term debt. However, it has brought this down to $12.8B (at Q2 2013 end), which is less than three times adjusted EBITDA. This last is usually considered a "safe" level. Plus CHK had already completed $3.7B of a planned $4B to $7B in asset sales for 2013 as of August 1, 2013. It seems sure to pay down further on its debt. In fact it may even be in a position to raise its non-negligible dividend of $0.35/year (1.36% annually) soon. Many feel that a $10B debt level will be the signal for a dividend increase. At the current rate of asset sales and production and revenue increases many expect CHK to reach this level within a year. CHK may soon become a company that routinely grows its dividend. It has said it expects to pay the same level of dividend as other major oil and gas companies soon.
When you consider that CHK has an average analysts' next five years EPS growth estimate per annum of 56.35%, you can see that this is a stock you want to own. CHK is a strong buy. In support of this claim, Carl Icahn has recently upped his stake in CHK to 9.98% from 8.98%. This reinforces the idea that CHK has a bright future. He is intimately involved in the company.
The two year chart of CHK provides some technical direction for this trade.
The slow stochastic sub chart shows that CHK is currently overbought. The main chart shows that CHK is in a strong uptrend. It is overbought, but it may continue to remain overbought for some time. If the overall market beats a big retreat as some are predicting, CHK seems sure to fall with it. However, if you are a long term investor, the fundamentals on CHK are overwhelming. It has huge lease holdings of some of the best oil and gas unconventional fields in the U.S. Its production is relatively safe, as it is all in the U.S. That is, there are no Nigerian rebels, Libyan rebels, etc. to hamper its development and production. At this point CHK represents one of the greatest growth stories in the oil and gas industry; and it is safe! Averaging in could be a good idea at the moment; but you definitely want to own this stock for the longer term. It has been on a fiscally responsible track since Archie Dunham took over as chairman. Carl Icahn buying more CHK stock is ample testament to this. CHK is a strong buy; and the likely upcoming bad winter weather should give the stock some extra pop (and profits from natural gas). XOM should probably benefit nicely too.
NOTE: Some of the fundamental financial data above is from Yahoo Finance.
Good Luck Trading.
Disclosure: I have no positions in any stocks mentioned, but may initiate a long position in CHK over the next 72 hours. I wrote this article myself, and it expresses my own opinions. I am not receiving compensation for it (other than from Seeking Alpha). I have no business relationship with any company whose stock is mentioned in this article.