Back in January of this year I recommended that income-oriented investors add shares of Vodafone, a British-based global telecom, to their portfolio, citing a safe yield of 5.8% and some growth prospects. While Vodafone (NASDAQ:VOD) was (and is) seeing double-digit revenue declines in core markets such as Italy and Spain, data use in Europe and a unique exposure to growing emerging markets had mitigated the declines. Most of all, its 45% ownership of Verizon is what's keeping revenues inching upward. As long as the company stayed as it was, Vodafone's 5.8% yield was a steal at $25.25 per American Depository Receipt (ADR) share.
Things are different now. Today I am recommending dividend investors sell Vodafone at over $32.30 per share. It was my original intention to hold Vodafone for multiple years, not merely eight months. In fact, I personally had no set price target for VOD, and just wanted to collect that dividend so long as the business continued to grow the top line or at least stay still.
That is no longer the case. Last week Vodafone announced it was in talks to sell its 45% stake in Verizon Wireless. Without this crucial piece, Vodafone's overall revenue is shrinking. Yes, Vodafone does seem to be reinvesting proceeds into an attempt to buy Kabel Deutschland in Germany in hopes to find a new source of growth. However, those prospects are uncertain, and I don't like that uncertainty. Furthermore, Vodafone's yield has since dropped to 4.8% on price appreciation. This yield no longer outstrips its telecom peers. That margin of safety is gone. In fact, the dividend yield is now less than some whose fundamentals are clearly better.
I'm therefore selling my Vodafone stock and booking the gains while I can. Vodafone's ADR shares are now over 27% higher than where I recommended buying. I now recommend selling the stock and buying AT&T (NYSE:T) instead. The rest of this article concentrates on aspects which are important to income investors: Top line revenue, bottom line earnings, Free Cash Flow and dividend payout ratios. Now is a good time to "make the switch" from Vodafone to AT&T.
A Bleak, New Picture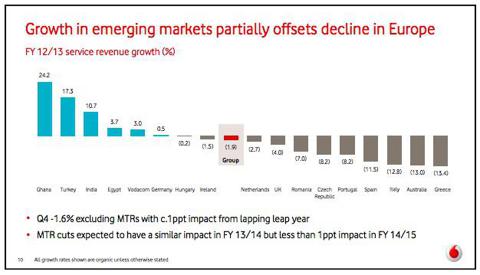 Vodafone Preliminary Results, May 21st 2013.
As per latest annual results, the above chart is the group's revenue not including Verizon Wireless. Revenues are off 1.9% with Greece, Italy and Spain leading the charge downward. As you might imagine, Vodafone's exposure to southern Europe has been weighing down on the top and bottom line for awhile now, and that is not likely to change anytime soon. While Wall St. has rewarded Vodafone in selling its Verizon Wireless stake by sending ADR shares up by over 8%, the long-term future of this company does not seem too good without Verizon Wireless' contribution. Perhaps the even bleaker point for income investors is Free Cash Flow: It was down a whopping 8.1% over the same annual period.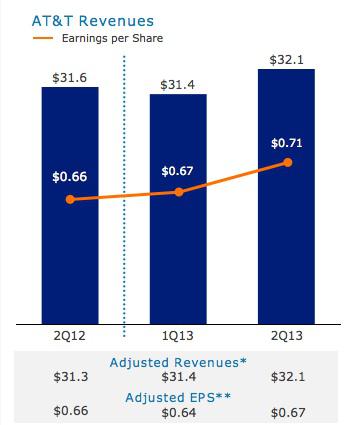 AT&T Investor Update, July 23rd, 2013.
Contrast these figures with what AT&T has delivered. In the second quarter of this year, AT&T grew revenues by 2.5%. Although that may not seem like much compared to Vodafone's -1.9%, it is the difference between safe and dangerous. AT&T grew Average Revenue Per User by 1.8% year-over-year. Free Cash Flow is set to be higher on the year, too. Its business, buoyed by a slow but steadily growing US economy, is outperforming the global, Eurocentric Vodafone.
Free Cash Flow Metrics
AT&T's dividend is a secure 52% of Free Cash Flow. Vodafone, on the other hand, is much less certain. Yes, Vodafone's dividend is safe at the moment, but consider that the picture will be very different once the Verizon Wireless stake is sold and Kabel Deutschland acquired. Kabel Deutschland's exact contribution to Free Cash Flow is tough to predict, but we do know AT&T's dividend is very much secure.
For telecoms, share repurchases are a usually a byproduct of excess Free Cash Flow. Vodafone's buyback has tapered off over the years and has slowed to a trickle as Free Cash Flow has waned. This year Vodafone has an ongoing buyback of about $1.7 billion. Compare that with AT&T's very substantial $5.5 billion buyback. Both the dividend yield and the buyback are more generous at AT&T.
Valuation and Dividend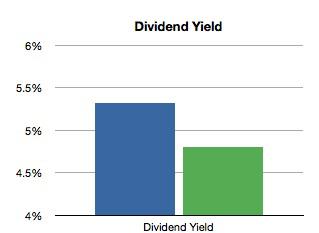 YCharts
Here we see Vodafone's ADR shares largely correlated with AT&T shares until late June. Vodafone shares have outperformed AT&T, with many investors piling into the former on chatter that Vodafone would sell its Verizon (NYSE:VZ) stake. Now that the talks are officially underway, shares have since jumped by nearly 10%. But AT&T's business is fundamentally stronger, with a dividend about half a percentage point higher. (Green for Vodafone, AT&T is in blue.) For income investors concerned about Vodafone's "up-in-the-air" business model, use this 10%+ spike as a chance to hop off the exit ramp and get onto the slow-but-steady AT&T.
Conclusion
Although the market is looking favorably upon Vodafone's Verizon Wireless sale, there is much uncertainty ahead. It isn't quite clear how Vodafone will turn around its downward sloping revenue and earnings trend. Vodafone seems to have chosen to replace Verizon Wireless' revenue by purchasing Kabel Deutschland and the bundling of cable and phone services for Germans.
I fail to see how this is a net gain. The United States, despite difficulties, is growing at a steady pace with fairly good demographics. Germany's economy is slow-growing at best and its demographics are awful. And if that macro view seems too simple, consider this: Revenue growth in Germany for Vodafone and Kabel Deutschland will have to come at the expense of Deutsche Telekom.
By selling off its US assets, Vodafone will lose the jewel in its crown and it is uncertain when it will be able to turn around their shrinking revenue problem. It is therefore best to sell Vodafone stock while it is still high and replace it with AT&T.
Disclosure: I have no positions in any stocks mentioned, and no plans to initiate any positions within the next 72 hours. I wrote this article myself, and it expresses my own opinions. I am not receiving compensation for it (other than from Seeking Alpha). I have no business relationship with any company whose stock is mentioned in this article.
Additional disclosure: I am long AT&T for a family account. Plan on selling Vodafone in various family accounts on the next market open.