2009: A Chinese Energy Acquisition Odyssey
China's Powerful State-Owned Enterprises Scour the Globe in a Bid to Quench the Country's Insatiable Thirst for Oil & Gas
News reports over the past few weeks of two potential multi-billion dollar Chinese oil deals in Africa, and another significant gas-related acquisition in Kazakhstan, only further reinforces China's insatiable appetite for energy.
The recent news that China, through one of its state-owned enterprises, is a likely bidder for 23 oil blocks in Nigeria, for up to a staggering US$ 30 Billion, and another, separate $5 billion deal in Uganda, certainly caught the eye of the international community.
However, while the intricacies of these potential deals are interesting in their own right, their significance is that they are only part of a much larger story. While this may seem like a short-term flurry of deal making, it is simply the continuance of feverish activities by the Chinese to secure oil & gas over the past few years, and most notably, in the year-to-date 2009.
To begin, it is important to note that China's resource ambitions are being effected, on behalf of the Chinese government, primarily by five state-owned enterprises: (1) China Petroleum & Chemical Corporation ("Sinopec") (SHI); (2) China National Offshore Oil Corporation ("CNOOC") (CEO); (3) China National Petroleum Corporation ("CNPC") (OTC:CKKHY); (4) China Investment Corporation ("CIC") (OTC:CIEGF), China's sovereign wealth fund; and, (5) PetroChina, which is a subsidiary of CNPC.

Exhibit 1: Chinese Entities Involved in Overseas Oil & Gas Acquisitions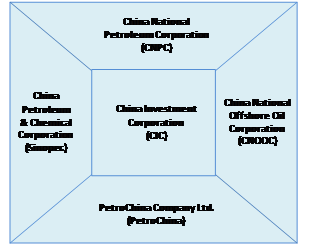 Although details are still being clarified on the Nigeria deal, CNOOC, China's top offshore producer, is reportedly in discussions with Nigeria government to acquire stakes in 23 prime oil blocks, with up to 6 billion barrels of oil, for up to $30 Billion. By any measure, this could be a massive deal. By comparison, China's failed attempt to acquire US-based Unocal back in 2005 was valued at approximately $18 billion, and this year's Canadian mega-merger of Suncor (SU) and PetroCanada was valued at approximately $16 billion. This deal is also noteworthy because it is very politically sensitive since numerous other international oil companies, including Exxon (XOM), Royal Dutch Shell (RDS.A), Total SA (TOT) and Chevron (CVX) have long histories in offshore Nigeria.
In Uganda, CNOOC is also reportedly "in talks" with the Ugandan government on a potential US$ 5 billion deal with Tullow Oil, a London-listed independent explorer. Tullow has made large discoveries in blocks located in Eastern Uganda's Lake Albert region, and had previously announced that it planned to sell a stake in the project, which may include a pipeline and refinery.
Outside of Africa, China Investment Corporation ("CIC"), the Chinese sovereign wealth fund, announced last week the purchase of an 11% stake in KazMunaiGas, a subsidiary of Kazakhstan's national oil and gas company, in a deal totaling close to US$ 1 Billion ($939 million). Kazakhstan has been a favored destination for Chinese investment capital, and this deal follows the April 2009 transaction whereby CNPC agreed to purchase 50% of MangistauMunaiGaz, a Kazakh oil company, for $ 3.3 billion, and the significant 2005 transaction, whereby CNPC paid $4.2 billion for PetroKazakhstan.
Based on these recent deals, the casual observer should not think that these companies have been limiting their sights to risky African countries and the backwaters of Central Asia. As an example, PetroChina recently made a landmark purchase in Canada's oil sands, by paying $1.7 Billion for a 60% working interest in Athabasca Oil Sands Corporation's MacKay River and Dover in-situ oil sands projects. This deal is noteworthy not only because it is China's biggest North American acquisition to date, much to the chagrin of the United States, but also in that it is an early-stage investment in a junior oil sands company. Athabasca plans to file with Canadian regulators by the end of the year for approval to start construction of a 35,000-barrel-a-day plant in Alberta province in Western Canada.
These recent actions followed some interesting deals earlier in the year.
In February, China injected $4 Billion into a Venezuelan joint venture, in return for a commitment from PDVSA, Venezuela's state-run oil company, to sell CNPC between 80,000 – 200,000 barrels per day by 2015. In that same month, China loaned Brazilian oil major, Petrobras, $10 Billion in exchange for a 10-year supply contract.
In Iran, CNPC signed a pact – a Memorandum of Understanding (MOU) - with the National Iranian Oil Company (NIOC) to develop the South Azadegan oilfield, wherein CNPC will take a 70% interest in the project. The South Azadegan oilfield is expected to produce 260,000 barrels per day once its two phases are up and running at a stabilized level, and the project reportedly requires an investment of $2.5 billion.
In war-torn Iraq, CNPC and BP won a license to develop the Rumaila super-giant oil filed, which some analysts say could be the second largest producing oilfield in the world, after the Gharwar field in Saudi Arabia. CNPC and BP have a targeted production of 2.85 million barrels per day over the next six years, which would make the project one of the most significant in the world.
When looked at collectively, the year-to-date deals announced by China are nothing short of breathtaking, as the graphic below illustrates.
Exhibit 2: Notable China Oil & Gas Deals, Year-to-Date 2009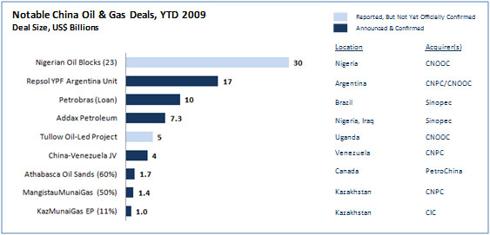 So, what are the implications of this great race to secure oil & gas reserves?
China's voracious appetite for natural resources has been widely documented, and the numerous deals in the oil & gas space in a very short 9 months clearly underscores this fact.
Since China's economy is sure to continue its strong growth, and is, in fact, expected to be a leading locomotive for the global economy for the foreseeable future, energy demand will continue its relentless march. China's car market becoming the world's largest is ominous for oil demand.
Moreover, with the Chinese state-owned entities having extremely deep pockets, this wave of acquisitions is certainly not a short-term phenomenon, but rather a clear manifestation of a long-term trend.
The geopolitics of energy will only get more interesting over the next few years. Good companies, with good assets, which would like to remain independent had better be looking over their shoulders.
Disclosure: No positions.
This article was written by
AI is a unique, value-added, independent advisory service focused on uncovering select, under-researched Special Situations in the natural resources industry. Particular focus is on gold, silver, oil, natural gas and agriculture. AI utilizes rigorous analysis & numerous analytical frameworks to synthesize asymmetric information in the natural resources industry, and to distill attractive investment opportunities. AI follows a a value-oriented investment approach while taking a medium-to-long-term investment perspective. Adherence to risk management is a core principle to AI's approach. AI is targeted toward sophisticated investors.