Skull Candy Inc. (NASDAQ:SKUL) is a corporation within the electronic equipment industry that designs, markets, and distributes performance audio and gaming headphones, and other accessory related products under the Skullcandy, Astro Gaming, and 2XL by Skullcandy brands in the United States and internationally.
Many people know what Skull-candies are, presumed to be a decent quality accessory item used among teens. But more recently they seem to have have been forgotten. Well the same situation applies to the stock price. Before Skull Candy Inc. went public in July of 2011, people had mixed reviews of how it would move. The broader market assumed that it was just another accessory company moving into a relatively saturated and extremely competitive industry so the idea didn't look too bright. Shares dropped nearly 30% within a short time frame of just two months. From there, shares trended up and down as an intermediate swing trade stock until shares broke down, hitting a new historic low in November - plummeting another 50% thereafter. Seeing Skullcandy only trading around $5 since its $20 IPO makes it look like a potential value play.
Fundamentals
The reports of the last four quarters were relatively mixed, coming short of analyst estimates on the first half but issuing decent EPS surprises of 14% and 100% on the latter. Net income grew 18.6 to 25.2 million, approximately 38% from the previous year. Total revenue growth has slowed considerably year over year, only 28% versus 2010-2011 of 45% growth. Free cash flow has grown from -7 to 25 million over the last 11 months, hitting its highest levels. This information relates to their recently improved balance sheet: paying off all long term debt, relieving the liabilities to primarily circulating accounts payable. Assumed growth is slowing slightly, detailed by analyst consensus estimates cutting revenue expectations by roughly 25.8% from 2012 to 2013. Provided the company is expanding internationally, revenue has grown continuously year over year, however expenses have been cutting into net income - keeping margins relatively stagnant. Correlated fundamental metrics such as p/e (14), p/fcf (6), and d/e (0.00) are particularly noteworthy.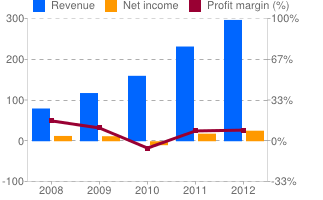 Insider Buying
Over the last 5 months 2 insiders have collectively bought fewer than 200k worth of shares directly. With seven management members receiving larger acquisitions in off market hours. Ultimately, I would classify these purchases as insignificant regarding sheer principle. However, seeing all entrances have been between the $5.00-5.50 range displays that management does see opportunity. As a side note, a woman named Heidi O'Neill, previously served as a VP and GM under women's training and fitness with Nike Inc. (NYSE:NKE), joined the company's management on August 26th. Short float has dwindled significantly from over 50% to less than 10% but remains slightly elevated to the comparable industry. Call options interest was elevated on August 6th, which assumes a potential jump leading to around the time of December. Seeing multiple positive elements come into play here could return sentiment to this beaten up stock.
Analysts
Based on recent ratings, the last seven analyst calls on Skull Candy have either been market perform or underperform, which means they consider it neutral or sell worthy. Price targets range between four and eight dollars. The analyst consensus price target is approximately $4.42, assuming an additional depreciation of 17%. Analysts are assuming erosion in the core business most likely attributed to larger peers, such as Apple Inc. (NASDAQ:AAPL) and Sony Corporation (NYSE:SNE), absorbing sales. Though it should be mentioned that sales are not being adversely effected, for the most part, revenues are consistently growing.
Technicals
There is no doubt that the one year chart looks pretty ugly on a technical basis. On the YTD interval chart, there are mixed interpretations. While shares have consolidated in the intermediate term, there exists a descending triangle - which is historically known as a bearish continuation pattern. At the same time, the $5 price level seems like a critical level, disregarding short term price outliers in May and August. If shares do not break the $5 price level and reverse slightly, the 50 SMA should across above the 200 SMA, which is known as the Golden Cross (a bullish indicator). The stochastics RSI 14 is currently at 0.00 indicating extremely oversold, though negative momentum is present. Money flow index is slightly overbought at 60, which is not entirely suitable for entrance. Also remember technical indicators can change based on relative time intervals provided by the chart, so entrances and exits may differ from one to the next.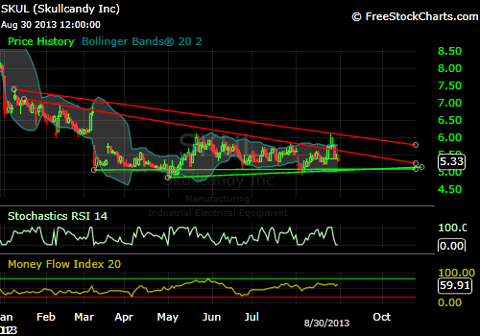 Bottom Line
Given that Skull Candy's peers seem to have a firm grip on the electronic accessories market, things may be tough going forward. On the other hand, there remains a continuous demand for such products by the public, and their specialization in the market clearly serves to their benefit. Insider transactions along with potential technical swings could set up for a reversal. Personally I would not recommend buying shares just yet. If you are a believer in the company niche, I would suggest waiting for shares to get slightly cheaper and maintain the $5 support line before initiating a position.
Disclosure: I have no positions in any stocks mentioned, and no plans to initiate any positions within the next 72 hours. I wrote this article myself, and it expresses my own opinions. I am not receiving compensation for it (other than from Seeking Alpha). I have no business relationship with any company whose stock is mentioned in this article.