After opening weaker Thursday, US equities closed marginally higher, led by the communications and energy sectors (the latter boosted by a $2 rise in crude). Tame inflation numbers, better weekly jobless numbers and a surge in the Empire Fed survey (to its highest level since 2004) also helped drag the US indices above water. After the bell we had solid results from Google (NASDAQ:GOOG) (helped it join the 52-week high club) and IBM (NYSE:IBM) (though their comments on corporate IT spending is a worry). The US banking reports beat surveyed expectations, but this was evidently well priced in and failed to provide a big enough beat for rapacious investors.
The embattled Dollar is getting a lift Friday from a Bloomberg story saying that the Brazilian government may introduce a tax on foreign capital inflows to curb its currency versus the Dollar.
European bourses retreated from 12-month highs after Bank of America's (NYSE:BAC) horror show results (a loss of $2.24 billion) and GE (NYSE:GE) had a big miss on analyst's revenue estimates (down 20% courtesy of a dire performance by their Capital Financial division). But then some relief after data showed US industrial production rose a better than expected 0.7% (a four-year high versus expected 0.2%) bringing capacity utilisation back up to 70.5%. But on balance we look set for a bout of pre weekend profit taking methinks with financials (BoA, Wells Fargo (NYSE:WFC), Marshall & Ilsley (NYSE:MI), Grenworth, MBIA (NYSE:MBI)) and tech names (ADM, IBM, Micron (NASDAQ:MU) and Allegheny (NYSE:ATI)) likely to feel a chill after the Univ. of Michigan Consumer Confidence index (which was released early) surprisingly slipped to 69.4 from an expected read of 73.3. Upside plays revolve around Mattel (NASDAQ:MAT) and Halliburton (NYSE:HAL) who beat Street estimates before the bell.
Today's Market Moving Stories
Fed member and arch hawk Fisher played up the lower-for-longer policy regime the Fed intends to run. He observed that there's so much slack in the US economy and such a high level of unemployment that the risks still remain tilted towards disinflation or even deflation then inflation. He said all that negativity in the economy is going to take a long while to work off. How long this 'extended period' will last will be determined by developing economic circumstances. The indication for Fisher is that it is still some way out – he said it wasn't certain the recovery signals seen of late were sustainable and certainly didn't buy into a 'V' shaped recovery. However, Fisher's view on policy did have a twist to it. While he didn't advocate an unwind, he indicated he felt the Fed had given sufficient support to the markets. Indeed he said he didn't believe the Treasury purchase program had really had that much benefit and was glad it was finished, while he felt the Fed had done its bit in assisting the mortgage market.
Treasury secretary Geithner was cautious in his comments, noting that while the recovery has been better than expected so far, he felt that the overall run back to health will be longer than is typical. He said caution must be taken to avoid withdrawing the stimulus too soon as downside growth risks still persist.
Why I don't like banking stocks. Banks in the longer term inevitably face a regulatory backlash for their myriad of sins. The Basel committee on banking supervision is working hard on tougher solvency and liquidity requirements. Regulators will be wary of not imposing tough rules quickly, given the risk of a severe drought in bank lending. Yet the newswire Friday morning was focused on fairly quick changes when it comes to trading book capital. New requirements there are expected to become effective by the end of 2010 and would force banks to increase their total capital holdings by an average of 11.5%.
Former UK FSA head Sir Howard Davies provided some pretty punchy commentary warning that the UK public was living in a 'fools paradise', uncomprehending the sheer scale of the country's indebtedness. He said it's clear that there'll have to be some dramatic measures to control spending. He also warned that while sterling's recent weakness might be assisting the export sector, past experience suggests the pound doesn't stop when officials would like it to. He said he is extremely concerned the British people are unwilling to face even minimal belt tightening.
Japanese currency strategist forecasts the demise of the dollar. The chief currency strategist of Sumitomo Mitsui Banking (OTC:SMFJY), Daisuke Uno, said the dollar would drop to 50 yen, and lose its role as the world's reserve currency. This is the gutsiest forecast I've yet heard from a serious forecaster, who also said that the US economy will decline into 2011, as the consumer and financial sectors continue to adjust. The dollar has so far fallen to 75 yen, close to its all-time record. He said that after the dollar has lost its reserve currency status, the world will fall into three trading blocks – US, Europe and Asia – with volumes of global currency trading destined to fall in the long run.
While the consensus is that the dollar will continue to depreciate over the foreseeable future, Christian Broda, Piero Ghezzi, Eduardo Levy-Yeyati say in a column in Vox that the dollar may strengthen in 2010 if the Federal Reserve exits quantitative easing sooner than its counterparts and the US economy enjoys a strong rebound.
This story hasn't gotten much attention: "IMF warns Aussie banks about defaults". The IMF has injected fuel into the debate over the timing of the peak of banks' bad debts by warning Australian banks could lose $33 billion due to household and corporate defaults. A deterioration in Australian banks' asset quality since early 2008 shows corporate solvency risks have risen to the extent that expected corporate default losses could reach two per cent of GDP based on historical recovery rates of around 40%.
A joint report from the panel of five "wise men" who advise the German government conclude that "there is still a significant risk of further shocks to the international financial system." It adds that emergency action by the ECB and authorities worldwide "averted a looming collapse" of Germany's banks but lenders are still too frail to renew normal lending.
Man offered credit card with 79.9% interest rate.
Next time you're in London pop, into Harrods and pick up a Gold bar.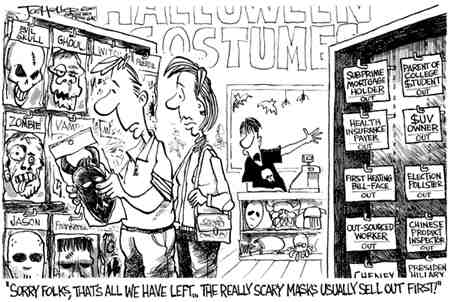 The Outlook For Real Estate
Calculated Risk has an excellent discussion about why the real estate market is currently so distorted that it defies predictions about its near term development. On the supply side, there is distortion due to a severe restriction of distressed homes due to foreclosure delays. On the demand side, there are distortions due to first-time buyer mortgage credits, other US government schemes to support the housing market, and the Fed's credit easing policies to drive down mortgage rates.
These policies mean that house prices, which have already fallen over 30% in the US, will not adjust to the levels where they normally would be expected to bring the market back into equilibrium. The situation is even more extreme in the UK, where house prices have not fallen by nearly as much as they have in the US, and where they are already been rising recently, in part due to cheap and variable mortgage rates, helped greatly by the Bank of England's QE policies.
Goldman Says Buy Homebuilders
Goldman Sachs (NYSE:GS) is recommending that investors buy the US homebuilders into their earnings. They list a number of reasons for the trade:
Home prices will remain stable as the foreclosures remain orderly, government stimulus continues to support the market.
Earnings are stabilising, sales trends are improving and firms are becoming profitable again.
The Federal Tax Credit is likely to get extended into the first quarter of next year.
Goldman likes the homebuilders with the strongest balance sheets, cost controls, low potential writedowns and low risk of negative surprise. The firms that fall into this category are DR Horton (NYSE:DHI), MDC (NYSE:MDC), Toll Brothers (NYSE:TOL) and Meritage (NYSE:MTH).
Equity News
Lloyds could sell 200 Bank of Scotland branches in Scotland, taking out about 2% of current accounts in the UK. Would it be enough to appease the EC? Doubtful, but we will wait and see. As a reminder, the market expects news of the no doubt complicated capital raise to break within the next two weeks (hearing the FSA will make decision by end of next week if they can exit APS), so expect lots of weekend press focus. Meanwhile, Lloyds has confirmed that it's sold its loss-making Halifax Estate Agency business for one pound only.
Dragon Oil (OTCPK:DRAGF) CEO, Abdul-Jaleel AL-Khalifa spoke at a conference in Turkmenistan commenting that the group's plans to increase investment in Turkmenistan to $600-$700 million in 2010. The group's current CAPEX forecasts for 2009 are circa $450 million. Dragon has a healthy cash balance at approximately $875 million and plans to increase production by 15% annually over the next 3 years.
And Finally… The Joys Of Doing "Business" In Lawless Russia

Eveything Is OK, Smiling Is Bad For The Economy

Disclosures: None