As the equity markets falter, it may be time for a reality check.
Yes, banks still have problems with what were once called "bad loans," but they are now called toxic assets. Citi's (NYSE:C) earnings were about as clear as mud, claiming it made a profit despite $3.3 billion in write downs of various loans, and the profit went away after it paid dividends on preferred stock. The Bank of America (NYSE:BAC) statement was more forthright. It lost $9.6 billion after write downs on toxic assets. The General Electric (NYSE:GE) story was more of the same. Despite Washington's assistance, laws and tax accounting to encourage demand for GE's products, like wind turbines and environmentally safe light burbs, to name a few of the perks, the finance arm of GE was a big drag on their earnings.
The market is now trading back under 10,000. The debate continues as to whether or not this market is the real deal or merely a rally in a bear market.
For those traders, astute enough to get long and enjoy the big ride, congratulations, the money in your accounts is certainly real. Remember this for future reference, when the government increases the money supply by a couple trillion dollars. There is a real good chance some of this money will bid up the price of attractive assets.
As asset prices have increased, investors pulled out of the dollar. The Euro has been on a roll versus the dollar for quite a while.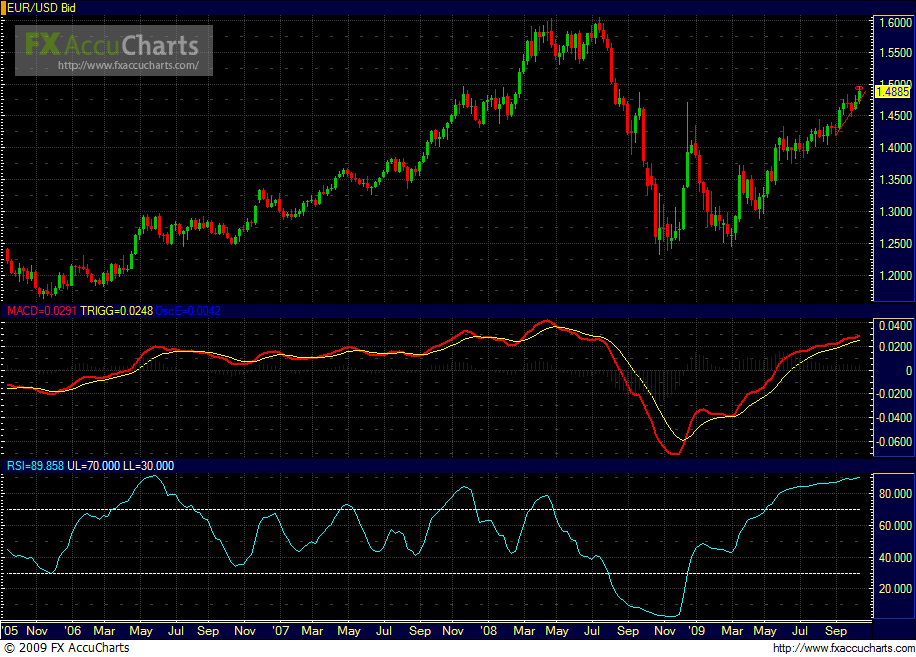 The weekly chart reveals that this move commenced in early March and has continued with very few interruptions. With the weekly RSI approaching 90, would Alan Greenspan consider this a case of "irrational exuberance"?
The 4H charts have some interesting patterns.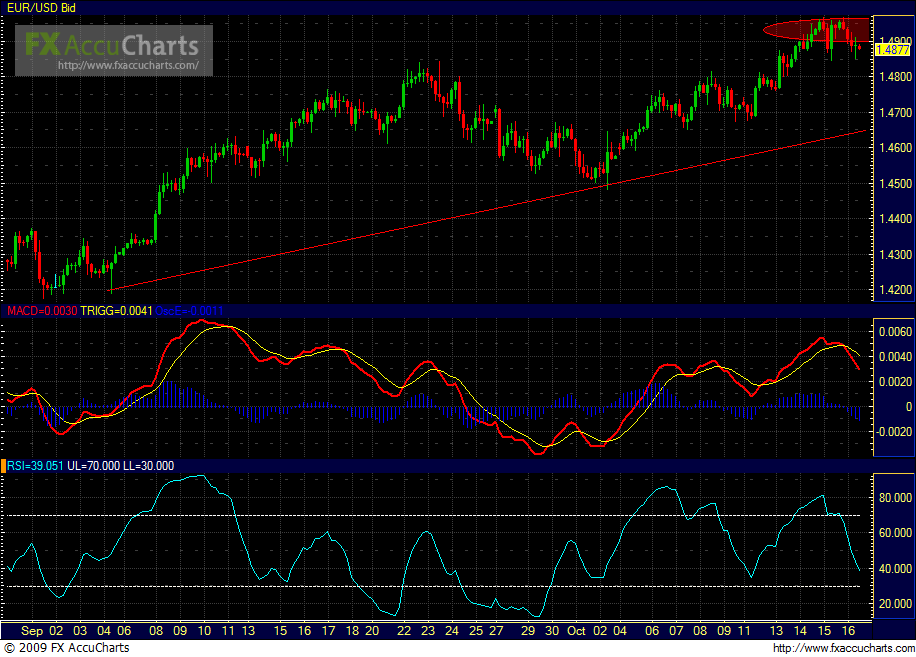 After several attempts, the inability of the market to break the 1.50 barrier has created an inverse head and shoulders, with the apex at the 1.4842 level, or around the previous yearly high. The market looks like it is printing a swing high.
Perhaps economic information, surveys or markets will give us inputs. More likely cheers and chats by the central bankers will show us the way. It sounds like Euro banker Trichet is pleading with Benny Bernanke, or one of his boys, to do or say something nice about the dollar. Friday morning the Euro trade balance came in with a surplus of only 1 billion, less than expected and perhaps caused by the strong Euro.
Continued Euro strength will weigh on the trade numbers and hamper Europe's recovery. It is tempting to try the short side, but it is probaby better to see how weekend events unfold.