Methode Electronics (NYSE:MEI) surged to a 12-year high last week after soaring 32.5% on strong earnings results. The company reported a profit of $0.36/share, which was far above analyst forecasts for $0.21. Sales of $167.3 million also beat forecasts for $148.5 million. The company guided earnings up to a range of $1.40 to $1.60, which was well above the consensus of $1.05. More significantly, the company reported its best quarter on record in its 47 years of being a public company. So it's no wonder that investors were impressed by these results. But what is behind the company's breakout earnings results, and will they continue?
Business Model
Methode Electronics is an OEM manufacturer of electronic components and subsystem devices. The company operates in four business segments: Automotive, Interconnect, Power Products, and Other.
The Automotive segment supplies electronic and electromechanical devices and related products to automobile OEMs, either directly or through their tiered suppliers, including control switches for electrical power and signals, connectors for electrical devices, integrated control components, switches and sensors that monitor the operation or status of a component or system, and packaging of electrical components.
The Interconnect segment provides a variety of copper and fiber-optic interconnect and interface solutions for the appliance, computer, networking, telecommunications, storage, medical, military, aerospace, commercial and consumer markets. Solutions include solid-state field effect interface panels, PC card and express card packaging, optical and copper transceivers, terminators, connectors, custom cable assemblies and conductive polymer and thick film inks. Services include the design and installation of fiber optic and copper infrastructure systems, and the manufacture of active and passive optical components.
The Power Distribution segment manufactures current-carrying laminated bus devices, custom power-distribution assemblies, powder coated bus bars, braided flexible cables, customized heat sinks and high-current low voltage flexible power cabling systems that are used in various markets and applications, including telecommunications, computers, transportation, industrial and power conversion, insulated gate bipolar transistor (IGBT) solutions, aerospace and military.
The Other segment includes the design and manufacture of non-contact sensing devices measuring a multitude of variables including: torque, speed, angle, absolute angle, linear position, force-load weight, viscosity and magnetic field sensing. Also included in the Other segment, are independent laboratories that provide services for qualification testing and certification, and analysis of electronic and optical components
Broken down by business segment, Automotive maintains the largest percentage of sales, driving almost 60% of revenues.
Click to enlarge images.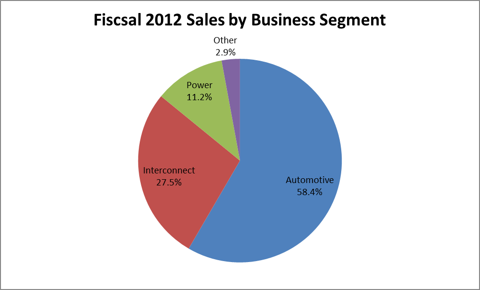 Methode Electronics is a global company with manufacturing, design, and testing facilities in China, Germany, India, Lebanon, Malta, Mexico, the Philippines, Singapore, Switzerland, the United Kingdom, and the United States. Its sales by geographic region are fairly evenly distributed between North America, Europe, and Asia, with North America representing the highest percentage of sales at more than 40%.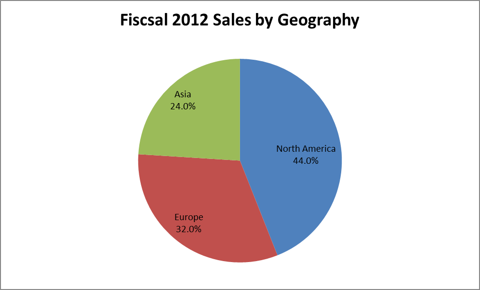 During the earnings call, the company attributed its stronger-than-expected sales growth of 41% to robust sales for General Motors (NYSE:GM) and Ford (NYSE:F) center consoles, new product launches in its European Automotive and North American Power Product operations, and strong base appliance sales.
Further dissecting the quarterly results, Baird analysts David Leiker and Joseph Vruwink highlighted that the company reported upside across all segments, but roughly two-thirds of the earnings upside came from the company's automotive segment. North American sales improved 86% due to General Motors' K2XX launch. K2XX is the program name for GM's new full-size truck and SUV lineup. International sales also positively contributed to the quarterly results with 26% growth in Europe, spurred by Ford's recovery in the region and new business. The company also saw 22% growth in Asia.
While higher sales was the main driver of growth, several other factors contributed to the significant upside in earnings. The company also benefited from increased manufacturing efficiencies gained by the vertical integration of the paint and laser etch process, a favorable raw material pricing environment, and a favorable product mix in the Power Products segment. Gross margins improved to 20.3% compared to 18% in the first quarter of last year. Also boosting margins is that Methode has been able to reduce scrap on the Ford center console program, and the initial scrap costs for GM's K2XX program have been considerably less than anticipated.
The company's increase in guidance was based on stronger-than-projected sales for GM's K2XX program, greater volumes than originally anticipated from new product launches in European Automotive and North American Power, an improved sales mix in Power Products, stronger-than-expected base appliance sales and higher first quarter sales and earnings than originally anticipated. Methode also noted that it has seen its business in Europe stabilize.
Q1 Sales Growth by Business Segment
| | |
| --- | --- |
| Business Segment | YOY Sales Growth |
| Automotive | +46% |
| Interconnect | +38% |
| Power Products | +43% |
TouchSensor Technology and More
One of the key drivers of Methode's growth in the automotive segment has been its TouchSensor touch screen center consoles. Methode is the manufacturer of Ford's MyFord driver connect console which aims to seamlessly integrate communications and infotainment. It also just launched a similar solution for General Motors center consoles which is being utilized in their redesigned SUVs and trucks. In addition, on its earnings call, the company announced it was awarded a new integrated center console program for North America. Production is slated to begin in fiscal 2017, with annual revenue expected to be in the $20 million range. This contract win further validates Methode's position as a leader in the center console space.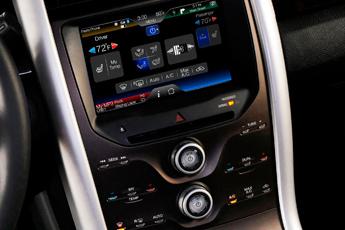 TouchSensor technology for a large appliance OEM laundry platform was also launched in the second quarter of this year. The interface will be used on multiple brand products and is expected to generate an additional $30-$40 million in annual revenue in fiscal 2014. This was the first award for TouchSensor in the laundry space, capitalizing on the growing popularity of touch technology in the appliance marketplace.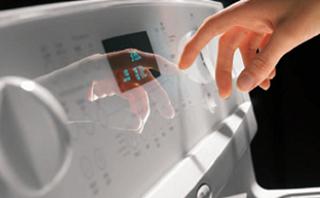 The sales increase of 38% in the first quarter in the Interconnect segment was due mainly to improved appliance sales from Methode's two largest customers. In the recent earnings season, home-improvement retailers such as Home Depot (NYSE:HD), Lowe's (NYSE:LOW), and Best Buy (NYSE:BBY) all reported strong appliance sales fueled in part by the housing recovery.
The company is also experiencing strong sales in its Power Products segment. The launch of a significant program for a U.S. telecommunications customer, bus bars for the Nissan Leaf battery pack and a high-current bypass switch in Europe, drove the year-over-year growth. Methode also recently unveiled its SmartPower Stack technology, which stands as the industry's first fully integrated, deployment-ready commercial embedded system for high volume solar, photovoltaic, wind, hybrid electric, and electric vehicles.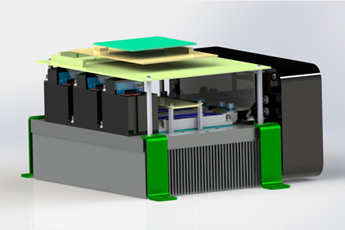 Elsewhere in Automotive, Methode is also benefiting from recent wins in the electric car segment. It manufactures an EVSE Power Connector patented under the PowerBud name, specifically designed for electric vehicle charging applications. Methode also supplies the brake pedal switch for Tesla's (NASDAQ:TSLA) Model S, which is experiencing strong sales growth.
Conclusion
In summary, Methode Electronics is benefiting from multiple trends which appear destined to continue across all its business segments.
Automotive
In Automotive, Methode is benefiting from strong U.S. auto sales from Ford and GM, economic recovery in Europe, design innovation, and growth in the electric car market. Ford is also about to launch MyFord Touch in Europe, which should also be a future positive catalyst for Methode's business there. U.S. auto sales were on pace in August to top 15.5 million units, fueled by strong replacement demand and cheap and available credit. These are both trends that, in the near term, seem likely to continue.
Global car sales advanced 4% in the first half of 2013 and are expected to climb to a record high this year, as reduced headwinds from Western Europe, strong auto sales in China, employment growth, improving consumer confidence, and financial conditions continue to spur growth. According to Scotiabank, leading indicators of global auto sales point to continued global growth.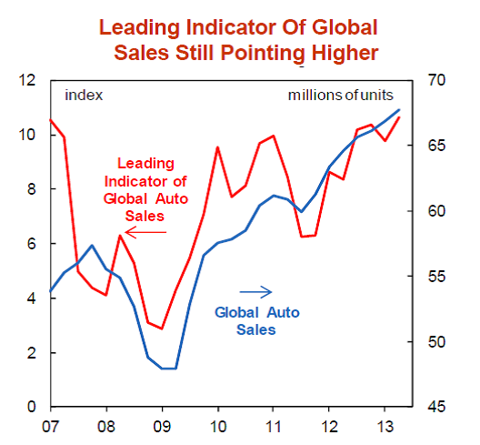 And finally, strong sales for Tesla Motors electric vehicles have created renewed optimism about the viability of electric cars going forward. This is another area in which Methode Electronics has established a stronghold.
Interconnect
Demand for touch sensor technology in the appliance space is also a future source of growth for Methode. Appliance sales are benefiting not only from design innovation demand, but also an improved sales environment driven by the recovery in housing.
Power Products
Methode is also positioned to benefit from continued growth in the power products segment. It is a design innovator in the growing solar and renewable energy markets. Renewable energy markets surged in the U.S. in the first half of the year, despite uncertainty over tax credits and a generally sluggish national economy. Wind, solar, and geothermal energy are all on the rise. The recent rise in global oil prices further supports that trend. According to Bloomberg, improvements in cost-competitiveness means that renewables will account for between 69% and 74% of new power capacity added by 2030 worldwide.
Competitive Landscape
Methode's market is highly competitive and characterized by rapid changes due to technological improvements and developments. The company competes with a number of other large manufacturers in each of its product areas and many of these competitors have greater resources and sales. But Methode has successfully been able to carve out a niche in the marketplace with patented innovative technologies such as its TouchSensor technology.
Some of the company's key industry competitors include: AVX Corp. (NYSE:AVX), Molex (NASDAQ:MOLX), Amphenol (NYSE:APH), and Thomas & Betts which is now privately held. Despite Methode's robust growth characteristics, it still trades at a discount to its industry peers with a P/E of only 18x.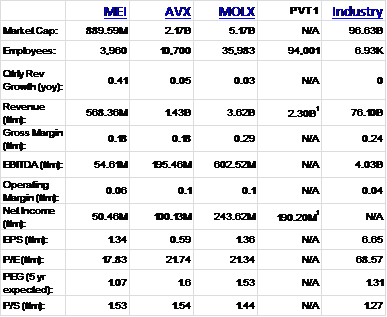 Investment Outlook
Methode Electronics is a small capitalization name with a market cap of approximately $890 million. Only three major research firms follow the stock: Robert W. Baird, B. Riley & Co., and Craig-Hallum. All three firms have Methode at either a buy or strong buy/outperform, with Baird most recently upgrading the stock from Neutral back on June 21.
| | | | | |
| --- | --- | --- | --- | --- |
| | Current Month | Last Month | Two Months Ago | Three Months Ago |
| Strong Buy | 1 | 1 | 0 | 0 |
| Buy | 2 | 2 | 1 | 1 |
| Hold | 0 | 0 | 2 | 2 |
| Underperform | 0 | 0 | 0 | 0 |
| Sell | 0 | 0 | 0 | 0 |
Source: Thomson/First Call via Yahoo Finance.
Given the recent impressive earnings results for the company and strong future growth prospects, it is likely that other firms will soon initiate coverage. This could be a positive catalyst for the share price going forward. Even after the company's recent share price run-up, the stock's valuation still appears reasonable given the company's growth outlook.
Current Valuation
Methode Electronics
MEI

Industry Avg

S&P 500

MEI 5Y Avg*

Price/Earnings

18.0

20.4

17.2

13.2

Price/Book

2.9

2.2

2.4

-

Price/Sales

1.6

1.5

1.5

0.8

Price/Cash Flow

25.4

12.1

10.3

20.1

Dividend Yield %

1.2

2.0

2.2

3.0
Source: Morningstar; data as of Aug. 30, 2013. *Price/Cash Flow uses three-year average.
So, in short, there does appear to be fundamental substance behind Methode Electronics recent earnings results and the positive price response and those trends appear likely to continue. Indeed, there is method to Methode's recent price madness.
Disclosure: I am long MEI, TSLA. I wrote this article myself, and it expresses my own opinions. I am not receiving compensation for it (other than from Seeking Alpha). I have no business relationship with any company whose stock is mentioned in this article.
Disclaimer: The opinions expressed above should not be construed as investment advice. This article is not tailored to specific investment objectives. Reliance on this information for the purpose of buying the securities to which this information relates may expose a person to significant risk. The information contained in this article is not intended to make any offer, inducement, invitation or commitment to purchase, subscribe to, provide or sell any securities, service or product or to provide any recommendations on which one should rely for financial, securities, investment or other advice or to take any decision. Readers are encouraged to seek individual advice from their personal, financial, legal and other advisers before making any investment or financial decisions or purchasing any financial, securities or investment related service or product.
Information provided, whether charts or any other statements regarding market, real estate or other financial information, is obtained from sources, which we and our suppliers believe reliable, but we do not warrant or guarantee the timeliness or accuracy of this information. Nothing in this article should be interpreted to state or imply that past results are an indication of future performance.