If you currently own Bank of America (NYSE: BAC) then you have been a strong supporter of the new direction the bank is going in and have been loving the impressive run the stock has been on, +83% year-to-date, +183% over the past 20 months. Just take a look at both of the BofA charts below and you'll see why investors have been loving BofA's recent stock performance. While BofA's recent rally has been nothing short of stellar, it didn't come from nothing. It was supported by the fact that fundamentally BofA is a strong company from top to bottom. Overall, there is a lot to like about Bank of America and the new direction the company is going in under the watch of CEO Brian Moynihan.
Bank of America has clawed its way back from oblivion to the delight of traders and investors alike who have profited on the stock's advance. BofA has been a great momentum trade and going forward we expect shares to continue to soar. BofA is a great value play and as you can see the stock is gradually recovering, climbing back to where it was trading before the financial markets collapsed.
Bank of America's Past 12-Months Stock Performance: +82.13%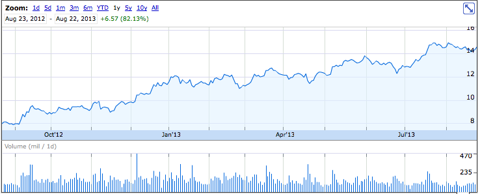 Bank of America's Past 20-Months Stock Performance: +182.97%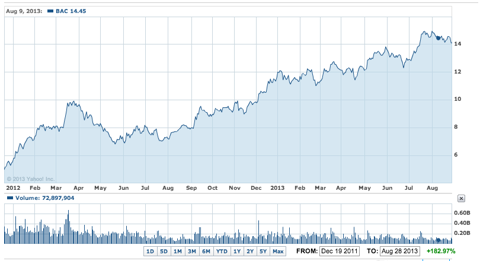 BofA's Legal Worries And Future Concerns
Some of the biggest concerns investors have when it comes to Bank of America are the bank's legal woes, pending lawsuits and the potential financial ramifications from these lawsuits. Some speculate that the legal settlements could cost the bank and its shareholders billions of dollars. When it comes to investing, I prefer to look at the fundamentals of a company rather than giving into fear and listening to all the rumors. Right now all these numbers being thrown around are nothing but speculation and in the end BofA will pay a lot less in legal penalties than originally expected. Just examine all of the past legal cases against Bank of America and analyze the amount BofA actually paid out versus what analyst's originally speculated, it has consistently been a lot less. Many can attribute this success to the work of CEO Brian Moynihan, who before embarking on a career in banking was a high-powered Boston Lawyer. In all seriousness, this legal onslaught is a battle that the company has been at for several years now, as CEO Brian Moynihan has been systematically knocking lawsuits out of the way slowly, steadily, and one at a time.
With all the legal worries soon to be behind them, investors should now be focusing on the many great prospects Bank of America currently has. The two biggest factors that make Bank of America successful are its ability to innovate its products to attract new customers while cutting costs and also the ability to produce strong sales numbers.
BofA's Impressive Sales Growth
A strong indicator for past and future success for Bank of America has been their impressive sales growth. BofA has increased sales growth across all segments of its business. In the 2Q earnings report, BofA's five main operating segments all posted impressive growth rates and earnings. Compare the two figures below to see just how substantial BofA's sales growth has been:
2nd Quarter of 2013: $1.4 Billion
2nd Quarter of 2012: $184 Million
Bank of America's 2013 2nd quarter net income ballooned to $1.4 billion vs. $184 million prior year driven by higher net interest and non-interest income. BofA's net income multiplied 7.6 times in one year, a very impressive figure and a strong indicator for continued future success. What was more impressive was the fact that it was a balanced performance across the board with BofA seeing all five segments of its business improve:
1.Retail Banking: Despite banking center consolidation and cost reduction, BofA saw a significant increase on the retail side in deposits, new accounts, plus credit/debit card usage.
2.Mortgage/Loans: Real estate services managed to come in with $1 billion in revenue and marks a great improvement over last year's -$186 million.
3.Wealth Management: Revenues in investment management literally skyrocketed 10-fold to $4.5 billion with net income increasing 261% to $758 million. The segment now has a 17% net income-margin.
4.Global Investment Banking: Global banking revenues increased to $4.1 billion, up from $231 million in the same period last year driven by investment banking activity and loan origination. Global banking now has a 31% net income-margin and is highly profitable.
5.Equity Trading: Global markets revenue, driven by equity revenue, came in at $4.2 billion and profits at $959 million.
Sales are what drive Bank of America as a company and to see this kind of growth across all segments of its business is very impressive and a bullish indicator for future success.
BofA's Ability to Innovate
Innovation has always been something that has distinguished Bank of America as a company and made it stand out from competitors. BofA's ability to innovate new products, making the lives of customers easier while cutting costs, has been a winning strategy. The newest innovation will be BofA's 'Teller Assist' ATM machines that will allow customers to do the following:
• Cash checks for the exact amount, including receiving change.
• Receive cash withdrawals in a variety of denominations ($1, $5, $20 and $100).
• Deposit checks with cash back.
• Split a deposit into two or more accounts.
• Make loan or credit card payments.
Bank of America has consistently been making strides to go automated in its entirety, in terms of banking; similar to the way tons of food stores now have implemented self-scan devices for checkout. The more machines in place, the more automation, the fewer tellers needed, the less the bank spends. This has been an initiative that the bank has been working on for the past few years, and I believe that this forward looking "automation innovation" is going to yield the bank tangible results in terms of cost cutting and general efficiency in the future. Katy Knox, Retail Banking and Distribution Executive at Bank of America, says it perfectly in the following quote:
"We know that customers want to bank on their schedule - not ours - so we are constantly looking at how to deliver more convenient banking options to them. This technology gives customers easy, convenient access to ATM banking services with the added option of having a personal interaction and the support of a teller available at the push of a button."
In one new innovation, Bank of America will be simplifying the lives of its customers while cutting costs and saving the bank money in the long run. That's a win-win strategy if you ask me, and it's innovations like the Teller Assist ATMs that will continue to lead BofA to prosperity.
BofA's Stock is Significantly Undervalued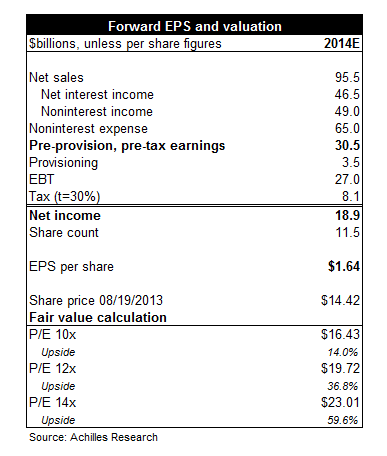 When it comes to valuation, BofA is significantly undervalued compared to its peers as it has a book value discount of 28% and a forward P/E of 10.5. Bank of America trades at the largest discount to book value while Goldman Sachs (NYSE: GS) and Wells Fargo (NYSE: WFC) already manage to trade at a premium. Even though Bank of America had a great Q2 with an EPS estimate beat of 28%, its valuation continues to lack its peers. While the P/B industry average stands at 1.1, Bank of America is comparatively cheap with a near 30% discount from book value and near 10% earnings yield, providing investors with a significant margin of safety.
What to Expect from BofA's 3Q Earnings?
Bank of America surprised everyone with its 2Q earnings, reporting a 70% increase in profits, primarily through cost cutting measures. Overall revenues grew 3.5%. However BofA's stock price and valuation still lag comparisons to its immediate peers. While reducing uncertainty with respect to book value credibility and legal risks, Bank of America's valuation remains low and attractive. I also expect that Brian Moynihan will be a man of his word and Bank of America will step up its shareholder remuneration policy with an estimated annualized dividend yield of 2-3% in 2014/15.
I expect BofA to once again beat analyst expectations, reporting strong 3Q earnings. BofA has been making strategic cuts to reduce overall costs while increasing revenues and strengthening the core parts of its business. Merrill Lynch continues to be BofA's most profitable division and I expect Merrill's profits to continue to increase going forward as the two companies become more integrated with one another. Overall, BofA is a great long-term investment and a strong buy for investors. Those who currently own the stock simply hold onto your shares and over time watch them grow.
Conclusion: What to Expect from BofA Long-Term?
Investors need to look past the newspaper headlines and short-term outrage against Bank of America and instead analyze the core parts of BofA's business. Bank of America combines a market-leading, deposit-strong banking franchise with impressive sales and earnings growth, declining/encouraging delinquency and loss trends, and a low valuation. Dividends and share buybacks can further add to the stock. Under Moynihan's "Project New BAC," BofA has been able to leave its legal troubles behind and focus on fundamentals and cost cutting. Going forward the company is going to remain a lean and clean sales machine for investors.
Innovation continues to be a strength of BofA as consistently it has been able to innovate consumer banking products to attract the highest number of consumers and in return deposits. Over 50% of Americans currently have some form of relationship with Bank of America, whether it's a checking/savings account, credit card, mortgage, auto loan, investments, you name it.
As the economy improves, Bank of America should profit from higher consumer spending and an increased transaction business with a strong possibility to outperform EPS estimates. Fueled by its innovation, future steady dividends and the recovering housing market, I recommend investors buy BAC. My 12-month price target for Bank of America is $24 per share, a yield of +65%.
Disclosure: I am long BAC. I wrote this article myself, and it expresses my own opinions. I am not receiving compensation for it (other than from Seeking Alpha). I have no business relationship with any company whose stock is mentioned in this article.