By Taras Berezowsky
The monthly Renewables MMI® held steady at 66 for September. Although the neodymium price shot up, prices of steel plate in Korea tempered the overall metal price index.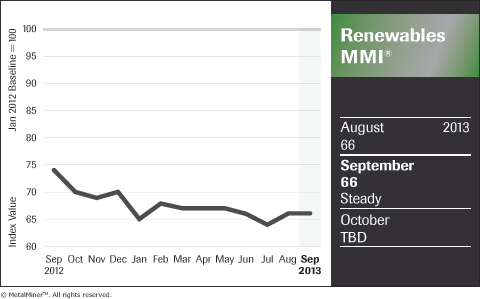 U.S. Power Construction, Vestas

U.S. power construction spending, a main indicator of where the sector stands, basically flatlined from June to July of this year, rising only 0.13%, according to census data. A total of $89.4 billion was spent against $89.3 billion the month before.
Vestas (OTCPK:VWDRY), a major Danish wind producer, for its part is focusing on becoming profitable again. According to the Financial Times, "Vestas slipped into a net loss in 2011 and it deepened to one of almost €1bn last year. In the first six months of this year it reported a net loss of €213m but has been striving to bring its break-even level by cutting almost a third of its jobs and outsourcing much of the manufacturing process." Vestas lost its position as the No. 1 wind producer globally to General Electric (NYSE:GE) last year.
Current Steel Plate, Rare Earths Prices

The price of neodymium closed the month up 10%. For the second month in a row, the price of U.S. steel plate increased, rising 0.3% over the past month.
Korean steel plate prices, meanwhile, plummeted 18.1% this month, tempering any sort of overall rise in the monthly renewable energy metals index. A 3.8% drop left U.S. grain-oriented electrical steel (GOES) lower this month. The price of Chinese cobalt cathodes drifted 1.0 percent lower as well. Silicon hardly budged the entire month. Chinese steel plate experienced a flat month, and Japanese steel plate came down very, very slightly over the month.
Note: The Renewables MMI® collects and weights eight metal price points used extensively within the renewable energy industry to provide a unique view into renewable energy metal price trends over a 30-day period.