About a year ago, Cirrus Logic (NASDAQ:CRUS) was trading for about $45 per share and looked fairly valued for a high-growth semiconductor company. Now, with shares at about half of that due to both general weakness in the sector and some less-than-stellar revenue numbers, the company is looking like an absolute steal at the current levels. This manufacturer of specialized integrated circuits (ICs) could rebound tremendously if the company's products and customers, especially top customer Apple (NASDAQ:AAPL) perform well in the year ahead.
About Cirrus
Cirrus Logic is one of the biggest suppliers of analog and digital signal processing components to the audio and energy markets. On the audio side, their audio processors and converters are in a wide variety of products such as smartphones, portable music players, car audio systems, home theater equipment, and televisions, just to name a few. The company also manufactures energy measurement chips used in digital utility meters as well as other converter chips for energy applications. Audio products are Cirrus's bread and butter, and generate about 85% of the company's revenue, and energy products make up the rest.
Customers (Yes, there is more than one)
While many tech followers simply recognize Cirrus as an Apple supplier, the company has over 2,500 customers representing a diverse mix of end markets. Other customers include such well-known electronics giants as LG (OTC:LGEAF), Philips (NYSE:PHG), Samsung, and Sony (NYSE:SNE). Other customers include auto companies like Ford (NYSE:F) and smaller electronics manufacturer Avnet (NYSE:AVT), which is actually Cirrus's biggest customer aside from Apple, accounting for about 13% of the company's sales.
OK, we'll talk about Apple for a bit
Apple is Cirrus's prime customer and has accounted for an increasing percentage of the company's revenue; accounting for 35% of sales in 2010, 47% in 2011, and 62% in 2012. The slowdown in Apple's revenue growth over the past year has been the primary force putting downward pressure on Cirrus's share price. In fact, if you compare charts of the two, the price action is very similar (including the recent rebound from the lows), just with less volatility for Apple.
CRUS 1-year chart:

AAPL 1-year chart:

Cirrus's relationship with Apple began when it was selected to provide the audio codec for the iPod. As Apple was very satisfied with the company's products, use of Cirrus audio products spread across Apple's new product lines as they were introduced. I believe that this trend will continue, and although Cirrus is highly dependent on Apple, they appear to be one of the more stable and secure of Apple's suppliers.
Recent growth
As Apple's newer product lines such as the iPhone and iPad came into existence and grew in popularity, so did Cirrus's revenues. After experiencing very flat revenues until 2009, the company's sales have skyrocketed since then. Although the current projections call for slower growth next year, I believe that this number is a bit too conservative, and I'll get into that a little deeper in the next section.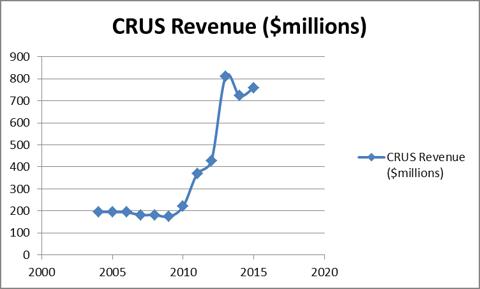 A couple of things to note on this chart: First, Cirrus's fiscal year ended in March, so the 2014 dip you see in the chart refers to the current fiscal year of April 2013-March 2014. Sales are expected to drop due to the lull in Apple's product release cycle. And sales are expected to grow by about 5% in 2015, which is a ridiculously low estimate and is the reason for Cirrus's current valuation.
Future potential: Apple, Apple, Apple
Going forward, I don't believe the true potential of Apple's new product cycle is priced into Cirrus. There are just too many potential game changers that can (and are likely to) happen over the next several months that could give Cirrus a tremendous boost.
First, we all know that Apple is expected to release two iPhones, supposedly the 5s and the low-cost iPhone, which I'll call the 5c, but I hope Apple comes up with a better name. Remember, they don't like the word "cheap" at all, as Tim Cook has made abundantly clear every time it has come up, and calling it the "5c" may associate it with being "cheap". However, the low-cost iPhone becomes many times more valuable to Apple and its suppliers once a deal with China Mobile (NYSE:CHL) is reached. I wouldn't be surprised to hear about a deal right around the iPhone announcement, but this is definitely a "when" rather than an "if".
Sales of the iPhone have steadily risen, and Apple sold about 111 million of them in the most recent full fiscal year (2012), with modestly higher numbers expected this year. Now, if Apple and China Mobile come to an agreement, that opens the doors to the largest cell phone provider in the world, whose 740 million customers have not been able to buy an iPhone up until now. As of the latest available data, there are just under 5 billion mobile phone subscribers worldwide. So, in other words, Apple could be gaining access to another 15% of the world's mobile phone market in a matter of weeks. So, how well could the iPhone do over there.
Well, in the U.S., Apple has about 30% of the smartphone market. The latest research data shows that only about one third of Chinese mobile phone subscribers are smartphone users, so a quick calculation shows that Apple has the potential to convert about 73 million of China Mobile's subscribers to iPhone users. While I have no delusions that this will happen overnight, it is certainly a reasonable target for a few years from now, and it would boost iPhone sales by more than half. Now, that's a big deal for Cirrus and could result in tremendous revenue growth all by itself.
Of course, the new iPhone isn't the full story when it comes to Cirrus's growth potential. The iPad continues to gain in popularity and is due for a refresh as well. The iWatch or iTV devices that have been widely speculated could be a game-changer for the company as well.
Now, I know I'm focusing on Apple's products quite a bit, but for good reason. With such a diverse base of other customers, the approximately 40% of Cirrus's revenues that don't come from Apple are very stable (just look at the company's revenue chart before 2009), so it is fair to say that Apple is the company's key "growth factor".
The numbers
My biggest reason for loving Cirrus as an investment right now is the tremendous value. The company is expected to earn $2.36 per share for the current fiscal year, meaning that shares trade for just 9.5 times this year's earnings. As if this weren't attractive enough, consider that Cirrus has about $233 million in cash and equivalents on its balance sheet and absolutely no debt whatsoever. When you subtract the cash from Cirrus's $1.43 billion market cap, the market is valuing the company's business at less than 8 times this year's earnings.
Cirrus is also a highly shorted company, as were many Apple suppliers over the past year. Currently, about 16% of the total outstanding shares are shorted, and this could indeed set up a short squeeze if sales numbers come up better than expected going forward.
The downside risk
Honestly, at the risk of sounding too one-sided, there really isn't too much downside risk at this point. Between the massive short interest and already very low valuation, barring some big catastrophe, I don't see much downside from here. Of course, if Apple's products were to be a so-so success, sales could indeed stagnate and shares would be priced for little to no growth. A study published on tradingfloor.com suggests that investors are generally willing to pay between 10.4 and 10.8 times earnings for companies with zero earnings growth. If sales targets meet the consensus next year, it should drop Cirrus's earnings to about $1.79 due to lower expected margins. So, this gives us a downside target of $18.61 using the low end of the aforementioned P/E range if Cirrus's earnings growth slows to zero. That's about 17% below the current share price.
Where could it go?
For the purposes of establishing a target price, I want to make things very realistic and conservative. Let's assume that a China Mobile deal and a low-cost iPhone are the only major growth catalysts that occur and that all of the company's other streams of income go on as projected. If Apple is able to capture one half of the market share that it has in the U.S. smartphone market, that could mean an additional 36.5 million iPhones sold next year, or about 29% more than the company is expected to sell this year.
This could boost Cirrus's Apple sales by about 14%, and total sales by about 9% to about $854 million. Assuming that margins stay around the same, this could mean earnings of about $2.61 per share next year, which at a more reasonable P/E of around 12 gives us a $31.39 price target, or 40% above the current share price. Of course, the actual share price could rise much greater if any of a number of other catalysts occur, such as better than expected sales of the other new iPhone or a much improved iPad.
Regardless, Apple's new product cycle has much more potential than it is being given credit for, and Cirrus is an excellent low-risk/high-reward way to play it, especially considering its diverse list of other customers that aren't going anywhere either.
Disclosure: I am long AAPL. I wrote this article myself, and it expresses my own opinions. I am not receiving compensation for it (other than from Seeking Alpha). I have no business relationship with any company whose stock is mentioned in this article.