Microsoft (NASDAQ:MSFT) should be breaking out the champagne. Windows phone is on a tear with market share gains in key markets bringing its market share to 8.2% in Europe as first time smart phone buyers upgrade to Windows from feature phones in preference to Android or iOS devices, according to Comtech Kantar WorldPanel.
Windows phone share gains in major markets are impressive, with dramatic gains in Germany, the U.K., France and Mexico, as set out in the chart below.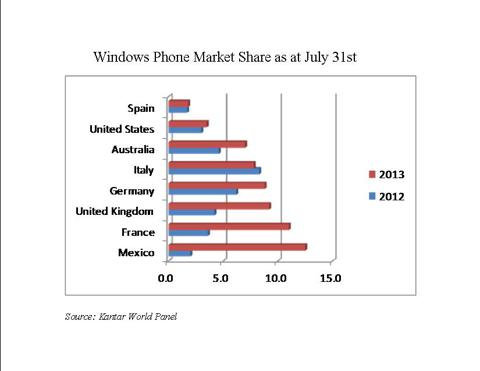 Without doubt Microsoft's acquisition of the Nokia (NYSE:NOK) handset business was an aggressive step to ensure that the momentum was fully supported with adequate marketing resources and to take control of the worldwide expansion of Windows phone through the vast distribution network purchased from Nokia.
Apple (NASDAQ:AAPL) executives should pay attention. Smartphones make up the lion's share of Apple's sales and profits and the threat of serious intrusion by Windows phones is now a reality. For the time being, it is BlackBerry (BBRY) taking it on the chin with its European share dropping from 6.7% to 2.4% while iOS and Android continue to gain share alongside Windows in these important markets. Apple market share rose over 2012 in the key five European markets from 14.8% to 17.9%, not shabby but outpaced by the growth in Windows phones. With Microsoft's marketing muscle behind the Nokia line going forward, this battle is far from won by either company. Apple's introduction of a lower priced iPhone will aim squarely at the Nokia customer base, should Apple proceed with such a device as is widely rumored. Android share also rose from 66.2% to 69.1%, almost matching Apple device for device but shadowed by the strong advance by Windows.
In the key China market, both iOS and Windows phone are slipping while Android phones gain. Apple market share fell from 26.3% to 22.4% while Windows slipped from 4.6% to 2.4%. Android by contrast gained 8.8 points of market share rising from 61.7% to 70.5% in this most important market.
The shifting tides in Mexico show the brutal reality for BlackBerry as its market share plummeted from 34.9% to only 10%, while iOS almost tripled its Mexico share from 3.3% to 9.2% and Android phones advanced from 28.3% to a whopping 60% of the market. The most striking gain was by Windows, however, as its market share went up almost six fold from 2.0% to 12.5%, eclipsing Apple by a wide margin.
The progress should surprise no one who has tried a Windows phone. The Nokia Lumia lineup is colorful, powerful and fun to use with deep integration into the Microsoft ecosystem including Outlook Office and SkyDrive.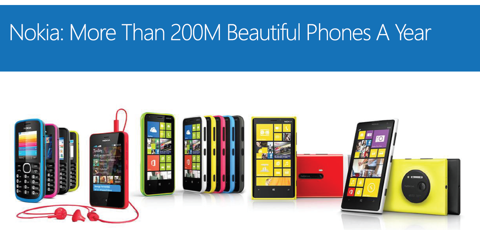 The next year or two will tell the tale. Competition in smart phones is fierce worldwide and a lot is at stake. It is no wonder Microsoft felt is necessary to buy the Nokia device unit. The risk of failure with Windows phone prospect riding primarily on this unit in financially weak hands was more than any sensible board of directors could stomach, in my opinion. Whether Microsoft can move quickly to put resources in place to sustain the momentum is an open question. My bet is they will and I am long Microsoft.
Disclosure: I am long MSFT. I wrote this article myself, and it expresses my own opinions. I am not receiving compensation for it (other than from Seeking Alpha). I have no business relationship with any company whose stock is mentioned in this article.
Additional disclosure: I hold calls on 10,000 MSFT at a $25 strike to January 2015 and another 2,000 MSFT at $28 with the same expiry