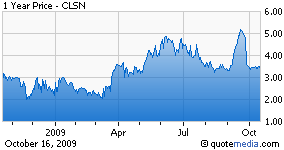 Celsion Corporation (NSDQ: CLSN) has received SFDA approval to include China sites in its global Phase III clinical trial of a new liver cancer therapy, ThermoDox. ThermoDox is a liposomal encapsulation of doxorubicin, a commonly used chemotherapy drug; the formulation is designed to release its active ingredient when heated. Celsion uses high intensity focused ultrasound to create the necessary heat (40-42 degrees Celsius), which results in releasing the chemotherapy preferentially in the targeted tumor.
In the trial, ThermoDox will be used in addition to radiofrequency ablation (RFA) and compared to RFA alone. The trial will be conducted with patients who have primary liver cancer (hepatocellular carcinoma). RFA is becoming the standard of care for early stage HCC patients.
Michael H. Tardugno, President and CEO of Celsion said in a statement that China's acceptance of the trial is very significant to Celsion due to the size of China's market. China is home to over half of the world's HCC patients.
Celsion plans to conduct the trial in up to sixty sites around the world, many of them in east Asia. The company hopes to complete patient enrollment in the first half of 2010.
In the US, Celsion has been granted Orphan Drug designation for ThermoDox and is conducting the pivotal global Phase III study in primary liver cancer under a FDA Special Protocol Assessment. Celsion is in partnership with Phillips Medical on the use of high intensity focused ultrasound to develop its heat activated liposomal technology.
Disclosure: none.