Near the beginning of each month, I am authoring a trio of articles updating the performance of monthly momentum strategies across various markets. The purpose of this series of articles is to demonstrate the long-run success of these strategies, and give Seeking Alpha readers with differing risk tolerance tips on how to employ these strategies themselves to improve the performance of their respective portfolio. These are useful strategies for Seeking Alpha readers, especially those who allocate dollars to their investment plan on a subscription basis like 401k investors making automatic payroll deductions. These switching strategies can be used to adjust periodic allocations to capture the momentum effect and improve portfolio returns, especially in tax-deferred accounts. Even if readers are uninterested in implementing a momentum strategy in their own portfolio, given the long and successful track record of these strategies, these articles can still help Seeking Alpha readers time short-term tactical asset allocation decisions.
Low Volatility Stocks/High Beta Stocks
In my mid-January article "Doubling the Return of the S&P 500 Over Twenty Years," I demonstrated that a quarterly switching strategy between low volatility stocks, as represented by the S&P 500 Low Volatility Index (NYSEARCA:SPLV), and high beta stocks, as represented by the S&P 500 High Beta Index (NYSEARCA:SPHB), generated a cumulative total return more than double that of the S&P 500 (NYSEARCA:SPY) since 1990 with a risk profile equivalent to that of Berkshire Hathaway (BRK.A, BRK.B). In this series, I am updating a monthly switching strategy that will effectively own the highest or lowest volatility equities in the S&P 500 based on which segment of the market had outperformed in the trailing month.
A monthly switching strategy between low volatility and high beta stocks, which buys the leg that outperformed over the trailing one month and holds that leg forward for one month, has produced the return profile seen below since 1990: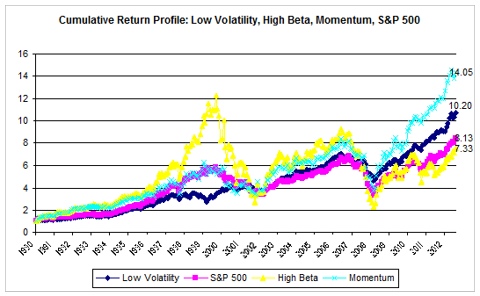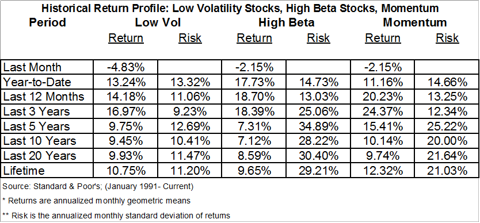 I am of the opinion that low volatility stocks should be a part of investors' longer-term strategic asset allocation given that class of stocks' historical higher average returns and lower variability of returns (see 5, 10, 20 and lifetime returns above for low volatility stocks versus high beta stocks). In "Making Buffett's Alpha Your Own", I broke down the Oracle of Omaha's tremendous track record into two components - capturing the Low Volatility Anomaly and the application of leverage.
If an allocation to low volatility stocks should be part of your strategic asset allocation, then an allocation to high beta stocks must be done tactically with a short-term focus given that class of stocks' lower long run average returns and higher variability of returns. This view is borne out of the data above. However, a temporary allocation to the High Beta Index in sharply rising markets can further boost performance as seen by the outperformance of the momentum strategy. The high beta stock index has typically outperformed in post-recession recoveries.
Understanding the historical performance of this trade can help Seeking Alpha readers time their entry into riskier parts of the domestic large cap equity universe. Low volatility stocks have been hampered recently by the move higher in interest rates given, which has decreased the earnings yield premia from these stable companies. In the first six months of the year, low volatility stocks and high beta stocks had produced equivalent 14.1% returns, but high beta stocks have risen an additional 3.6% over the past two months while low volatility stocks have sunk by 0.9%. In the short term, the momentum strategy would suggest that investors continue to own high beta stocks given their outperformance in August.
For investors seeking a tactical trading edge, this approach could add alpha. For investors examining low volatility stocks as part of a long-run portion of their strategic equity allocation, they may seek to add these stocks if they are pressured again by a move higher in interest rates. The momentum strategy has underperformed year-to-date, but this lagging performance is solely a function of the swoon in low volatility stocks in May, which the strategy owned.
Low volatility stocks in that month were hurt by sharply higher interest rates, which saw money flow away from high dividend paying, more bond-like equity investments as the market began to price in an earlier end to the Federal Reserve's quantitative easing program. As I wrote in "The Historic Utility Selloff," utilities, which make up 30% of the Low Volatility Index, had their worst performance relative to the S&P 500 since the month before the Enron bankruptcy in 2001. Perhaps unsurprisingly, that month also marked the largest underperformance by low volatility equities relative to the S&P 500. Seeking Alpha readers should understand the potential negative impact of higher rates on low volatility stocks as they employ this strategy as we careen towards the ultimate withdrawal of monetary accommodation from the Federal Reserve.
U.S. Stocks/EM Stocks
Similar to the decision whether to tactically overweight high beta stocks, investors can also decide whether to add exposure to emerging markets, which have effectively been a high beta function of the developed world historically. This relationship is borne out mathematically. The financial concept beta is calculated as the covariance between a stock and its benchmark divided by the variance of the benchmark. Over the trailing five years, the beta of the emerging market stock index (relative to the S&P 500) has been 1.26. Like our switching strategy between Low Volatility and High Beta stocks, a switching strategy between U.S. stocks and emerging market stocks should also produce alpha. That is exactly the return profile captured below: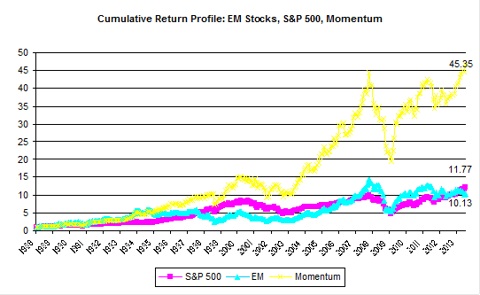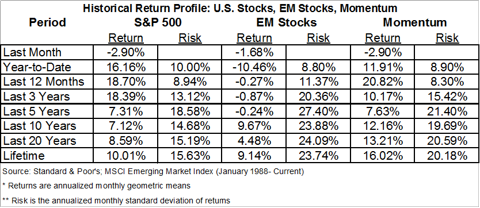 The MSCI Emerging Market Index railed the S&P 500 in each of the first seven months of the year, which means that this momentum strategy has kept investors in the outperforming domestic market since the end of January. The trade finally reversed in July with emerging market stocks producing a relative outperformance versus domestic equities. This would suggest that investors utilizing the momentum strategy would own emerging market stocks in September.
Emerging market assets have been hard hit over the first portion of 2013, trailing the S&P 500 by nearly 26% through the end of August. Investors fear that higher interest rates in the United States post-quantitative easing will make it harder for emerging markets to attract foreign capital. Emerging market countries with large current account deficits (notably India and Turkey) have been hard hit. If an economy is running a current account deficit, it is consuming more than it is producing, and this must be financed by international savers. If international markets are less willing to lend to these countries, then market turmoil can ensue, and we have seen this in the Turkish lira and Indian rupee, both of which have recently hit multi-year lows.
In addition to the impact of changing capital flows, the emerging market index is also home to more commodity producers, which have been hurt by lower commodity prices driven by decelerating growth in China. Perhaps this momentum strategy can key when to make a longer-term asset allocation shift to emerging market equities with higher expected long-run returns.
I believe that emerging market stocks (EEM replicates the benchmark used) will outperform the developed world over the intermediate to long term as higher economic growth rates and less constrained government balance sheets lead to higher asset returns, albeit amidst slower economic growth than the leading emerging markets have experienced over the trailing decade. I am currently evaluating the strength of this conviction, and whether to shift a portion my long-term strategic portfolio allocation into the battered emerging markets. Readers of this series know that I have been evaluating this trade for several months, but have yet to author an opinion on the subject. Geopolitical turmoil continues to cascade around the globe, firmly planting itself in Syria as of my writing, further complicating issues in the emerging markets, and delaying my extended foray into this asset class.
It should be noted that in all of the time horizons in the table above, the momentum strategy has outperformed the emerging market stock index on both an absolute and risk-adjusted basis. If emerging market stocks are going to be a part of your asset allocation mix, then understanding this trade can help improve portfolio performance.
Summary
Switching strategies that tactically overweight high beta equities when markets are rising and seek safety in lower beta equities when markets are falling have traditionally produced higher risk-adjusted returns over long time intervals. For the first time this year, emerging market stocks have outperformed domestic stocks over the trailing one month, which suggests that emerging market stocks could outperform in September. Domestically, outperforming high beta stocks would also favor that higher risk leg over the short-run. I will be updating these two trades monthly, along with my companion series on fixed income and equity/fixed income momentum strategies. Expect to see a few additional equity momentum strategies evolve in this series over time as I demonstrated with my recent Contrarian and Momentum Investing articles. As always, input from my strong readership can help improve this content as we "Seek Alpha" together.
Disclosure: I am long SPY, SPLV. I wrote this article myself, and it expresses my own opinions. I am not receiving compensation for it (other than from Seeking Alpha). I have no business relationship with any company whose stock is mentioned in this article.