During good economic times, when 'growth without end' is the mantra and safety a distant concern, conglomerate is a bad word. During those times, conglomerates trade at a discount because the word conglomerate stands for confusion (too many products, too many markets, hard for analysts to model). But when the waters get choppy, conglomerates start representing safety in diverse markets, and growth counter-balancing risk. E. I. du Pont de Nemours and Company (NYSE:DD) is a science company with a stake in several industries (see below) with varying cadences, and thus fits the bill in terms of a conglomerate where there is safety in numbers (or markets). So, why DuPont and why now? That's the topic of the rest of this article.
Businesses that both Zig and Zag. As I've mentioned before, I'm wary of conglomerates that are basically a group of businesses that can be conveniently killed by a single bullet (e.g. Newspaper conglomerates). DuPont has a reasonable mix of cyclical (e.g. Performance Chemicals) and secular growth (e.g. Agriculture) businesses that should help it navigate choppy waters.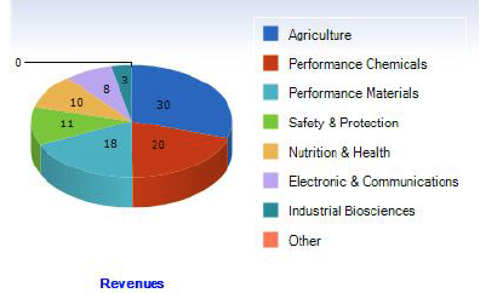 Favorable Technicals. As you can see from the chart, DuPont was range bound (with rising support) between $40 and $55 for two years, and recently broke out of that range. Based on the wisdom that 'the old resistance is the new support', we have support in the mid-$50's with an upside breakout.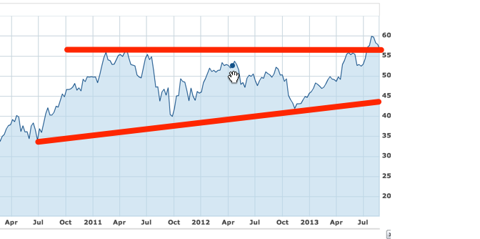 Bounded Downside. Back in the January conference call, analysts pounded the CEO on the performance of the Safety & Protection Division and the considerable turmoil (TiO2 inventory correction) in the Performance Chemicals division. In the July conference call, CEO Ellen Kuhlman all but said that DuPont is looking to divest the Performance Chemicals operation. This is an upside or upside story, in that she'll either get a higher multiple (as a Ag play, if there is a divestiture) or get higher performance out of the Performance Chemicals division given earlier year-to-year comparisons (if there isn't, due to improvements in TiO2 pricing).
Sum-of-Parts Upside. In terms of what the upside might be, we have two data points. One from value investor Nelson Peltz's recent $1.3B investment that suggests that the current price in the high $50's is cheap. And another from David Begleiter who pegs DuPont at a sum-of-parts value of $65 with or without successful activism from Peltz.
While DD has its detractors (such as Goldman's Koort) we're still talking about a value stock with 3% dividend, 5% yield growth, and strong presence in the Ag industry which has long-term legs. For those worried about choppy waters in the next 6-12 months, DD offers income while you wait, and meaningful upside if Peltz is able to do for DuPont what Ackman did for Procter & Gamble (NYSE:PG).
Disclosure: I have no positions in any stocks mentioned, and no plans to initiate any positions within the next 72 hours. I wrote this article myself, and it expresses my own opinions. I am not receiving compensation for it (other than from Seeking Alpha). I have no business relationship with any company whose stock is mentioned in this article.