Procter & Gamble (NYSE:PG) was founded in 1837 by William Procter and James Gamble and incorporated in Ohio in 1905. The company's initial products were soap and candles. Its story started from there and for the past two decades, it has been from one growth story to another for the company. After the company was launched, the founders started looking into other business areas, spending money on research and development. With time, it went into production of razor blades, laundry detergent and lots of other household products. Apart from spending on research and development which resulted in steady product developments, the management of P&G also spent money on advertisement. In all, product development and advertising became the company's core business model.
With very large advertising budgets which are rated among the largest in the corporate world and its attention to global market opportunities, P&G succeeded in becoming a household name. Right from inception, the company has produced, sponsored and co-sponsored several soap operas. It currently has various brands with which the company is known for. Then it proceeded to test its feet in the global market in Mexico, progressed to some parts of Europe and then, Asia. Although the company is presently generating more revenue from developed markets, the developing markets are also yielding significant revenues.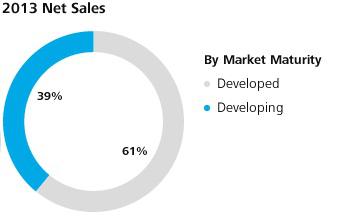 Source: Company presentation
The company's operational segments
P&G operates five reported segments which are Beauty, Grooming, Healthcare, Baby Care & Family Care, and Fabric Care & Home Care segments. Each segment, apart from the Fabric Care & Home Care which maintains a higher percentage, contributes fairly (about one third) to the company's total sales in every given year. We shall analyze all the segments, combined and individually, starting with the Beauty and Grooming segments.
Beauty and Grooming segments: With these segments combined, the company has been able to build reputable brands for itself. However, a good number of the popular brands became part of P&G through acquisitions. Good examples are the Max Factor and Ellen Betrix. Max Factor was acquired in 1991 from Revlon and presently, has been phased out in the U.S. by P&G. This has to do with its minimal popularity in the beauty market in the United States.
The company's merger with Gillette also increased the brands under its Grooming segment, bringing the brands under the two segments to over 45 in number. Beauty and Grooming segments accounts for 24% and 9% respectively, of the company's total net sales for 2013. Five brands from the Beauty segment have crossed the $1 billion threshold and these are Head & Shoulders, Olay, Pantene, SK-II, and Wella. In the Grooming segment, the $1 billion brands are Fusion, Gillette, Mach3, and Prestobarba.
Healthcare segment: This segment accounts for approximately 15% of the company's net sales for 2013 and was largely grown through acquisitions. With the acquisition of two notable healthcare businesses, Norwich Eaton Pharmaceuticals and Richardson-Vicks, Inc., the company was able to gain a fair share of the fast-growing healthcare market. Apart from gaining in the market share, the company also, through acquisition of Richardson-Vicks, expanded its international footprint into Australia and New Zealand.
Products from the RVI acquisition include VapoRub, Olay, NyQuil, Formula 44 Baby Rub, DayQuil, Sinex and others. Vicks, Always, Crest, and Oral-B brands have all crossed the company's $1 billion sales threshold.
Baby Care & Family Care segment: This segment sells mainly diapers and baby wipes and accounts for 20% of the company's net sales for 2013. Its $1 billion brands are Pampers, Charmin and Bounty.
Fabric Care & Home Care segment: P&G maintains approximately 40 brands under this segment that accounts for 32% of its net sales for 2013. Right from its early years of operation and with the launch of its timeless Tide detergent brand, the company has been able to show that P&G is not just about soaps and candles but goes far beyond that. The company's $1 billion brands from this segment are Ariel, Ace, Tide, Dawn, Duracell, Downy, Iams, Gain, and Febreze.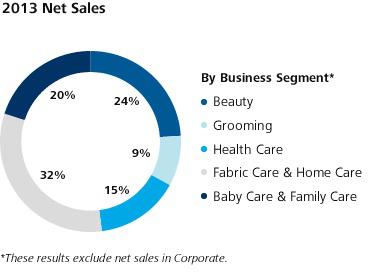 Source: Company presentation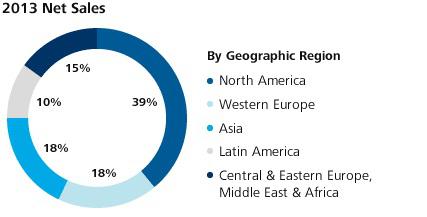 Source: Company presentation
Presently, 26 brands from the company's five reported segments have crossed the $1 billion threshold as they remain best-known household names.
Catalysts for further top line growth in the short and long term
P&G has successfully positioned itself as a leader in the industry it operates in. The four primary catalysts that will continue to positively impact on the company's top line growth, both in the short and long term, are:
Aggressive marketing/advertising: The fact that P&G spends approximately $350 million yearly on customer surveys and studies shows how much the company's management values brand support. Through the company's unflinching commitment to consumer research, it has been able to maintain its brand-name in almost every home. This is the core of its marketing strategy which has really paid off.
Through its sponsorship of soap operas, which the company actually created the concept in the early days of its operation, P&G has continued to grow the number of households it penetrates each given year. From available report, between fiscal year 2010 and fiscal year 2012, the company spent approximately $9 billion yearly on advertising only. This is apart from its expenditures on samplings and promotions.
With the company's loyal consumers totaling approximately 4.6 billion out of the world's population of 7.0 billion, the huge amount spent on marketing/advertising is surely worth it. Also, the company's consumers are projected to reach 5 billion in 2015 and with its budget for creating brand awareness, there is no doubt that P&G will achieve this goal.
Internal cost reduction: The fact that P&G spends huge amount in marketing and advertising does not mean the company's purse is always open for expenses. Management proved this when in early 2012, it initiated its five-year, $10 billion cost saving initiative. Through the initiative, the management hopes to efficiently carry out its brand awareness operations in a way that, without negatively impacting on consumer reach, the company's marketing costs will grow at a slower rate when compared to its sales growth. This way, the company hopes to save approximately $1 billion within the five-year period.
The five-year cost saving initiative also involved the elimination of over five thousand non-manufacturing overhead positions within the company. Finally, the company plans to save annually by working towards reduction in costs of goods spread across four areas: raw materials, manufacture, warehousing, and transportation. With this plan in motion, investors are sure of increased profitability leading to a rise in free cash flow in the long term.
Consistency in R&D: This is another area where P&G assigns huge budget to and as such, is the company's major catalyst for continued top line growth in the short and long term. P&G assigns billions of dollars on yearly basis to research and development alone, such that its budget is double of what most of its peers spend on R&D.
The fact that P&G is always on the lead when it comes to innovation in the industry it operates in, has helped the company to sustain its pricing power in spite of the prevailing competitive pricing pressures from its competitors. Based on this, the company is sure to expand its margin in the long term. This is especially when you consider that P&G has a unique strategy of consistently having new products in the pipeline.
Global expansion: The company's management pointed out that although P&G currently maintains a presence in approximately 38 global product categories, there are other segments of its primary market in which it is yet to maintain a presence. Based on this, the management is working towards increasing the company's product offerings, paying more attention to emerging markets.
One of its target international markets is China, where the company's Crest products are already on sale and yielding good results. The other market is India. P&G's Tide product is already thriving there. There are significant market opportunities in these two countries, especially considering the rate at which both countries are growing. Also not to be left out in the global expansion plan is Latin America, closely followed by Africa.
Bottom line
P&G is a company that has never shifted its focus from stockholder returns and has maintained consistent dividend payouts. The company has paid dividends for 122 consecutive years and raised dividends for 56 consecutive years. With its strong balance sheet and stable free cash flow, P&G makes a stable investment for investors looking for a company with moderate but steady growth that comes with above average dividend yield.
Currently trading at 19.9x multiples, the price looks lofty to the ordinary eyes but considering its long term returns in the coming years, it makes a good buy now.
Disclosure: I have no positions in any stocks mentioned, and no plans to initiate any positions within the next 72 hours. I wrote this article myself, and it expresses my own opinions. I am not receiving compensation for it (other than from Seeking Alpha). I have no business relationship with any company whose stock is mentioned in this article.