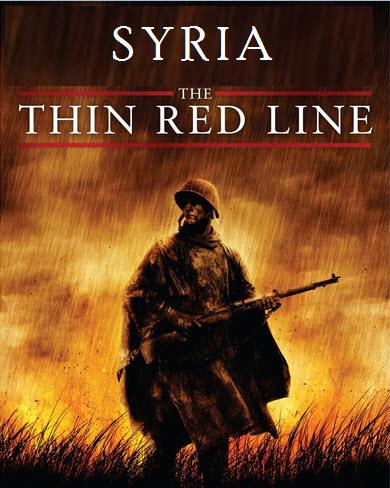 We are in no-man's land for now. Obama switches course yielding to demands for congressional approval regarding Syria. This allowed for an early stock market rally with many thinking congressional approval not a given. But late in the day, support for a mission from Republican leaders was forthcoming sending stocks lower. It's impossible to know what the boundaries are for this type of activity. Clearly the Syrians, their allies and even the rebels will react in ways that are unpredictable. Where this leads creates immense uncertainty for investors and markets. It drives up the price of gold (NYSEARCA:GLD), oil (NYSEARCA:USO), the dollar (NYSEARCA:UUP) and oddly pushed bond (NYSEARCA:TLT) prices lower increasing yields.
Early positive data on manufacturing from China abetted early stock market gains. Data from the U.S., including Flash PMI, ISM Mfg and Construction Data was mostly in-line with estimates.
In M&A activity, Microsoft's (NASDAQ:MSFT) large $7 billion acquisition of Nokia's (NYSE:NOK) phone business and other licensing portions caused a decline in MSFT.
As indicated, markets were sharply higher from the open only to fade late in the day on Syria news. The longer this affair lasts the less other potentially positive or negative news will affect markets. So we then are left in suspense with markets awaiting the attack and blowback if any. One thing a "surgical strike" can lead to is "malpractice". In other words, you attack a hornet's nest but the hornets get really pissed and strike back.
There will be plenty of push/pull until this is resolved and resolved "successfully".
Leading markets higher Tuesday included China (NYSEARCA:FXI), Japan (NYSEARCA:EWJ), Asia-Pacific (NYSEARCA:VEA), Brazil (NYSEARCA:EWZ), Australia (NYSEARCA:EWA) and other similar sectors. In the U.S. most sectors were in the bullish mix but gains were modest. Better performers were biotechnology (NASDAQ:IBB) and energy (NYSEARCA:IYE). Interest rate sensitive issues were quite weak including REITs (NYSEARCA:IYR) and homebuilders (NYSEARCA:ITB).
Volume was heavier than we saw in the last two months. Breadth per the WSJ was modestly positive.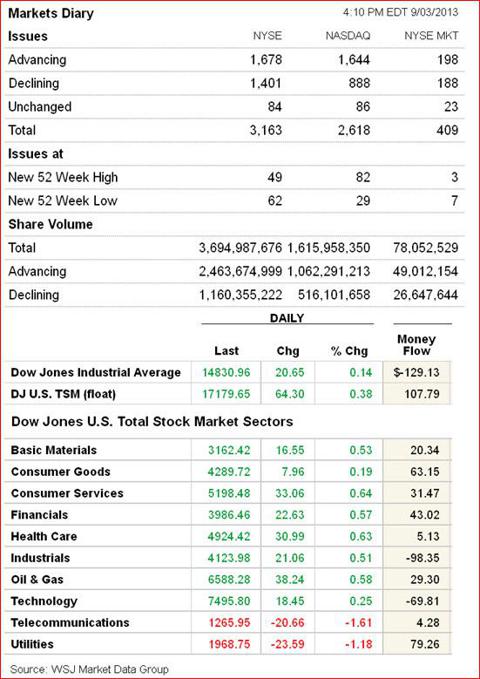 NYMO

The NYMO is a market breadth indicator that is based on the difference between the number of advancing and declining issues on the NYSE. When readings are +60/-60 markets are extended short-term.

NYSI

The McClellan Summation Index is a long-term version of the McClellan Oscillator. It is a market breadth indicator, and interpretation is similar to that of the McClellan Oscillator, except that it is more suited to major trends. I believe readings of +1000/-1000 reveal markets as much extended.

VIX

The VIX is a widely used measure of market risk and is often referred to as the "investor fear gauge." Our own interpretation is highlighted in the chart above. The VIX measures the level of put option activity over a 30-day period. Greater buying of put options (protection) causes the index to rise.

SPY 5 MINUTE

SPY DAILY

.SPX WEEKLY

INDU WEEKLY

RUT WEEKLY

QQQ WEEKLY

QQEW WEEKLY

XLF WEEKLY

XLY WEEKLY

XME WEEKLY

XLB WEEKLY

ITB WEEKLY

IYR WEEKLY

DVY WEEKLY

EMB WEEKLY

HYG WEEKLY

TLT WEEKLY

UUP WEEKLY

FXE WEEKLY

INR WEEKLY

GLD WEEKLY

SLV WEEKLY

GCC WEEKLY

JCC WEEKLY

USO WEEKLY

VEA WEEKLY

VWO WEEKLY

EWG WEEKLY

EWA WEEKLY

EWY WEEKLY

EWZ WEEKLY

FXI WEEKLY

EPI WEEKLY
...
Given positive economic data from China and Europe, markets sought to rally early. Most of these gains were given back as the military action toward Syria became more likely. So we're in no man's land for now.
Wednesday's economic data includes International Trade, Auto Sales, Gallup Job Creation and the Fed Beige Book.
Let's see what happens.
Disclosure: I am long QQEW, XLY, GLD, SLV, USO, VEA, EWG, EWA. I wrote this article myself, and it expresses my own opinions. I am not receiving compensation for it. I have no business relationship with any company whose stock is mentioned in this article.