Mondelez (NASDAQ:MDLZ) is well placed to enjoy an attractive growth rate for the future; the company is expected to experience a double digit EPS growth and 5%-7% sales growth in the future. I continue to believe MDLZ remains a good investment opportunity, as it has been working to improve upon its cost structure, speed up its investment in emerging markets and pump up its advertisement expenditure to grow its future top and bottom lines.
Yesterday, during its presentation at the Barclays Capital "back to school" conference, the company explained how the overhaul of its complex supply chain would remain the key driver for margin expansion. The savings that the company will realize through margin expansion will be used to step up its investments in emerging markets. I believe MDLZ's significant emerging market exposure remains its key performance driver, as these markets contribute almost 45% to total sales.
MLDZ has been speeding up its efforts to improve productivity. The company accelerated its projections for 500bps of operating income margin expansion in North America by 2016, due to favorable developments made on its new biscuit facility in Mexico; earlier, the company was expected to deliver 500bps operating margin expansion by 2017. Also, the company expects to achieve 250bps operating margin expansion for its European operations by 2016. Currently, the company has lower margins in comparison to its peers and has been working to improve its productivity, which will drive up its margins. The following chart shows the margins comparison between MDLZ, The Hershey Company (NYSE:HSY), Kellogg (NYSE:K) and General Mills (NYSE:GIS).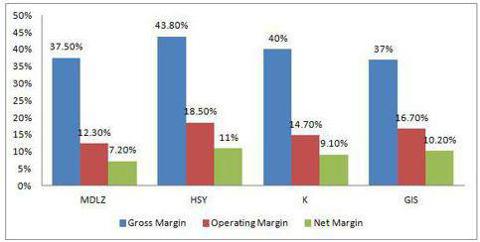 (Click to enlarge)
MDLZ now anticipates that its productivity improvement efforts are likely to result in $3 billion of gross productivity savings and $1.5 billion of net productivity savings, over the next three years. These savings will translate into almost 4.5% of COGS improvements and 2.3% of net productivity improvements, better than the management's prior long term targets of 4% and 2%, respectively.
MDLZ's new Mexican biscuit facility remains a game changer for its North American operations, which is expected to be in service by 2H2014. The facility is significantly large in size, almost about 125 acres. Also, the company is expected to install 60 new production lines over the next three years, which will replace 60% of its old North American manufacturing lines, as they are more than 40 years old. The new production lines will speed up the manufacturing process, lower the CAPEX and lead to $10 million in operating expenditure savings per line. Due to the aforementioned efforts, revenues per plant are expected to increase from $210 million in 2012 to $300 million and $500 million by 2016 and 2020, respectively.
The company's management expects a top line growth range of 5%-7% and adjusted EPS of $1.55-$1.60 for 2013. The management also expects to deliver $1 billion in incremental cash by 2016. In contrast to the company's expectation, analysts are anticipating MDLZ to deliver EPS of $1.55 for the full year 2013. Also, analysts have forecast a healthy next 5-year growth rate of 11.20% per annum.
I remain bullish on MDLZ, as the company has been aggressively working to improve upon its productivity and reinvest savings in available growth opportunities. These efforts will help MLDZ to tap available growth opportunities and strengthen its market position. Also, MDLZ's significant emerging market exposure, strong market share and ongoing share buyback program of $6 billion through 2016 bode well for its future EPS growth.
Disclosure: I have no positions in any stocks mentioned, and no plans to initiate any positions within the next 72 hours. I wrote this article myself, and it expresses my own opinions. I am not receiving compensation for it (other than from Seeking Alpha). I have no business relationship with any company whose stock is mentioned in this article.