The Bon-Ton Stores, Inc. (NASDAQ:BONT), through its subsidiaries, operates department stores in the United States. Its stores offer brand-name fashion apparel and accessories for women, men and children, as well as cosmetics, home furnishings, footwear and other goods. As of May 7, 2013, the company operated 271 department stores comprising 11 furniture galleries in 24 states in the Northeast, Midwest and upper Great Plains under the Bon-Ton, Bergner's, Boston Store, Carson's, Elder-Beerman, Herberger's and Younkers names. The Bon-Ton Stores, Inc. was founded in 1898 and is headquartered in York, Pennsylvania.
Bon-Ton Stores have been around for close to 120 years and have maintained themselves against their competition but recently have been weakening. Things have turned for the worst for the department store industry, highlighting corporations such as J.C. Penney Company (NYSE:JCP) and Sears Holding Company (NASDAQ:SHLD). Retail for both of these companies has increasingly become harder to sustain and bears have hopped on the bandwagon taking note of this apparent weakness. Bon-Ton Stores Incorporated has much larger problems on its hands that the market has realized, and will continue to weigh on the company's share price.
Fundamentals
Annual revenue from 2009 to 2013 has consistently remained stagnant, with small variances of negative growth, highlighting a 3% drop from 2011 to 2012. Revenues do tell part of the story but more interestingly net income after taxes have actually dropped 200% from 2011 until now. Seeing that the company is not profitable and continuously trending into weaker numbers makes the unbiased opinion believe things will only get worse. So what about the future potential? Well when we look to free cash flow over the last 5 years we can see a correlation between share price and available cash. For example, from early 2009 to early 2010 free cash grew from 9 to 189 million, where share prices went from a dollar and change to $18. Well from there free cash has only dwindled, bottoming in April 2012 to only 5 million, just recently hitting an all-time low of 1.4 million.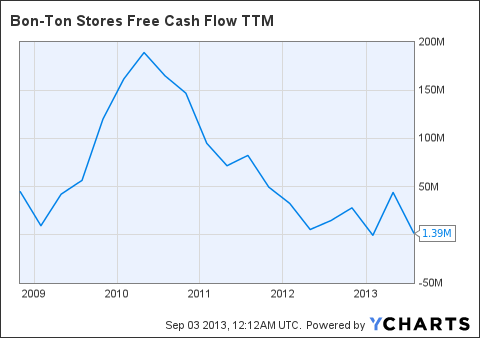 BONT Free Cash Flow TTM data by YCharts
Seeing cash from operating activities dropping with capital expenditures growing makes it seems like it won't be long before cash runs out. The current dividend yield, 1.82%, is not only pointless but seems unsustainable for the foreseeable future. Not surprisingly, total company assets have been falling year-over-year while liabilities have been moving flat. Debt to equity ratios are extremely elevated to the comparable industry, sitting at 18x; even JC Penney and Sears only have a ratio of 2x. Some correlated metrics for Bon-Ton Stores are extremely alarming when comparing it to the department store industry.
| | | | |
| --- | --- | --- | --- |
| Company | P/E | PEG | debt-equity |
| DDS | 9.96 | 1.81 | .41 |
| BONT | 157.29 | 8.74 | 18.05 |
| M | 12.88 | 1.05 | 1.13 |
| TJX | 19.38 | 1.72 | .33 |
Current Market Perspective
Efficiency Market Hypothesis, EMH, is described as an investment theory that states it is impossible to "beat the market" because stock market efficiency causes existing share prices to always incorporate and reflect all relevant information. According to the EMH, stocks always trade at their fair value on stock exchanges, making it impossible for investors to either purchase undervalued stocks or sell stocks for inflated price.
Not to say that I entirely believe in the theory stated above since professional money managers, value investors and many others have outperformed benchmarks, but this does have relevance to Bon-Ton Stores, along with any other company traded on the stock market. Given that economic headwinds are apparent and fundamental numbers are continuously stagnant and weak assumes very limited or negative growth. The last earnings report was well below analyst consensus estimates, missing revenue by 8.64% and EPS by 26.81%. In the last conference call, management offered lower guidance going into the next quarter, which resulted in a trailing selloff after the second quarter report (from $13 to $11, approximately -15.4%). According to EMH, this additional 15% drop is completely justified and is not surprising in the slightest. It would be entirely rational for a person to be bearish and short the stock, after this provided information - on the converse, it would be completely illogical to go long directly afterward.
Through a discounted cash flow calculation, using the following criteria with generous assumptions: current EPS ttm, 20% EPS growth for next 5 years, with trailing 10% thereafter, there is an assumed share price of only $11.82. This prospect is practically incorporating a turnaround story for the company, but given deteriorating qualitative and quantitative factors, that situation is highly unlikely.
Bull Argument
Everything can't be bad for Bon-Ton Stores, right? Well currently the answer would be no, otherwise the share price would be trading into the ground as if it were going bankrupt. The three quarters prior to the last were slightly optimistic, beating analysts with a few EPS surprises (50, 4.5, and 6%). Those surprises did seem great, except historically speaking, analysts tend to lower their estimates over time (being overly pessimistic) where they become so low that if the company can't beat them it's utterly depressing. So to say that those beats were compelling is half right, but on the other hand, it was almost expected. Seeing that debt and other operational inefficiencies remain prevalent I think the bullish argument remains relatively limited.
Technical Analysis
The chart provided has the time history between late 2008 to present through a weekly based interval. Right after the financial crisis people found that Bon-Ton Stores was undervalued as a penny stock and it quickly rose to the mid-teens. Soon after, fundamentals weakened and it dropped close to levels post-financial crisis. Once again, shares rose into the mid-teens, temporarily sitting above $20 but just recently dropped significantly to $11. So if you were a bear back in June or July, bravo, you practically claimed yourself free money on the negative momentum.
Now shares are at the mid-way point at $11. Looking at the chart, there is an apparent descending resistance that was easily broken in August. Two critical levels, shown in blue, could be potential horizontal supports at price levels of $10 and $6. There is also a definitive rolling support line, displayed in green, currently hitting the $4.50 mark. Both MACD and Money Flow Index are dropping off drastically, along with the 20, 50, and 200 SMAs sitting above the current trade price, which are denoted as bearish indicators. However stochastics 14 are oversold at 0.00, which could provide an entry point for bullish investors.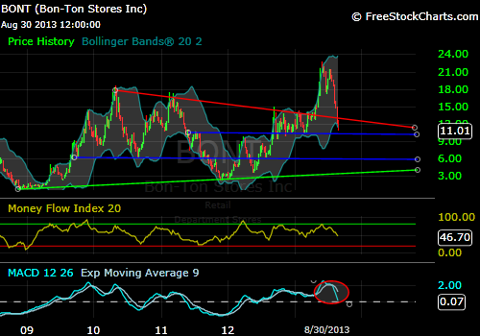 Bottom Line
Seeing that Bon-Ton stores are facing problems fundamentally and have a weak technical chart, the bears have a right to be in this stock. Although seeing the stock already being heavily shorted at 23%, new shorts could face the risk of a squeeze, i.e. if the company reports better than expected GAAP EPS. Therefore I would be a little more careful shorting at this point since shares have already sold off close to 50% since June. But the trend is your friend, so do or die, bull versus bear, being bearish seems like the better alternative. Some traders may enter a long position if shares consolidate, but right now Bon-Ton Stores are in the bear's den.
Disclosure: I have no positions in any stocks mentioned, and no plans to initiate any positions within the next 72 hours. I wrote this article myself, and it expresses my own opinions. I am not receiving compensation for it (other than from Seeking Alpha). I have no business relationship with any company whose stock is mentioned in this article.