Follow the money trail is an old adage, which would almost always lead us to the right answers when events look murky and when we are trying to rationalize the actions of various players in the Great Middle East game. This is a multi variable, multi player game where players are presented with various conflicting scenarios and have to weigh the pros and cons, advantages and disadvantages emanating from their actions and the laws of unintended consequences apply to every action. This live game of life never presents us with crystal clear choices cast in either white or black. Grey is the dominant theme and both white and black are shades of grey.
So let's pin down the various shades of grey visible so far:
The USA has seemingly boxed itself into a corner by drawing an imaginary red line in the sand when it comes to the usage of chemical weapons by Syria. It has been dared to follow through on its warnings now that the incidence of chemical weapons usage has been established. However, what has not been conclusively established is the question which should be logically asked next…who are the perpetrators of this dastardly attack on innocent civilians. Why would the Syrians unleash a chemical attack on civilians when they know that it can invite serious retributions from the Americans, especially when the Assad regime is slowly but steadily already winning the civil war raging in the country. Putin had recently questioned the assumption that Assad was behind the chemical attacks but what else can we expect of him? Strategically, a chemical attack blamed on Assad that forces the Americans to adhere to their red line and enlarges the Syrian conflict benefits multiple players. Propaganda and counter propaganda offensives are being unleashed to tilt the balance in the court of public opinion public opinion - (saudis-supplied rebels with chemical weapons/168135/). The picture gets murkier by the day. A likely scenario of what happened could involve a limited Syrian chemical strike, authorized by a local commander, which went wrong, but who knows for sure?
President Obama has been smart and politically brilliant in lobbing the ball back into the court of U.S. Congress by seeking its approval for use of force by the mighty U.S. military. What had looked to be an almost certain limited surgical strike by the USA over the weekend has been pushed into the future. It is not even certain that Obama will follow through on the strikes in case he does not get the required permission from the Congress. He would have been most certainly pilloried by both the Republicans and the Democrats tired from long wars in the Gulf, had he gone ahead with the strikes. He would have been further crucified had there been unintended consequences with Syrians and Hezbollah rockets raining down on Israel resulting in deaths in Israel. His bluster, his talk and his moving of the U.S. naval fleet around Syria has achieved the purpose of clearly expressing the outrage U.S. has felt at the use of chemical weapons and yet has stopped just short of the crossing line. I believe a symbolic U.S. military action would follow in time but with Obama being cast as an earnest but reluctant warrior picking up cudgels on behalf of the rest of the world, which is itching to show its outrage at the killings of innocent civilians.
France has shown its reluctance to be the lone wolf trying to fire missiles when it implies being out alone against a Syrian regime backed by the Russians. UK Parliament's thumbing down the strikes has mortally wounded Britain's standing as an aging empire with some bite behind the bark. Saudis have been forced in the open exhorting the Gulf Council to lend support to U.S. strikes. Aside from minor inconveniences at being laughed at by those portraying the U.S. retreat as signs of a diminishing appetite in the U.S. for another war, Obama's action has forced all interested parties to up their game and openly plead for a U.S. intervention. It actually has served to reinforce the role of the USA as the only power capable of significant military intervention anywhere in the world. Upsides far outweigh the minor loss of face for the Americans.
Israel would have loved to have the U.S. fire a few volleys as a signal to Iran where another red line drawn by Obama awaits its fate as Iranian centrifuges continue to run their course enriching Uranium to weapons grade potential. Had the U.S. gone ahead with the weekend strike, the retaliation would have been the devastation caused by rockets raining down on Jewish settlements. Assuming the efficacy of anti rocket defenses that Israel has covering the skies over Jerusalem, Israel would have hoped to contain the damage to an acceptable level. The gains in the court of international opinion, appalled at the site of innocent Israelis suffering at the hands of their enemies, would have made up for the limited losses suffered by them.
Washington Post (August 27th): Syrian ethnic composition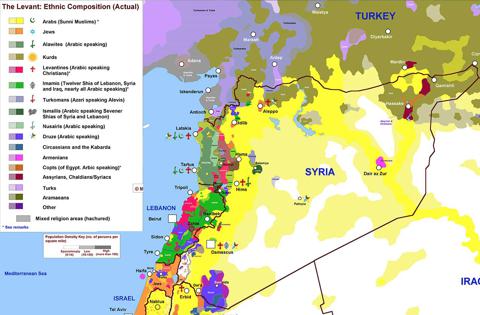 * Saudis and Iranians: Let us not forget the main protagonists of the great game being played out in the Middle East. What we are watching unfold is the latest version of the great Shia - Sunni war. which has been going on for more than a millennium. Syria is a predominantly Sunni state (nearly 70% of the population is Sunni) ruled by Alawites, who are an offshoot of the Shias. As Syria disintegrates, we would be looking at mini Sunni states under the influence of Saudi Arabia bordered by a Kurd-dominated area which will eventually become a part of greater Kurdistan and a strip of land incorporating Damascus controlled by Alawites who will owe their allegiance to Iran. We have already seen a template of this in the disintegration of Yugoslavia courtesy the U.S. intervention during the times of Bill Clinton.
Oil prices remain on the boil:
iPath S&P Crude Oil Total Return Index ETN (NYSEARCA:OIL)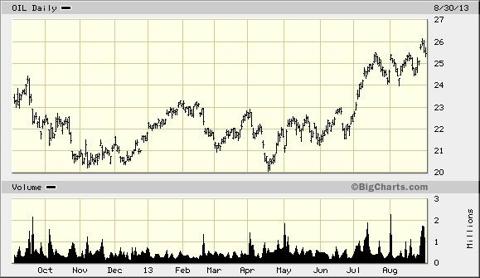 source: bigcharts.com
As the conflict looks likely to play out over the years without a clear winner, the disruption potential to regular oil supplies remains high. Russia, with only oil and gas to export, has an inherent interest in keeping the conflict alive and preventing a peaceful settlement of the conflict in the region. As a bonus, it also gets to poke the U.S. in the eye and revel in the priceless nostalgic sense of being a critical player in world affairs opposing U.S. hegemony and asserting its place in this new multi-polar world.
With Egypt on the rocks and the recent unsuccessful attack on Suez Canal by militants, the supply disruption potential is huge for oil. Around 7% of the world's total seaborne traded oil and 13% of total traded LNG passes through the Suez Canal and the marginal impact of supply side disruptions on a tightly balanced oil demand supply scenario can be huge. Again, Russia and Saudi Arabia benefit the most from a disruption in the energy supply chain. OPEC as a cartel will pump just a wee bit more oil to maximize the profits for its members.
Shale gas has been a boon for the U.S., which has already started extracting oil and gas from shale in significantly higher numbers, thereby reducing its dependence on the Middle East. Concurrently, that reduces the economic incentives for the Americans to mess around in the volatile Middle East region where they inevitably end up getting blamed for all troubles. Imperialistic aspirations aside, now there is limited need for the U.S. to engage in warfare with boots on the ground in the Middle East. Verbal interventions marked by limited and focused use of air borne warfare would be the new likely face of U.S. strategic interventions in the Middle East. China stands comfortable in its sizable shale reserves. However, any significant extraction of energy from shale is at least 4-5 years away for both China and India given their current economic predicaments and their technological capabilities in this area.
Top 10 countries with technically recoverable shale oil

resources

Rank

Country

Shale oil (billion barrels)

1

Russia

75

2

U.S. *

58

(48)

3

China

32

4

Argentina

27

5

Libya

26

6

Australia

18

7

Venezuela

13

8

Mexico

13

9

Pakistan

9

10

Canada

9

World Total

345

(335)
* EIA estimates used for ranking order. ARI estimates in parentheses
Top 10 countries with technically recoverable shale

gas resources

Rank

Country

Shale gas (trillion cubic feet)

1

China

1115

2

Argentina

802

3

Algeria

707

4

U.S.*

665

(1161)

5

Canada

573

6

Mexico

545

7

Australia

437

8

South Africa

390

9

Russia

285

10

Brazil

245

World Total

7299

(7795)
* EIA estimates used for ranking order. ARI estimates in parentheses
Source: US Energy Information Administration
It is evident that the new shale energy reserves have the potential to put significant pressure on revenues of existing oil producing nations. Ongoing conflicts and disruptions in steady supply of traditional oil will be one way to keep prices high for oil producing nations.
Israel would know by now that it is being left out to fend for itself in a very volatile region. It can no longer assume that timely American help will be there to back it up, were it to strike out at Iran's nuclear plants on its own. The new regime change in Iran gives it a breathing space but nobody knows for how long. Uncertainty regarding Israel's plans for Iran would account for a partial risk premium built into oil prices. However, Israel cannot assume unlimited and unconditional U.S. support anymore in its strategic calculations. As the contours of the new Iranian regime's nuclear policy become clearer, risk premium priced in oil prices from this potential conflict will have to be constantly calibrated.
The last time oil prices remained high for some time saw a renewed push into alternative energy. With the bankruptcies of large U.S. solar players and collapse of solar subsidies in Europe, large scale adoption of solar power as a substitute energy alternative too is unlikely in spite of rock bottom solar panel prices. Momentum needs to be rebuilt in favor of Solar energy and that will take some time.
Conclusion: The quest for cheap energy prices has guided the U.S. policy for the Middle East for many decades now. It makes lesser sense for the U.S. to put military boots on the ground with each passing day. Verbal interventions interlaced with limited aerial strikes are cheaper ways of bolstering friends. The USA will continue to do so with an occasional missile strike or two to back up the sound bytes. In such an insane uncertain environment, the only certainty is that it makes limited sense for the countries benefiting from the Shia-Sunni war in the Middle East to push for settlement in a conflict defined by over a 1000 years of history. As shale energy production picks up, it will likely not result in a steady secular decline in oil prices contrary to what would have been expected from a straight demand supply extrapolation. Strategic imperatives will combine with volatile Middle East politics to cause continuous disruptions in traditional oil supplies to cause regular spikes in oil prices.
Disclosure: I have no positions in any stocks mentioned, and no plans to initiate any positions within the next 72 hours. I wrote this article myself, and it expresses my own opinions. I am not receiving compensation for it. I have no business relationship with any company whose stock is mentioned in this article.