Cree (NASDAQ:CREE) estimates that if the 5 most used 60 watt incandescent bulbs were replaced with Cree's 60 Watt equivalent LED warm white bulb, a homeowner or business owner can save $61 a year in energy costs.*
*Based on 6 hour use per bulb per day using national average electric rate of 11 cents per kwh.
At $12.97 per 60 Watt equivalent LED bulb, 5 would cost $64.85 + tax. This is a 100% return on investment in a little over 1 year.
The economics of Cree's LED bulbs are simply awesome. Between the 25,000 hour life of the bulbs and the 84% of energy saved vs. incandescent, replacing the 5 most used bulbs in anyone's home or business is a no-brainer in terms of the economics.
Once the consumer is aware of the economics, the next obstacle could be the appearance of the bulb.
I took a picture of a Cree LED bulb next to a standard 60 Watt incandescent bulb: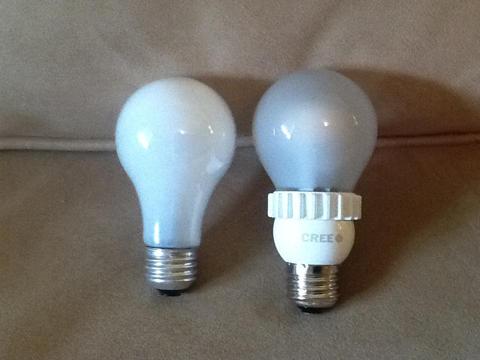 In my opinion, Cree did an excellent job in mimicking the appearance of the old fashioned incandescent bulb. The Cree bulb shown is a 60 watt equivalent that emits 800 lumens of a warm white light.
When these Cree LED bulbs were introduced to the market in March, Cree's CEO, Chuck Swoboda put it like this:
"The Cree LED light bulb was designed to offer consumers a no-compromise lighting experience at a compelling price. Over the last couple of years we recognized that the consumer is instrumental in the adoption of LED lighting, but we needed to give them a reason to switch. We believe this breakthrough LED bulb will, for the first time, give consumers a reason to upgrade the billions of energy-wasting light bulbs. We could not think of a better way to get this bulb into consumers' hands than through The Home Depot, a visionary partner who embraces innovation."
Shareholders of Cree and/or investors who have been watching Cree shares like myself likely had high expectations for the sales from the LED bulbs they introduced in March of this year. These bulbs are sold exclusively at Home Depot (NYSE:HD).
With the release of the 4th quarter earnings earlier this month, we got an idea of the sales of these new LED light bulbs.
Aggregate sales were $375 million for the quarter, $3 million short of average analyst estimates. Sales of the "Lighting Products" segment of Cree's overall sales, where the new LED bulbs fall under, were $133.643 million, up from $100.768 million from the previous year's 4th quarter. This was a 33% increase. (Cree doesn't break out the sales of the LED light bulbs but does break out the lighting products segment.)
I was expecting something a little bigger than just the 33% increase from the previous year for aggregate "lighting products" segment.
In the U.S., there are some 119 million households. If the 119 million households all went out and bought 5 of these Cree LED light bulbs, they would invest $7.717 billion ($64.85 x 119 million). What this at least tells me is that there is a huge market to be had in the quarters and years ahead for Cree's LED bulbs. I counted 50 bulbs in my home. Diminishing returns will be had on less used bulbs in each person's home, but regardless, replacing all the bulbs used in a home still makes economic sense. Simply put, the less the light bulb is used, the longer its life should be. A rarely used light bulb in a closet for example could last a life time!
When I would ask friends, family or associates if they were aware of Cree and LED light bulbs, very few could say they were. Society is not seeing the light, at least not yet from what I can tell.
Cree is not without competition. There are other LED light bulb makers that have very similar economic advantages. Lowe's (NYSE:LOW) sells LED bulbs under the brand Utilitech.
Utilitech 60 watt equivalent LED bulb uses 13 watts vs. Cree's 60 watt equivalent bulb which uses 9.5 watts.
CFL or compact fluorescent bulbs also use about 13 watts of electricity for a 60 watt equivalent and last 10,000 hours vs 25,000 for LED bulbs. CFL bulbs also contain the neurotoxin mercury while LED bulbs do not.
It seems to me that Cree is best of class when it comes to LED bulbs for the home or office. While it's unrealistic to expect everyone to go out and replace all their bulbs to Cree's LED bulbs tomorrow, I do suspect that the sales growth of Cree's LED bulbs will grow exponentially over the coming quarters and years giving Cree a solid growth in sales and earnings. I still have about 30 more of these bulbs to buy and I likely will soon enough.
At this juncture, if one has the capacity to comprehend the economics of Cree's LED bulbs, there should be little reason not to begin replacing all bulbs to LED.
As for investment in Cree shares, patience will be required and likely better buying opportunities lie ahead.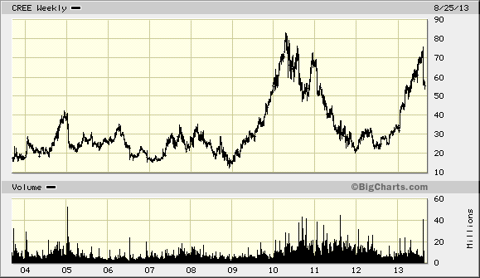 The failure to meet expectations in the recent 4th quarter has caused for some profit taking and a sizable pullback in the share price. The last time it spiked up to over 80 in 2010, it dropped 75% to about 20 2 years later.
There are low expectations for society to grasp the economics of Cree's LED bulbs quickly. A slower, steadier growth in consumer adaptation of the bulbs should be the expectation. Eventually, society will catch on for sure, with or without laws banning inefficient light bulbs.
Cree's average analyst earnings estimate over the next 5 years is 16.5% per year. I would prefer to revisit the investment in shares of Cree when the 5-year PEG ratio gets to 1.0 or less. It's currently 1.92 so to ballpark it, I would prefer to revisit Cree as an investment if shares hit 35 or less. Until then, invest in Cree's LED bulbs.
Disclosure: I have no positions in any stocks mentioned, and no plans to initiate any positions within the next 72 hours. I wrote this article myself, and it expresses my own opinions. I am not receiving compensation for it (other than from Seeking Alpha). I have no business relationship with any company whose stock is mentioned in this article.