A mixed picture is emerging. Some bellwether stocks (IBM, Google (NASDAQ:GOOG)) performed well, while others (Bank of America (NYSE:BAC), G.E. (NYSE:GE)) did not, something that signals an unbalanced recovery. The Dow hit 10,000 for the first time in almost a year. In currency markets, the US dollar came under pressure while stocks were rallying but made some gains across the board on Friday as equities faltered. The EURUSD broke key resistance at 1.4875, but did not take well a subtle threat from Trichet on Thursday.

The ECB President warned that excessive foreign-exchange volatility is an "enemy." Trichet also went on to say (again) that a strong USD is "extremely important" – perhaps the US Treasury should consider offering Trichet a job for his unfailing commitment to the "strong dollar" policy. We think an intervention on EURUSD will eventually happen, but not at the present levels. Again, it is not so much the level that counts most, but the speed at which the USD weakens - and the speed is set to increase this week.

As we anticipated last week, GBPUSD experienced a sharp move closing more than 3.2% higher for the week, after bouncing up from 1.58 support. The UK CPI – 1.1% y-o-y actual - came in lower than 1.3% consensus and was sharply lower than the 1.6% CPI rate last month. So if inflation is the CPI rate is falling sharply, the sharp rise on GBPUSD makes little sense.

Core-inflation, however, only dropped to 1.7% y-o-y from 1.8% the previous month. This rate is high when taking into account other major economies and that the UK economy is expected to show growth for the first time after 5 quarters – the Q3 2009 preliminary GDP numbers will be released on Friday (+0.1% consensus). In short, the market is starting to bet that a stubborn inflation will force the hand of the BoE to hike rates within months, and before the UK economy begins growing earnestly.

The coming week will hold surprises as more 25 large corporations release earnings data, including Caterpillar (NYSE:CAT), Dow Chemical (DOW), and AT&T (NYSE:T). We can't stop to wonder if EURUSD can hold on to its recent gains if earning reports lead to a sizeable market drop and serious doubt about a V-shaped recovery. We suspect that if earnings data is mixed like it was last week, or positive for most firms, then EURUSD will rally very quickly breaking 1.52 within 7 to 10 days. The 1.4880-1.5250 range was only traded two times (Feb 08, Aug 08) and it was only for 7-10 days on average.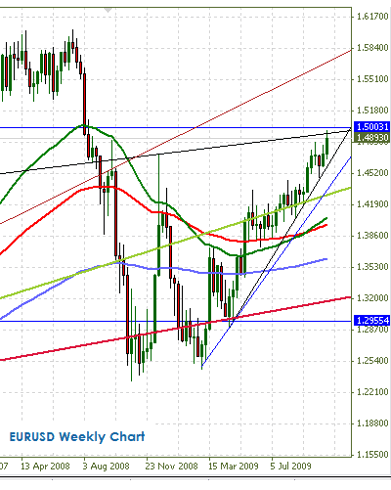 What levels we are watching? For EURUSD we look for firm support at 1.4750 and substantial upside to 1.5250 if US earning releases are not terrible. We continue to see cable strength and see GBPUSD holding to 1.62 support and breaking resistance at 1.6400 dating back to early Aug 09, on its way to 1.6700.
The ForexDatasource FMV overbought/oversold indicator for GBPUSD turned bullish last week. Likewise, sterling should continue last week's trend and rise faster than the euro, causing EURGBP to head towards support around 0.90.